This series explores the history of MainMan, which was a rights management organization formed by entrepreneur and impresario Tony Defries that helped to develop the careers of many artistes including  Iggy Pop, Lou Reed, Mick Ronson, Mott the Hoople, Ian Hunter, Mick Ralphs, Dana Gillespie, Wayne/Jane County, Amanda Lear, John Mellencamp and David Bowie.
With behind the scenes stories from those who lived and breathed the heady excesses of the period we're delving in to the MainMan archive to present an evocative walk on the wild side.
Each episode in our series will be accompanied by memorabilia such as previously unseen photographs, contracts, tour diaries, accounts, telexes (remember those?), microfiche, set lists, scripts and  session masters, many that have been locked away for the last 50 years, providing a fascinating insight in to an explosive time in rock history when a disparate group of artistes and the MainMan staff of talented, outrageous extroverts all drawn together under the guidance of Tony Defries, changed the face of modern music.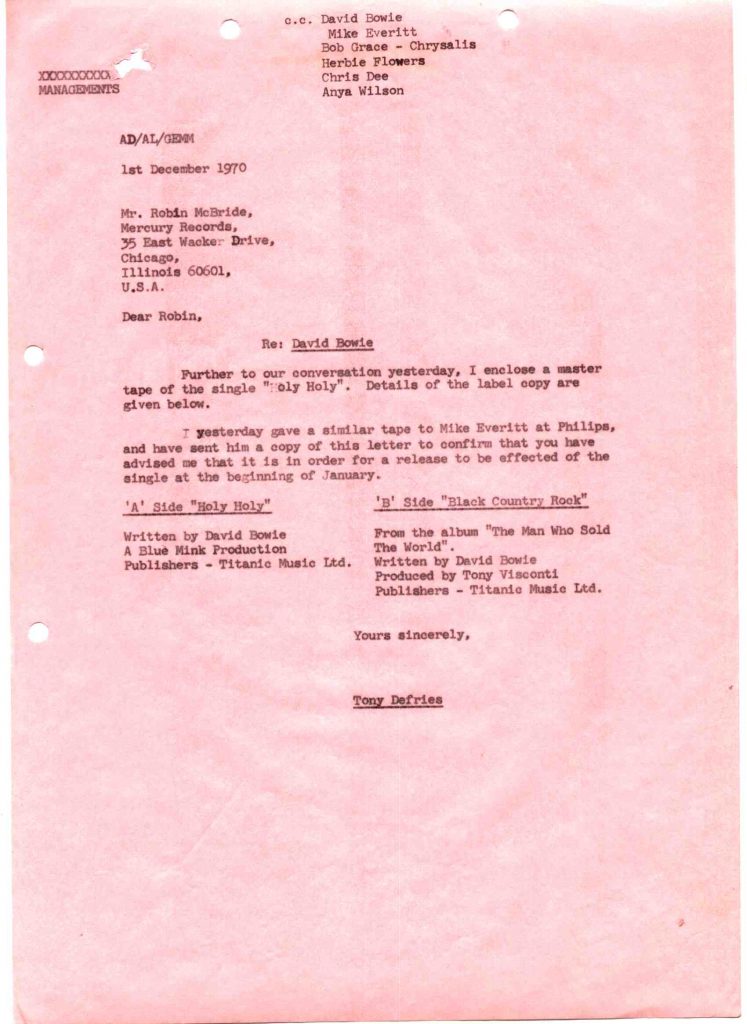 Here are some examples of the documents we'll reveal. This is a letter from Tony to Robin McBride, the head of A&R for Mercury Records in America, which accompanied the master tape of David Bowie's single Holy Holy in December 1970 and listed the credits to be included on the record label.     
For those too young to remember carbon paper – in the days before photocopiers, letters were typed on a main white page with a sheet of carbon copy paper placed behind, sandwiched between a second sheet of copy paper. When the letter was placed in a typewriter, the pressure applied on the keys provided a direct copy. Pink paper was used in legal documents to denote the copy. The original was usually always white. When copies were sent to several recipients, the address included the abbreviation `cc', identifying it as a `carbon copy' – a notation still used in emails today, even though carbon paper is no longer involved.   
You'll also get to share in another 70's technological marvel, telexes – the forerunner to fax machines and ultimately email – which enabled people to send simultaneous communications to multiple global destinations between a series of teleprinters. The amusing and sometimes embarrassing downside to real time transmission meant you could not change your mind or correct mistakes.
Here's a fascinating  example of the many telex's we'll be revealing – it's a copy of a portion of the original draft budget to film the now legendary Ziggy Stardust concert at the Hammersmith Odeon on July 3, 1973.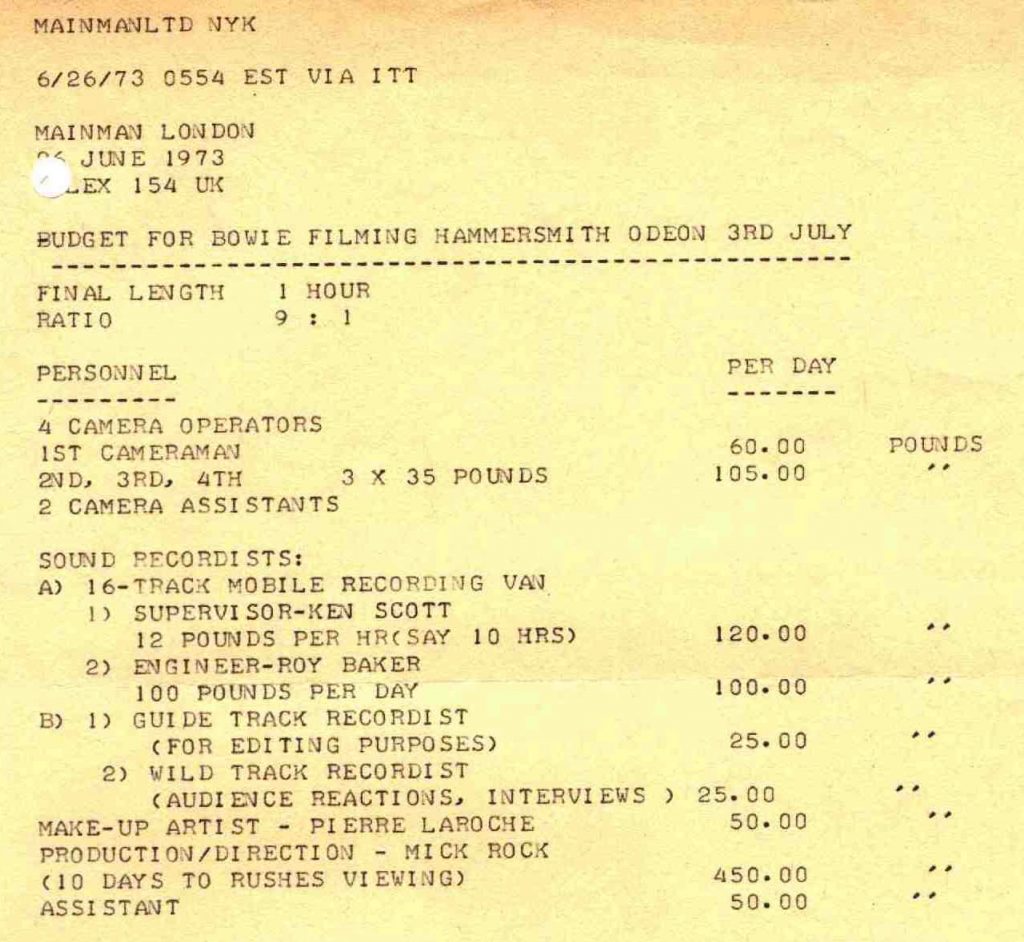 Interesting to see how much the highly acclaimed producer Ken Scott, engineer Roy (Thomas) Baker, make up artist Pierre Laroche and photographer Mick Rock were paid back in 1973.
Our exploration of the MainMan story begins in New York City with Tony Zanetta (Z), the man who was President of MainMan's North American operation and who provided a very important introduction to Andy Warhol for the young, ambitious David Bowie. Z performed the role of the Warhol-analogue B. Marlowe in Andy's first play Pork which was staged in New York in May 1971.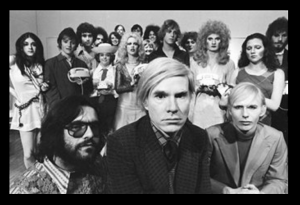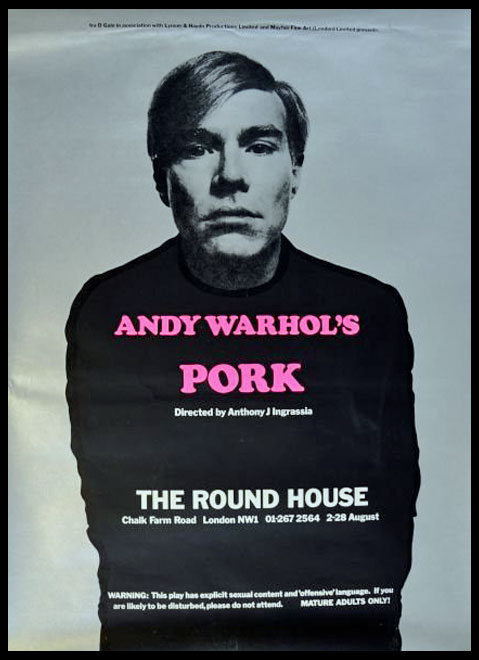 The play generated a lot of media attention, mostly due to the outrageous content. For example, the New York Times review summed up the play as "occasionally revolting, but more often good, dirty fun…"  During rehearsals for the play, Ira Gale a young American born, London based art dealer who was visiting New York, primarily to track down Andy Warhol, was invited to watch a full rehearsal. Impressed by what he saw as  "a great attack on middle-class morality', Ira negotiated the rights with Andy to produce the show in London – booking a season at The Camden Roundhouse that August.
One evening after a performance several members of the cast, including Tony Zanetta, Leee Black Chiders and Cherry Vanilla went to see David Bowie and Mick Ronson performing at The Country Club, a small folk venue in Hampstead, North London.
Cherry Invited David to attend a performance of Pork, which he and his wife Angie did. They loved it, returning several times, on one occasion taking Tony Defries and Dana Gillespie with them as seen backstage in the photo above.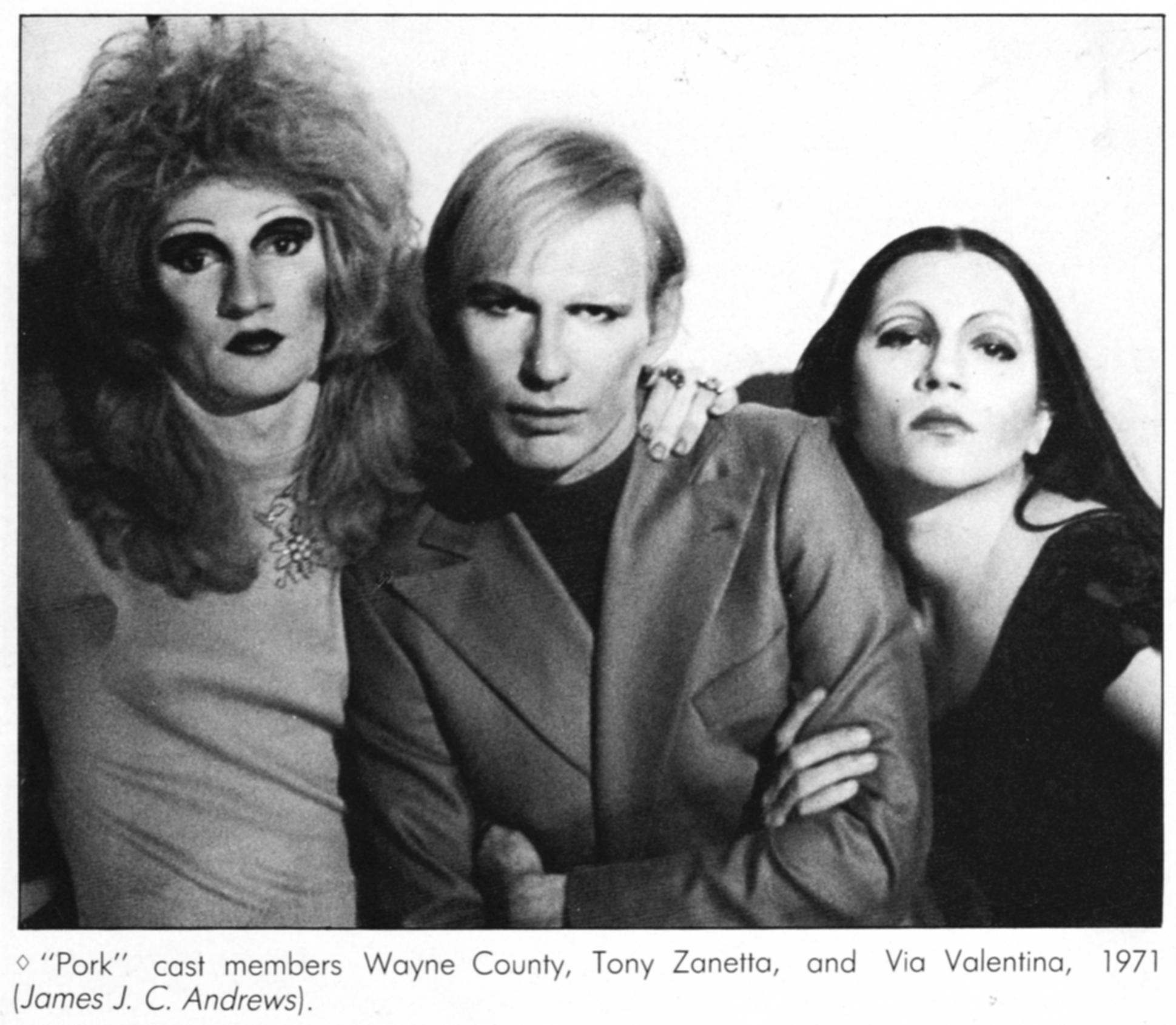 In turn Angie invited `The Porkers' to join her and David and their friends at The Sombrero – a gay night club in Kensington High St that David, Angie and their coterie visited regularly in the early 70's. Z got on particularly well with David and Angie and, as you'll hear, that began a fascinating journey…….