"The MainMan years with Bowie were the best of times. We were part of this massive creative outpouring like the world had never seen before – and given the amazing things David achieved in such a short time, I don't think we'll see anything like him again."  Tony Zanetta 'Z'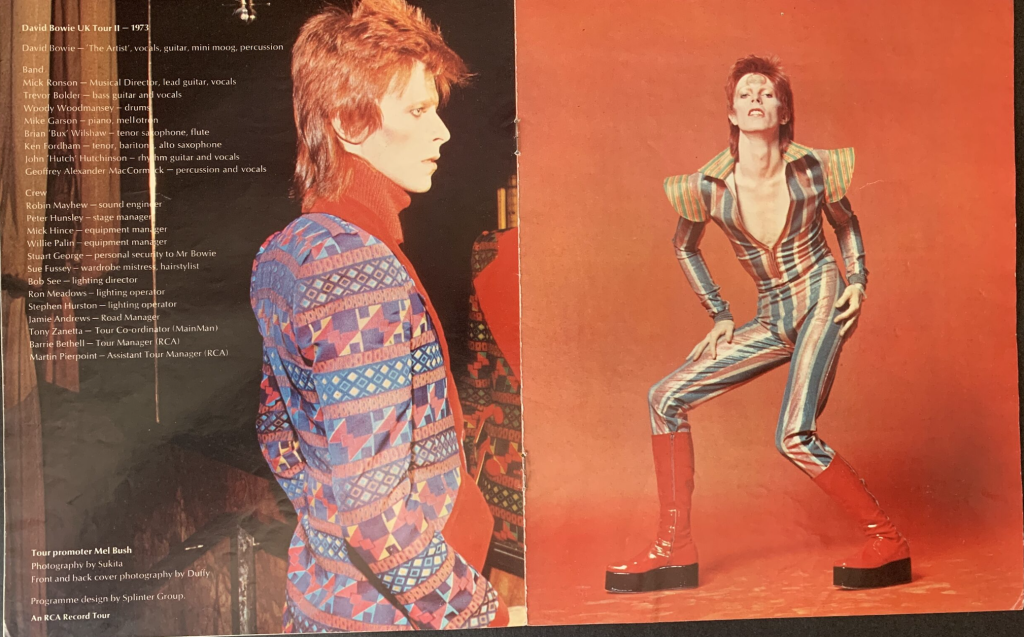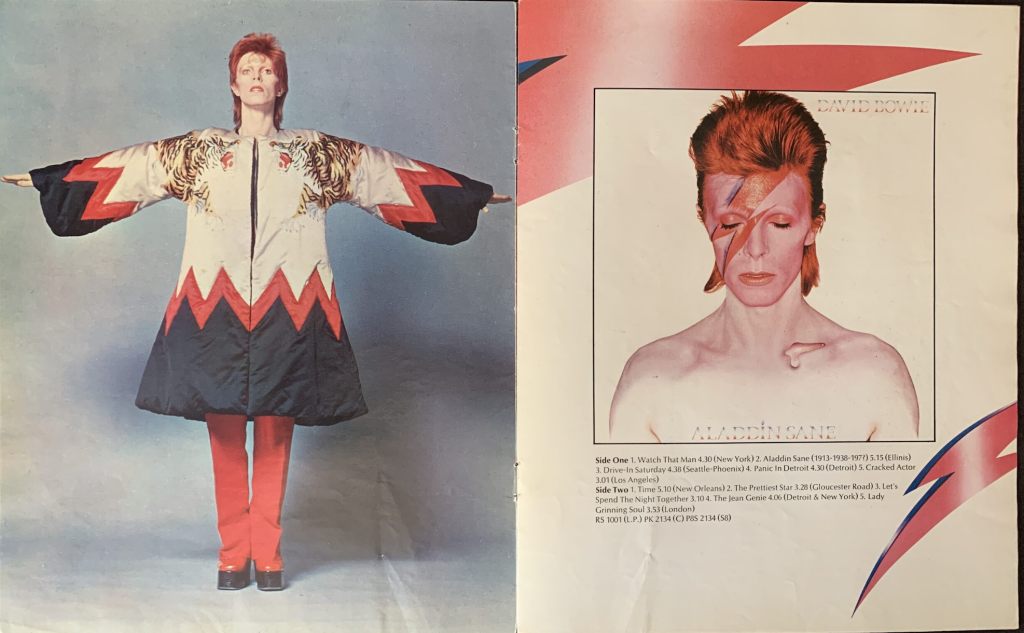 In the period between the Ziggy Stardust album (released June 16, 1972) and Aladdin Sane (released April 19, 1973) David Bowie was responsible for one of the most exciting artistic evolutions in rock history.
It's amazing just how much Bowie was able to achieve in such a short time – not just writing and recording some of his best music, but also producing Mott the Hoople's All The Young Dudes album,  Co-Producing Lou Reed's Transformer album alongside Mick Ronson, Mixing Iggy Pop & The Stooges Raw Power album and writing and recording songs for Aladdin Sane – all while undertaking a lengthy and arduous tour. Quite an accomplishment.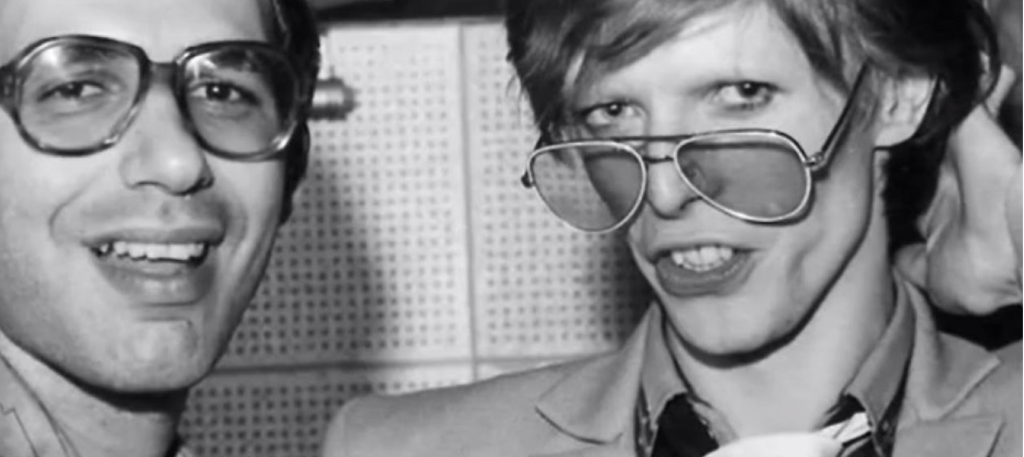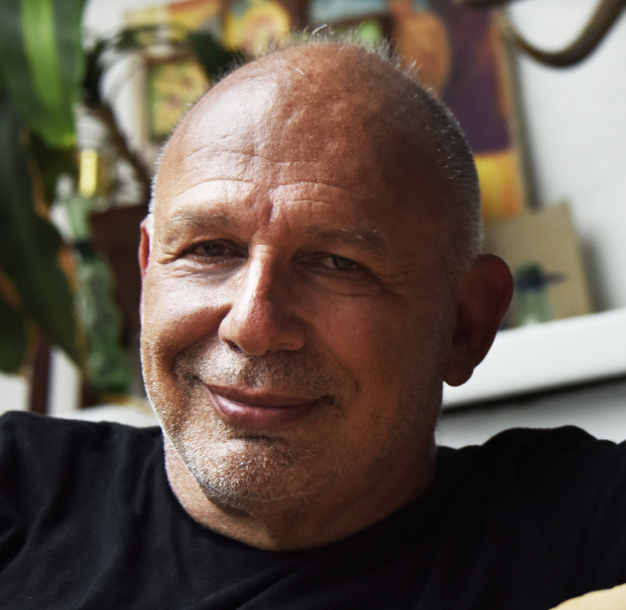 Being one of the only people who was in Bowie's inner circle through this entire transformation period when David morphed from  Ziggy Stardust to Aladdin Sane, 'Z' has some some really interesting recollections of the key moments in David's private and professional life that provided inspiration for the themes that are the central focus of the art he created during this creative odyssey.
Because 'Z' was living and working closely with Bowie he never really noticed a major shift in the music David wrote that many historians have highlighted in the 50 years since they were produced. People like Charles Shaar Murray for example writing in NME at the time described the Aladdin Sane period as "a whole new set of hypotheses, poses, masks, games, glimpses, put-ons, take-offs and explored possibilities." Whereas 'Z's main recollection is 'it was just a little different make up, more outfits and more costumes.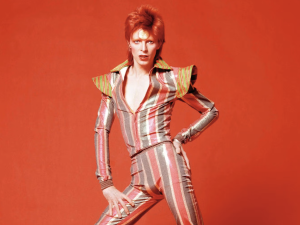 One thing everyone agrees on is that the most noticeable element in Bowie's musical progression was the addition of Mike Garson to the band at the beginning of the US tour in September of 1972. Mike was an extremely accomplished classical trained pianist with an established career in New York's avante garde jazz scene. Mike's adventures with Bowie and the Spiders from Mars are extensively chronicled in Episodes 59 and 60 of this MainMan series.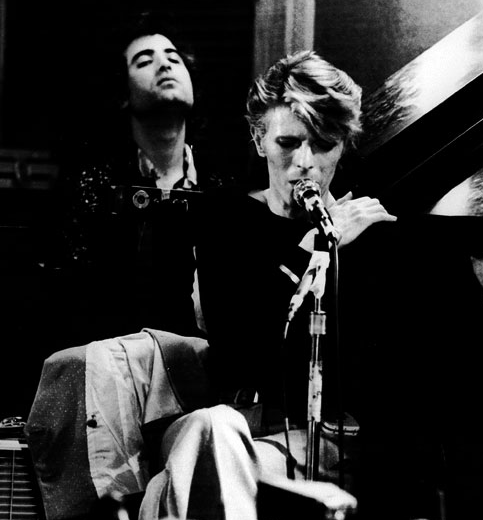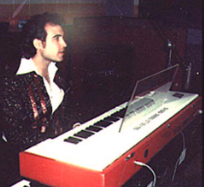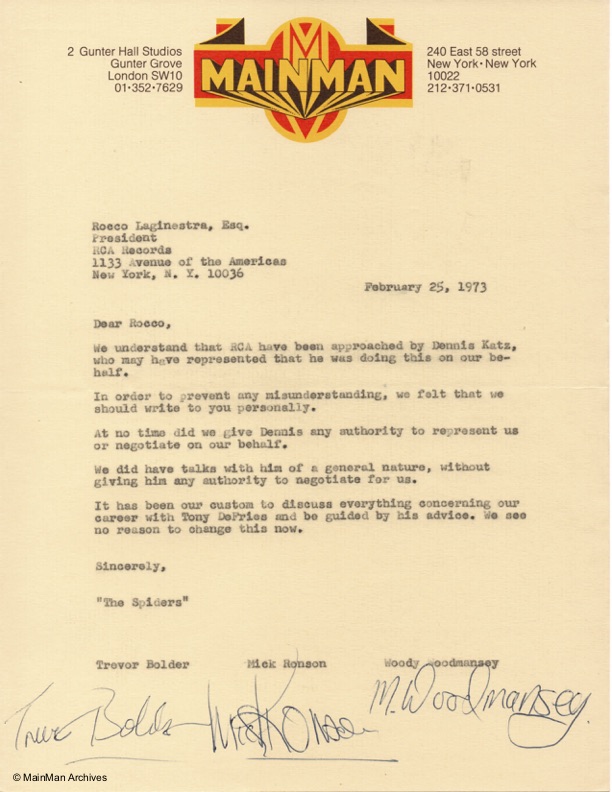 As he was accustomed to working sessions and tours in New York Mike had a good understanding of the rates charged by touring musicians and negotiated with Tony Defries for a salary of  was US$150 per week. None of the other members of The Spiders From Mars were on a salary. They were supported entirely by MainMan and had all their costs covered – food, clothes, travel, accommodation – they didn't have to pay for anything.  In addition they were all paid a small stipend every month. The success of the UK shows and the tremendous audience responses to Cleveland and some other US dates led Mick and the Spiders to assume that David was earning a fortune and they were not sharing any part of it. Mick was also upset since he had been David's musical director and worked on all of David's songs and recordings without receiving enough credit while David had apparently become a star. Only Defries knows the truth of that and he would say 'That's Another Story'. 
Acting as a spokesman for the rest of the band Mick secretly made contact with Dennis Katz who had left RCA and had gone back to practicing law and asked him to look for a record deal. The Spiders demanded a percentage of all income generated by the tour with a guaranteed minimum and Defries compromised by offering them larger salaries providing they paid their own personal expenses which they gratefully accepted without realizing that they would be earning less money by accepting that offer. As for David he would never forget or forgive one of his earliest bands the Lower Third for deserting him over money. The Spiders would have to be replaced before history could possibly repeat itself. All of this would be succesfully  resolved by Defries arranging the last Ziggy Concert, launching Ronson on a solo career and introducing Aladdin Sane.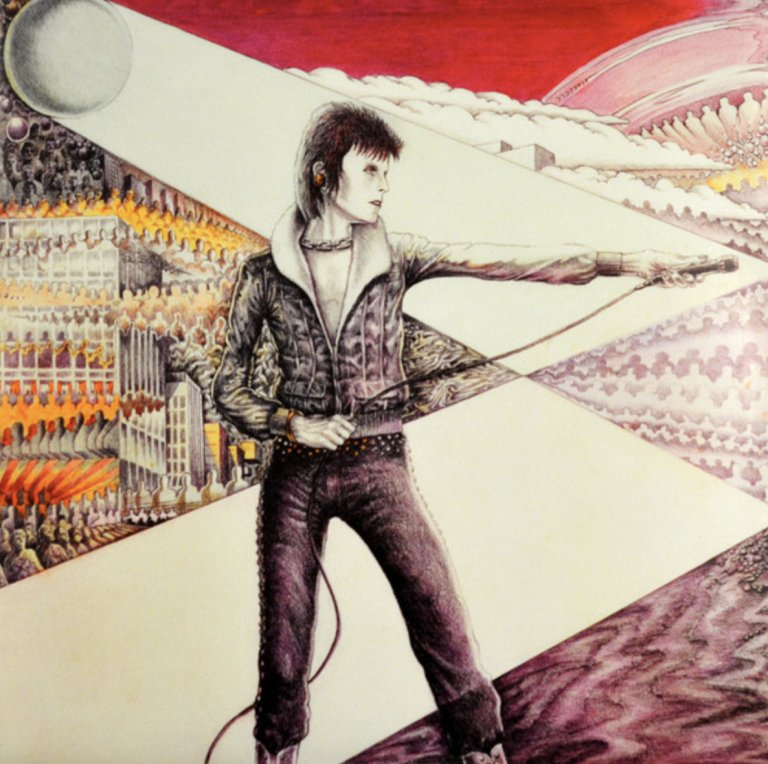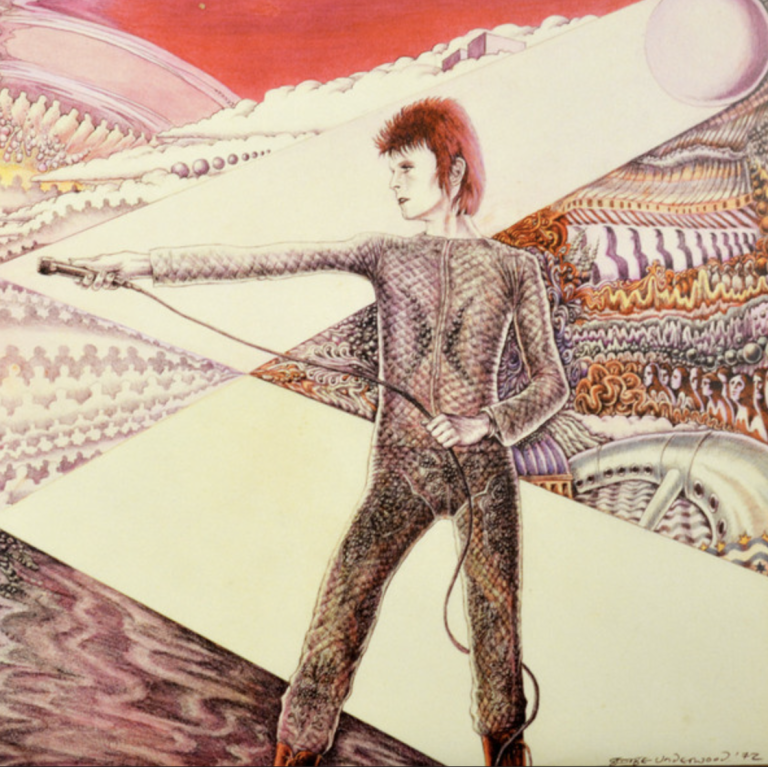 Mike's impact on the band was not just musical. He was also at the time a Scientologist. Woody in particular became very interested in Mike's beliefs and when the band were in Los Angeles for their gigs in October of 1972 Mike arranged for several of the Bowie entourage to visit the Château Élysée, at 5930 Franklin Avenue, which is the Church of Scientology's Celebrity Centre International, designated by the church, as the name suggests, to entertain  "artists, politicians, leaders of industry, and sports figures"
Woody was the one member of the entourage who was most impressed by Scientology and became a member of the church very quickly and even got married back in the UK at the Scientology centre in East Grinstead. As Trevor recalled in an interview in 2012 "in a way, Woody thought he was God because he found religion. And he just disagreed with everything that David was doing."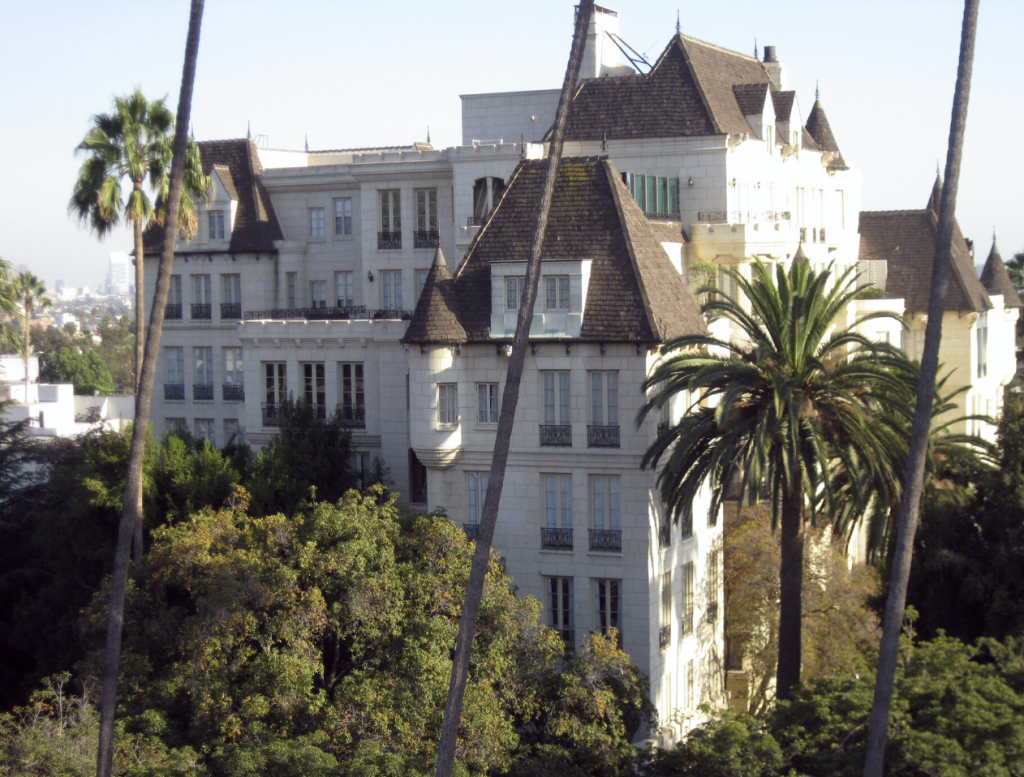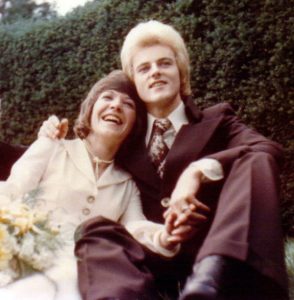 It's very clear when looking back at any interviews given by Woody, Ron and Trevor over the years that they may have assumed they were all part of David's 'band' and were on an equal footing. But as 'Z' points out that's not the way David or Defries operated. David was always the main artiste for both of them and the other musicians with him were playing a supporting role. For example his early bands were David Bowie & The King Bees, David Bowie & The Mannish Boys, David Bowie & The Lower Third. And although he was happy to be one of the boys in the early days of the Spiders from Mars, especially when living and working at Haddon Hall – as he began to find the fame he craved, his relationship with the band changed considerably.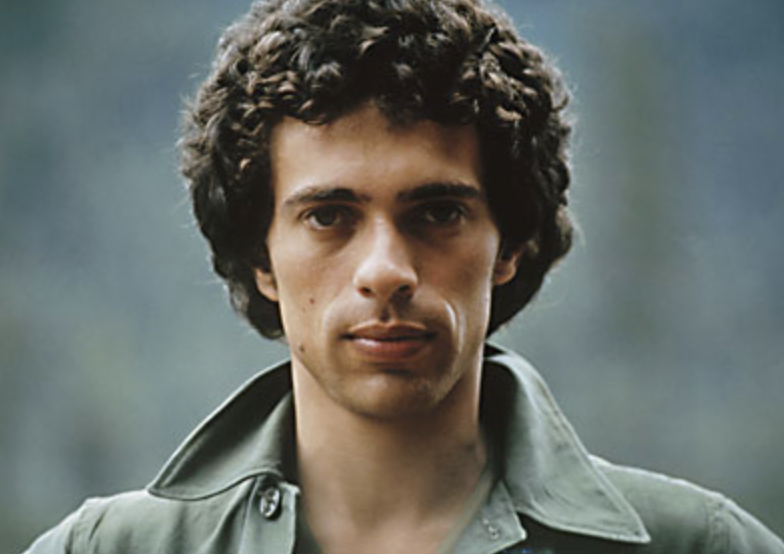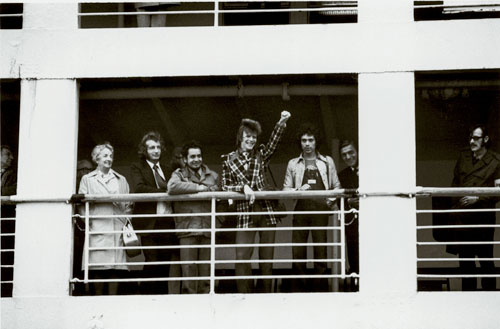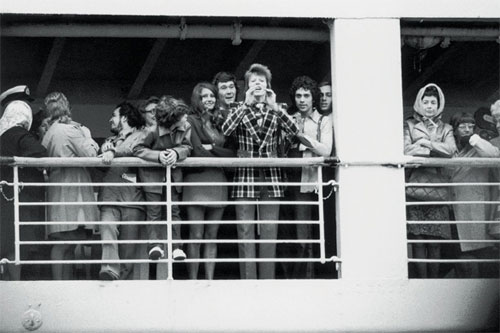 One of the highlights in the latter stages of the 1973 tour was the visit to Japan to play 8 cities in April. After completing the US tour in Los Angeles on March 12, David and a small entourage, including Geoff MacCormack, sailed to Japan, via Vancouver and Honolulu – arriving in Yokohama on April 5. As Geoff recalled in a 2012 interview "Arriving in Japan, Bowie and I were on equal footing since it was his first time in the country. We'd been very much looking forward to this leg of the journey, and it didn't disappoint. Japan was every bit as intriguing and spiritual in a completely new way. It felt like we'd arrived on another planet. 
The tour was incredibly successful and one of the most striking influences was the addition of more Kansai Yamamoto costumes. When Kansai first met David in New York in February he presented David with 5 spectacular outfits. When David arrived in Yokohama Kansai presented him with a further 9 outfits, so his onstage costume changes became more frequent and spectacular. As David explained in an NME interview after he arrived back in London from Japan "They're based on the traditional Noh Drama costumes. Some of the great Noh actors wear as many as fifteen, one on top of the other, so that they can peel them off layer by layer."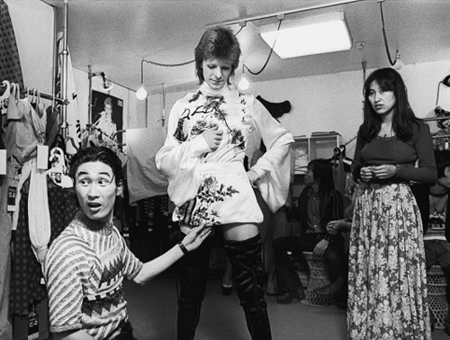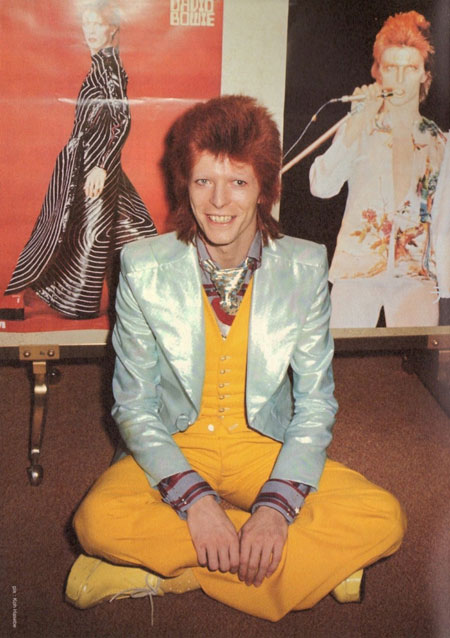 After the Japanese tour David returned to London on the Trans-Siberian Railway with Geoff MacCormack and Leee Black Childers. The UK tour resumed at Earls Court on May 12, finishing at the now legendary Hammersmith Odeon concert on July 3. For 'Z' that event was significant for other reasons than just David splitting the band. He had been on the road with David and the band for over a year and had seen first hand how the extremely strong relationship between Bowie and Defries had developed. They were both very determined, committed people who shared a dream to make David a star. Once that happened, the relationship slowly began to change.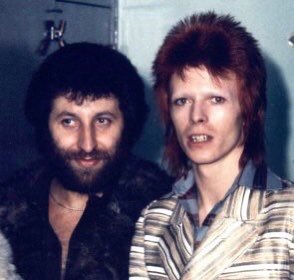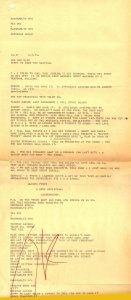 At the same time Defries was re-negotiating the publishing deal for David's music, so he didn't want him recording any new material, which is why Pin Ups was recorded. The album of cover versions enabled David to produce an album to satisfy the demand of the fans, but without the need for David to write any new music.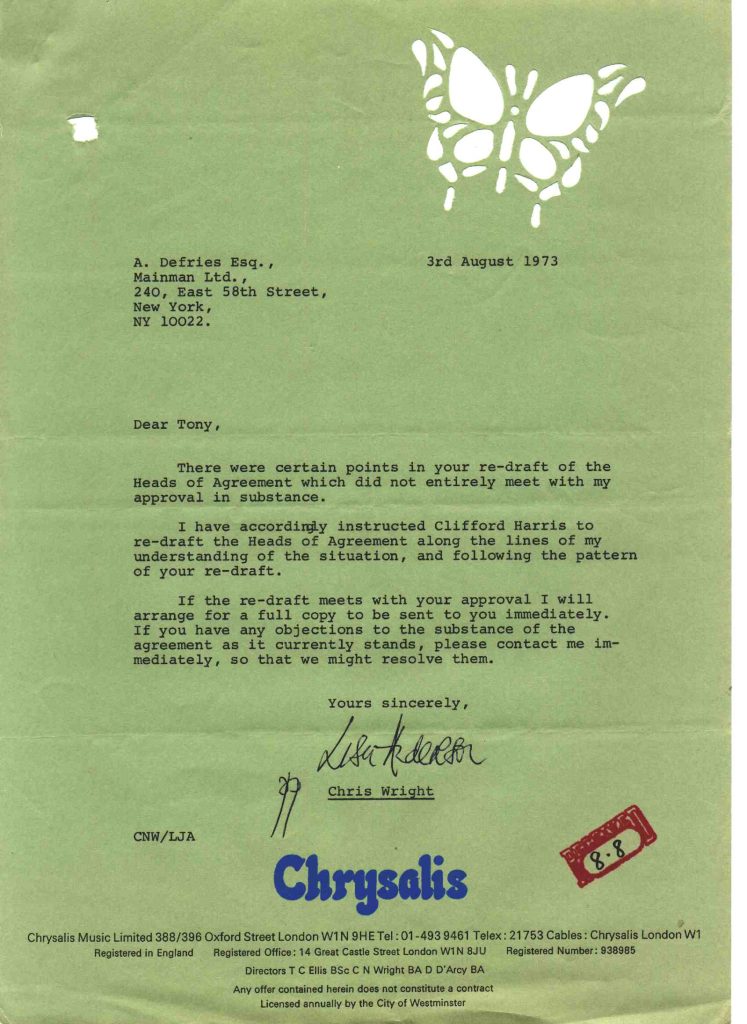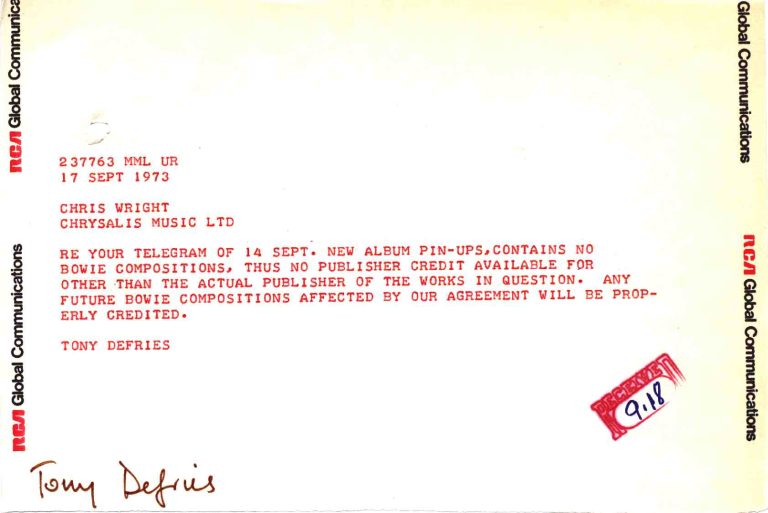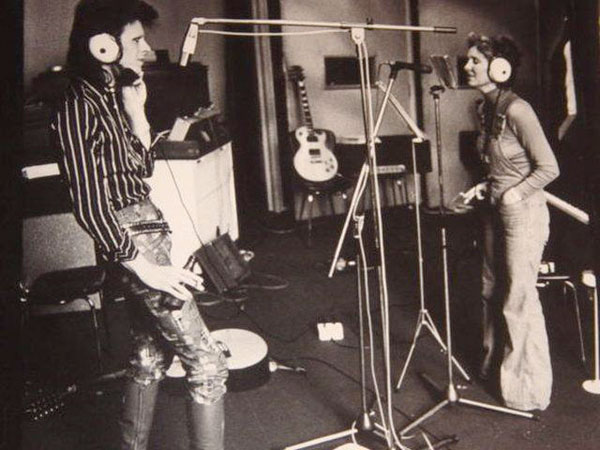 This is how the info was imparted to fans in the MainMan newsletter that summer….."The world's largest rock and roll tour, David Bowie USA Tour III, has been cancelled. The massive arenas of 80 US and Canadian cities will not now, or perhaps ever again, hold within their walls the magic essence of a live Aladdin Sane. Bowie will spend the summer in France and Italy recording, relaxing and writing the script of his future."
From July 10-31 Bowie and his entourage lived and worked at the legendary Château d'Hérouville studio in Pontoise France recording the tracks that would appear on Pin Ups. Here's how David describe the project in an interview during the sessions…."I'm retracing my own past really, my own likes and preferences for music in the early to mid 60's. Very much the London sound, because we were at the height of the Liverpool sound which was sweeping England and America. And there was a lot of material that really went unnoticed in those days and that's the kind of stuff I wanted to put down. Things like the early Yardbirds things, even things that had some kind of nominal success like 'See Emily Play'. We're doing a lot of very interesting tracks, all my favourites."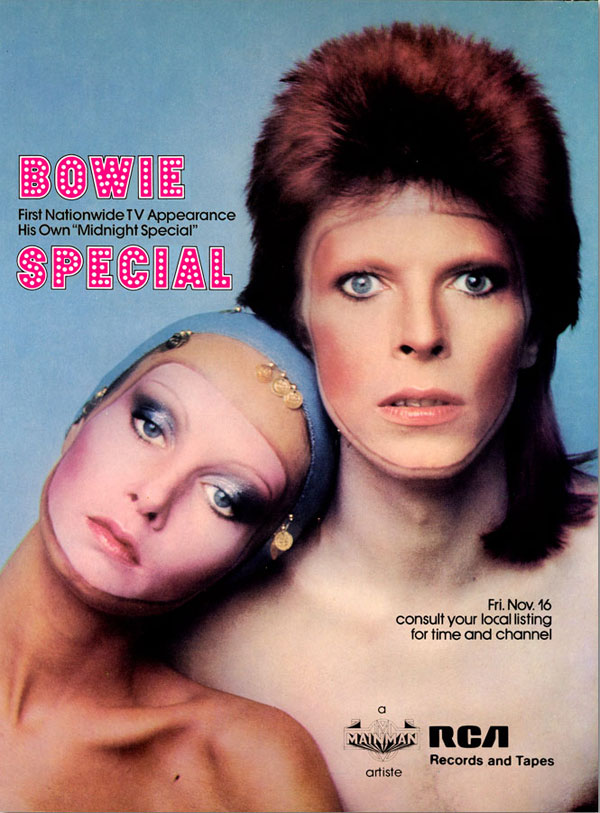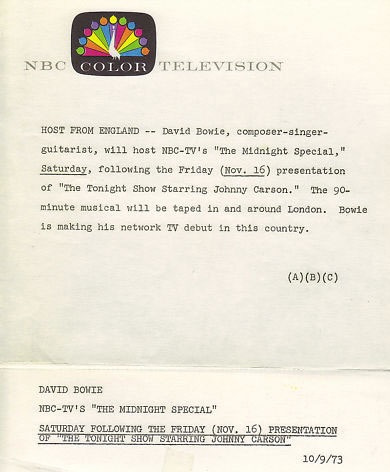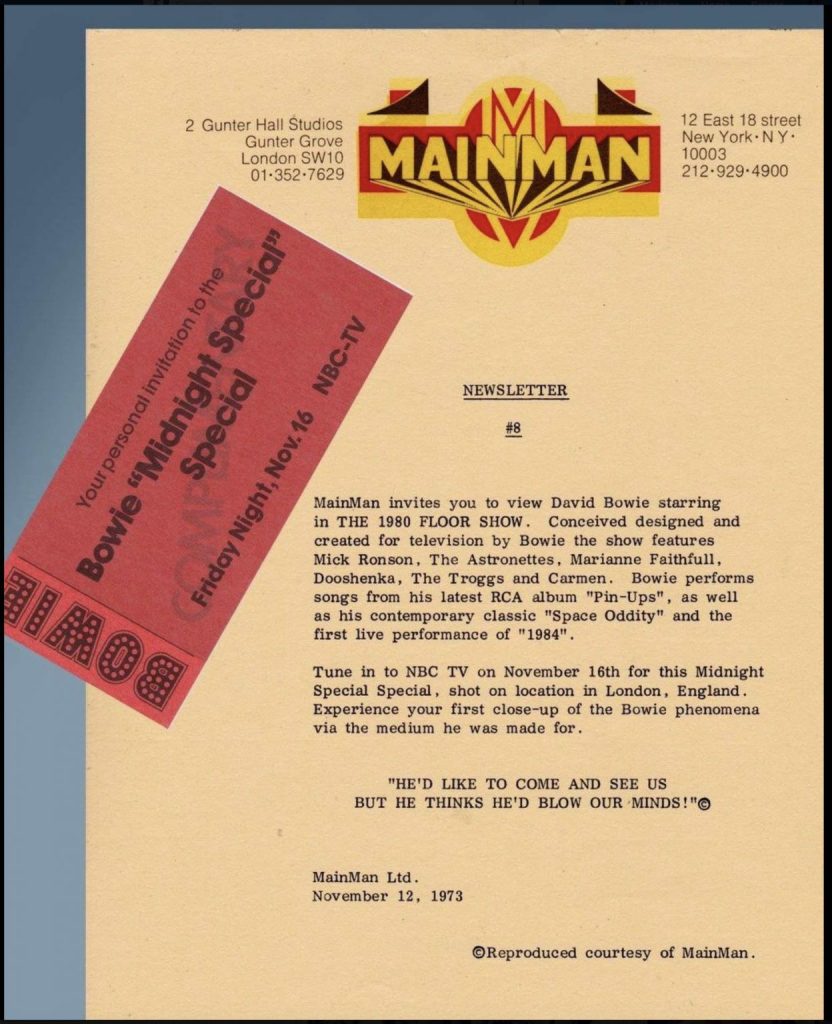 In October Bowie convened the same band that had recorded Pin Ups for an NBC television special. Filmed at London's Marquee Club, where David had enjoyed such memorable times as a fan and performer in the 60's, The 1980 Floor Show was filmed for a version of The Midnight Special which was broadcast on NBC in America on November 16, David's US TV debut.
David invited several other acts he had been working with recently to join him as part of the show including Marianne Faithfull, The Troggs and Amanda Lear, who was one of several 'partners' David had an on/off relationship with during 1973. Amanda is a fascinating artiste who was also in a relationship with Bryan Ferry when she was photographed for the cover of the For Your Pleasure album in 1973. Famously of non determinate gender, or non-binary long before the term became fashionable, Amanda was the confidante and muse for Salvador Dali for 15 years and became a MainMan artiste.
MainMan hosted a lunch for Dali and Amanda Lear at the Four Seasons Hotel, where they were introduced to the New York press. Dali decided he would take two strangers off the street that he had never met before and refused to speak any English throughout the event. Very bizarre, but also very 'Dali'.