"The moment I saw the Aladdin Sane cover for the first time I was 19 years old and it changed my perspective on everything – forever."  Lady Gaga, 2013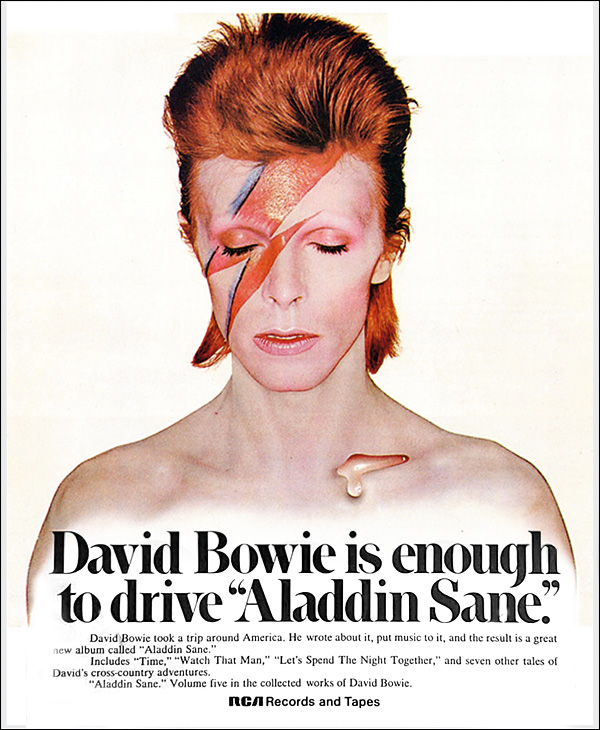 50 years ago, when David Bowie's 6th album Aladdin Sane was released no one at the time realised how important and influential this masterpiece would become, least of all Bowie himself.
Written on the road while he was immersed in the underbelly of the decadence and sleaze of American culture. Bowie wrote the songs amid the frenzy of touring with the working title Love Aladdin Vein, which he decided to change in order to avoid any drug connotations.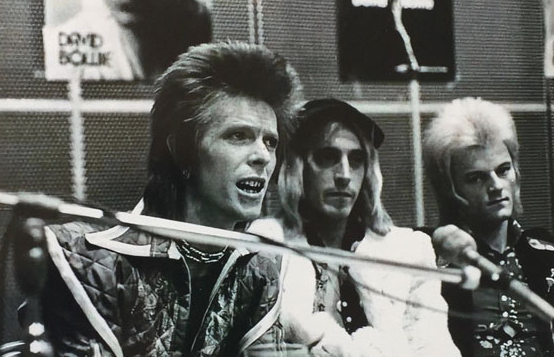 In January 1973, in between recording sessions at Trident Studios, a hectic schedule of UK tour dates and RCA promotions events, David and Tony Defries met with Brian Duffy at his London studio to discuss concepts and create artwork for the Aladdin Sane album.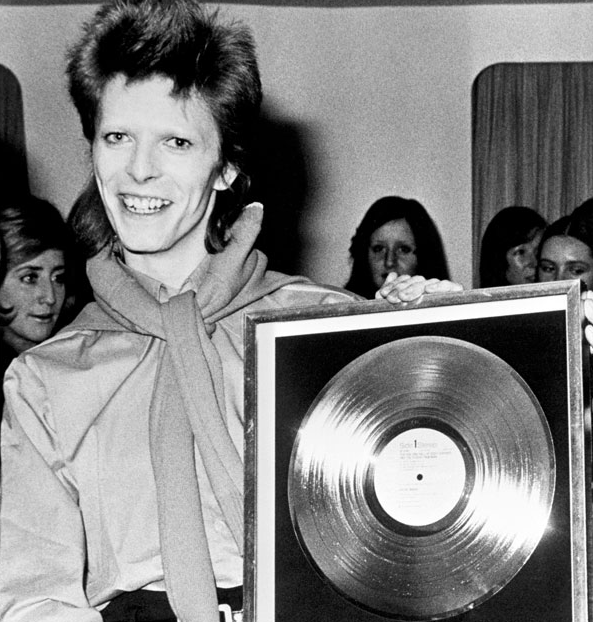 Duffy was a high profile fashion photographer whose career had begun in the late 50's. Having studied art and then dress design one of Duffy's first jobs was as an assistant designer with Susan Small, which was a very successful ready-to-wear fashion label, acclaimed for their colourful party dresses and evening wear.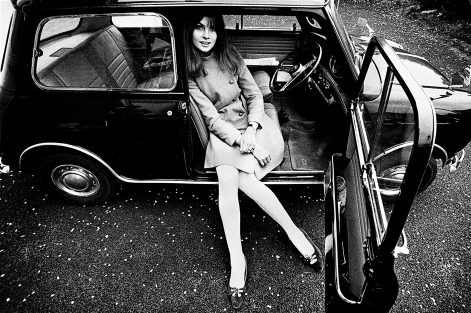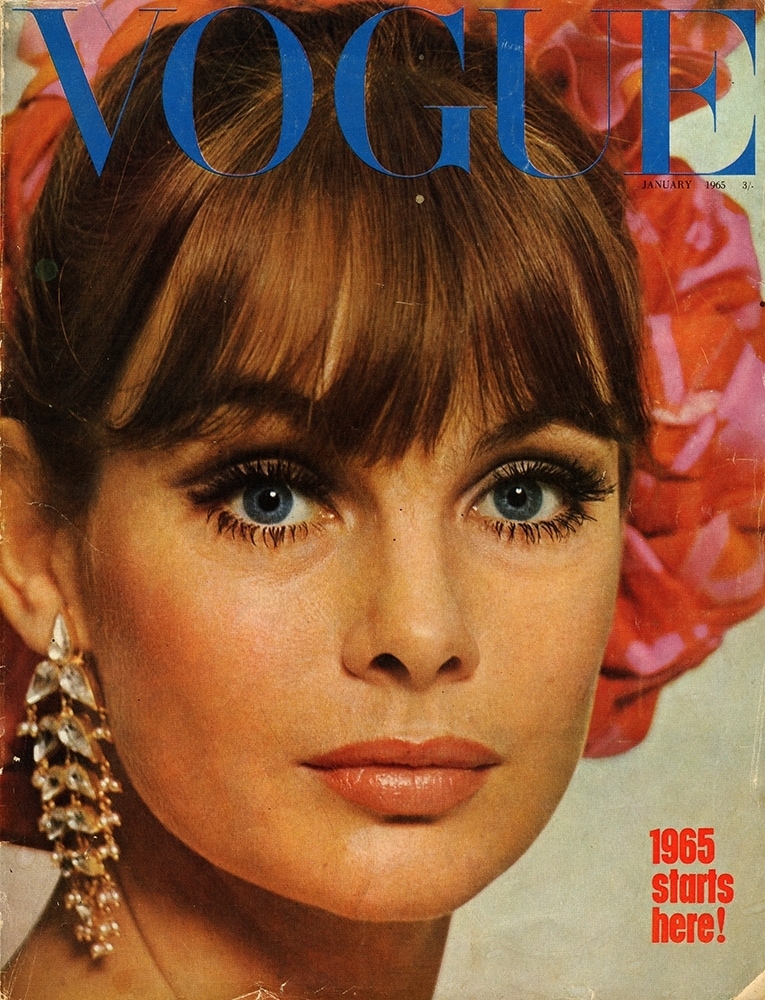 Duffy's next job was with Victor Stiebel, whose most famous client was Princess Margaret. In 1955 Brian went freelance, working as  a fashion artist for Harper's Bazaar magazine. Deciding to try his hand at photography Duffy then found work assisting several prominent British photographers and joining British Vogue in 1957. Over the next few years Duffy worked with some of the biggest names in fashion at that time including Jean Shrimpton, Tania Mallett and Jennifer Hocking.
Along with acclaimed photographers David Bailey and Terence Donovan, Duffy soon became a key player in the Swinging Sixties, a period when the music, art and fashion scenes in Britain became a deeply influential cultural force worldwide. Photographers became important chroniclers of this exciting era. Socialising with actors, pop stars and royalty, they represented a new breed of  photographer and found themselves elevated to celebrity status.
In the late 60's, while enjoying work as one of Britain's most in demand fashion photographers, Duffy also began working in the advertising industry developing acclaimed concepts for clients like Pirelli, Benson & Hedges and Smirnoff.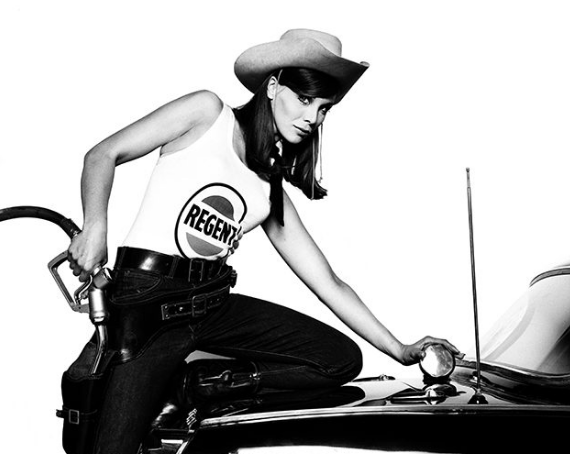 In 1968 Brian set up a film production company with author Len Deighton called Deighton Duffy which produced critically acclaimed films Only When I Larf and Oh! What a Lovely War.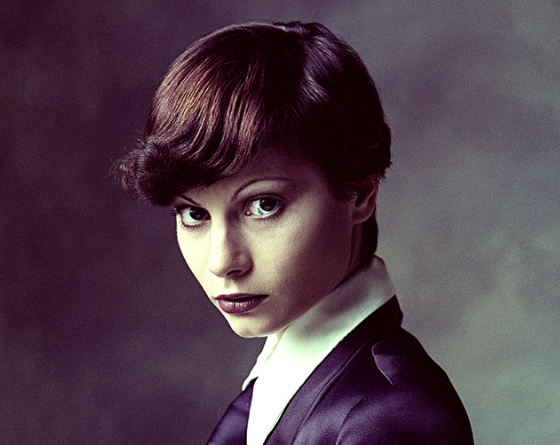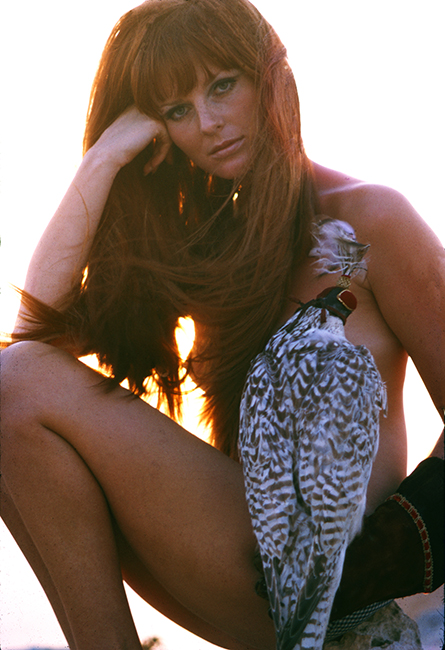 In 1968, Duffy began working with Tony Defries who advised him along with a group of other leading  photographers including David Bailey, Terence Donovan, Antony Armstrong-Jones and many more to form the Association of Fashion and Advertising Photographers. This was the first craft and trade guild or association of  photographers that would later become the global Association of Photographers (AOP) designed to protect the rights  and intellectual  property  in their  work and the related revenues.
In July 1972, shortly after the release of The Rise & Fall of Ziggy Stardust and the Spiders From Mars, Defries invited Duffy to photograph David for a series of promo shots that were to be used for the forthcoming U.S. & Japanese tours. The same week Defries also arranged for David Bailey to shoot a session. While none of the photos from these sessions were used at the time, Defries kept in touch with Duffy and when the time came to shoot the cover artwork  for Aladdin Sane, Tony called to arrange a meeting with David.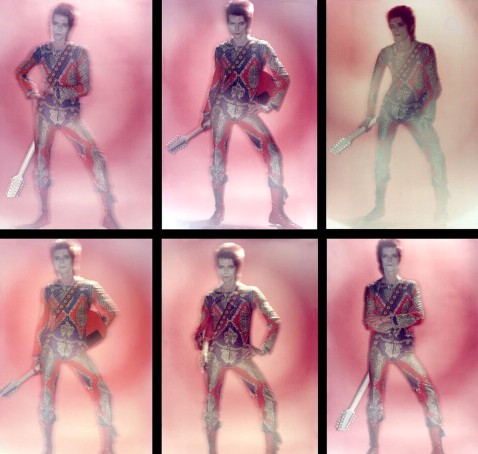 By that time Brian had formed a design agency called Duffy Design Concepts, to secure full creative control over all aspects of his projects. This was an ideal situation for Defries, who commissioned Duffy to work with him and David on the Aladdin Sane concept. One of the first things Duffy did before planning the photo shoot was to work on the type face. He chose Conway's type setters and selected Cristal (designed by Remy Peignot in 1965), which Duffy graded blue, white and red, and then added a small Aladdin's lamp symbol above the letter i as a visual nod, to bond it all together.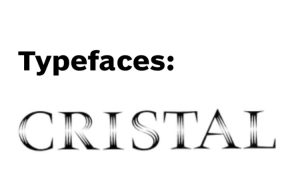 When David began discussing his thoughts for the cover with Duffy the first thing he mentioned was the idea of having a flash on his face, which was inspired by the lightning bolt Elvis Presley had incorporated into his branding when he returned to live performance following the success of the '68 Comeback Special. At this time Elvis had adopted the phrase 'Taking Care of Business', which he used when referring to his 'Memphis Mafia' entourage. They all began using the acronym TCB and when Elvis began his Las Vegas residency in 1969 he named his backing musicians the TCB Band.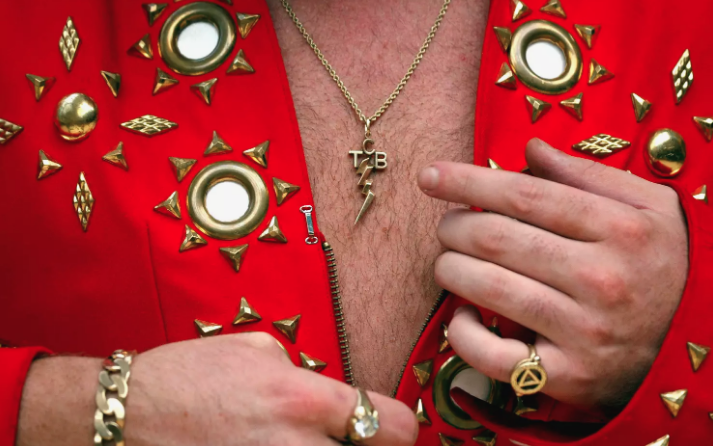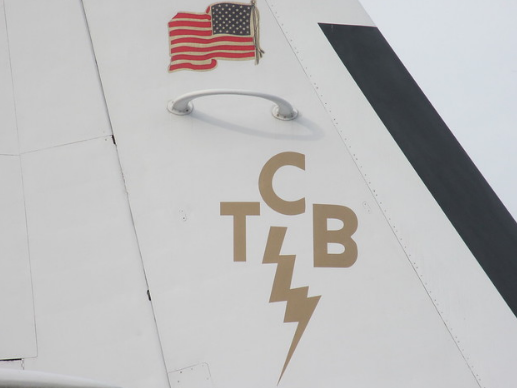 TCB became such a common term that Elvis began using a TCB logo, which he added a lighting bolt to represent 'in a flash'. That logo was incorporated into jewellery, letterheads and on t-shirts and Elvis even had the logo painted on to the tail of his private plane the Lisa Marie.  David was impressed by Elvis's use of the lightning bolt and wanted Duffy to incorporate it into his photo session.
In early 1973, Duffy had been working on a Revlon advertising campaign with make up artist Pierre Laroche, who had built a reputation working for several years in the early 70's with Elizabeth Arden, so when Duffy knew that Bowie was going to have some sort of lightning flash on his face, he invited Pierre along to the session.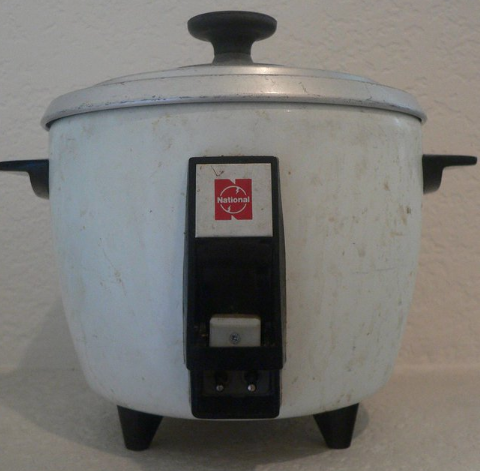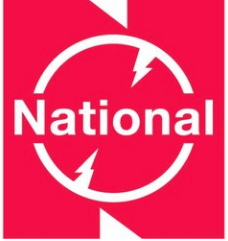 On the Saturday of the shoot, Duffy had several large drawing pads in his studio on which he, David and Pierre were drawing several types of lightning bolt designs. In the kitchen of the studio was a rice cooker made by National Panasonic, which featured a bolt of lightning/electricity as part of their logo. Duffy suggested Pierre use that as a template.
When Pierre began drawing a small image on David's right cheek Duffy stepped forward, took a red lipstick from Pierre's make up box and drew the outline across David's face from his hairline to the bottom of his jaw and then using that outline, Pierre filled in the rest. Defries was very keen for the Aladdin Sane cover to be the highest possible quality for the greatest possible impact. This meant it was also going to be very expensive, which suited Tony's plans as he was convinced the greater investment RCA had to recoup would ensure that they spared no expense in giving the album massive promotion which also gave Duffy and David freedom to create. Once the photograph had been developed Duffy brought in artist Phillip Castle to airbrush both the cover shot, including David's eye lashes and facial features and the full length image of Bowie that appeared on the gate fold version.
Philip also added the pool of tears symbol on Bowie's collarbone. This was intended to be the logo for a marketing plan proposed by Duffy based on the very successful Rolling Stones Hot Lips logo, designed for the band by John Pasche in 1970. Duffy loved the idea that the emblem could be incorporated into marketing memorabilia like badges, t-shirts, caps etc. So he created the pool of tears planning to use that symbol as a marketing tool in the same way the Rolling Stones did with their 'hot lips'. Unfortunately that plan never achieved the same degree of success as the Stones. Ironically the lightning flash became the ultimate iconic image.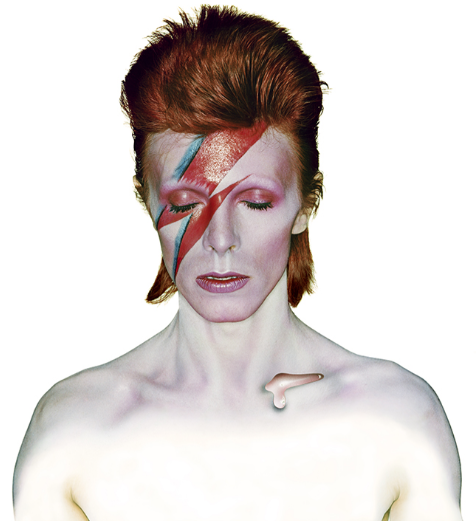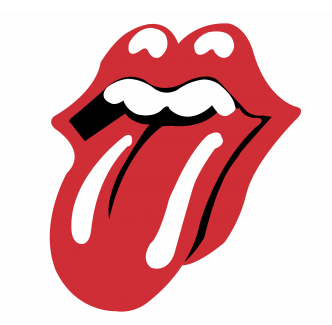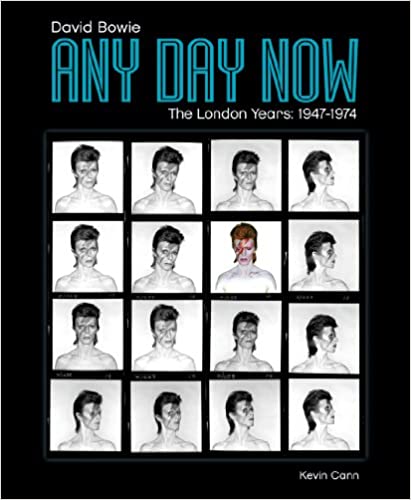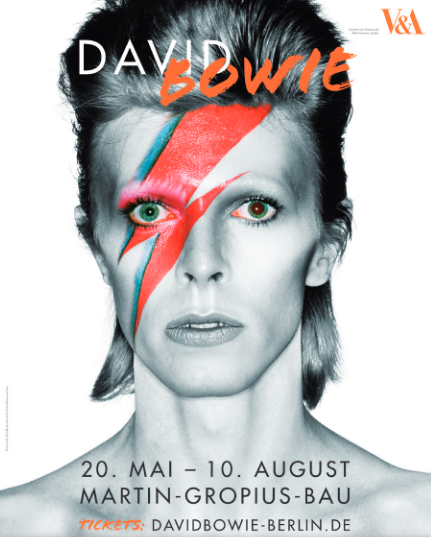 That iconic shot of David was the only known photo from the 1973 sessions until 2011 when acclaimed Bowie biographer Kevin Cann approached Chris Duffy and explained that he was looking for images to use in his book Any Day Now, Bowie's life story until 1974. When Kevin visited Chris to view the Aladdin Sane transparencies he was both suprised and delighted to see the number of images taken on that day and particularly thrilled to see the eyes open photograph, which was used in his book and which the V&A then picked up for their 'David Bowie Is…' exhibition in 2013.
Following the success of Aladdin Sane, Bowie invited Duffy to photograph several now historic sessions including photographs on set for the film The Man Who Fell To Earth in 1976 plus    covers for the albums Lodger in 1979 and Scary Monsters (and Super Creeps) in 1980.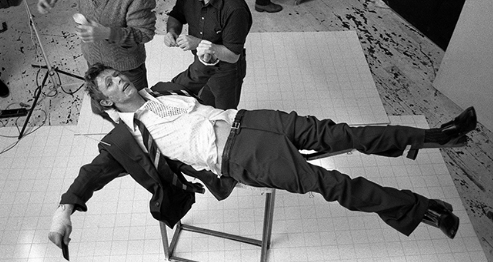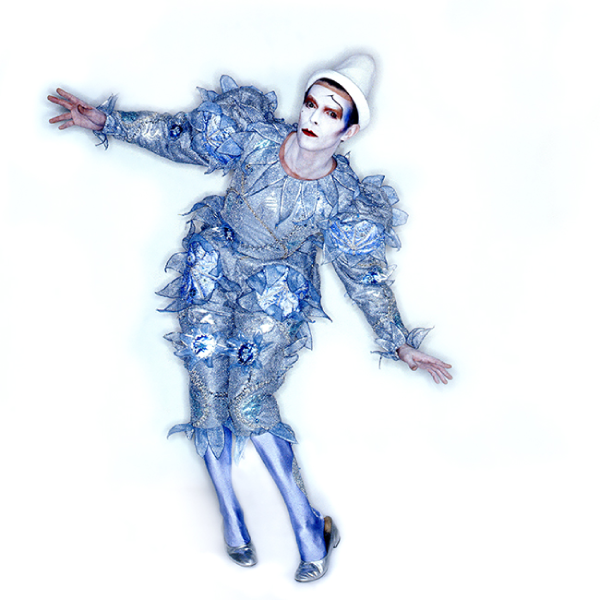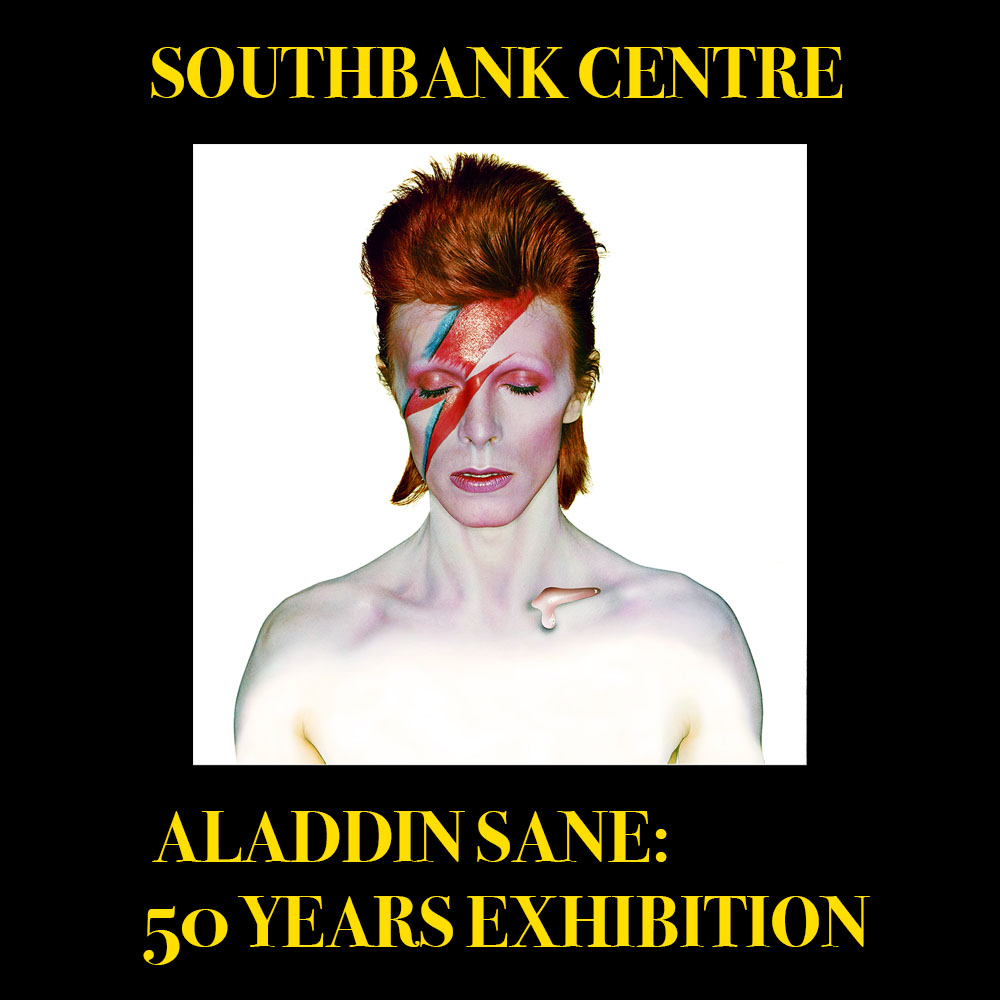 In celebration of the collaboration between Duffy and Bowie the Duffy Archive curated an exhibition titled Bowie Taken By Duffy, currently showing in Madrid and the Aladdin Sane 10th anniversary at London's South Bank Centre.