OUR STORY OF 1972 BEGINS FIFTY YEARS AGO WITH THE BIRTH OF ZIGGY STARDUST
Ziggy began to emerge from David's imagination as one of the most influential artistic evolutions in rock history – creating a fictional, gender-fluid alien superstar who sensationally transformed rock 'n roll.
"What I did with my Ziggy Stardust was package a totally credible, plastic rock 'n' roll singer — much better than the Monkees could ever fabricate," Bowie told Rolling Stone. "My plastic rock & roller was much more plastic than anybody's. And that was what was needed at the time."
Ziggy was born during a very hectic and significant period in Bowie's musical evolution. There were ups and downs – a lot of panic, paranoia, uncertainty and lots of rehearsals – and more rehearsals and then even more rehearsals. Just like preparing an athlete for their Olympic performance, the work for the team, but especially for the one who is going to perform, is arduous and demanding – and it always needs somebody on the outside who can say 'we're done' or 'we're not done yet – we need to put in more work', or 'we're ready'.
Tony became that person who would always decide if David and the band needed to change, rearrange, rehearse, or reformat what they were going to present before they went into the studio, before they recorded, but most importantly before they appeared in front of an audience who had never seen this Bowie before and had never seen anything like this Bowie before. There was nothing like Ziggy when David first gave life to this unique character.
There were recording rehearsals at Haddon Hall and other limited rehearsal studios that were for rent. In 1970 Tony had worked with the legendary British theatre director Joan Littlewood on a restoration project for the Regency period, Theatre Royal Stratford. The venue was no longer popular with audiences and developers wanted to demolish and redevelop the area. Tony arranged for Joan and Lionel Bart to revive the musical 'Blitz' which saved the theatre and in return allowed Tony to use it and the services of many accomplished professional theatre personnel free for more focused rehearsals of Ziggy.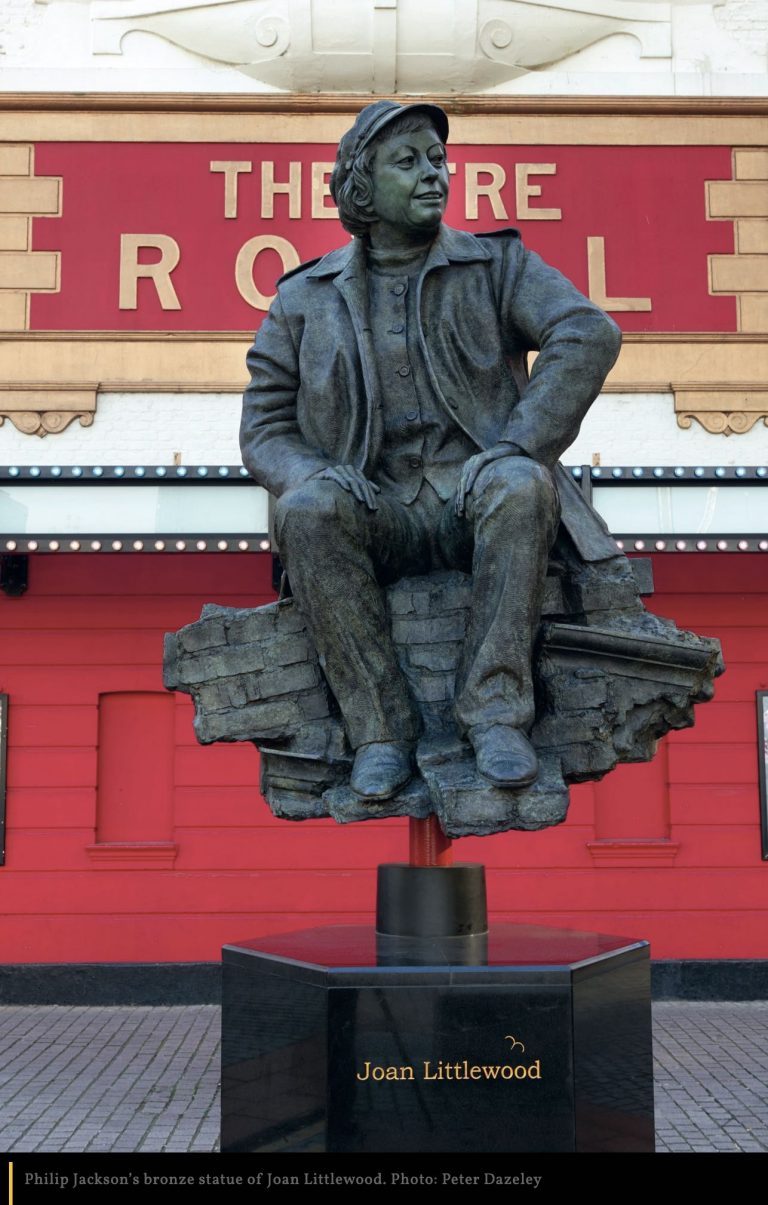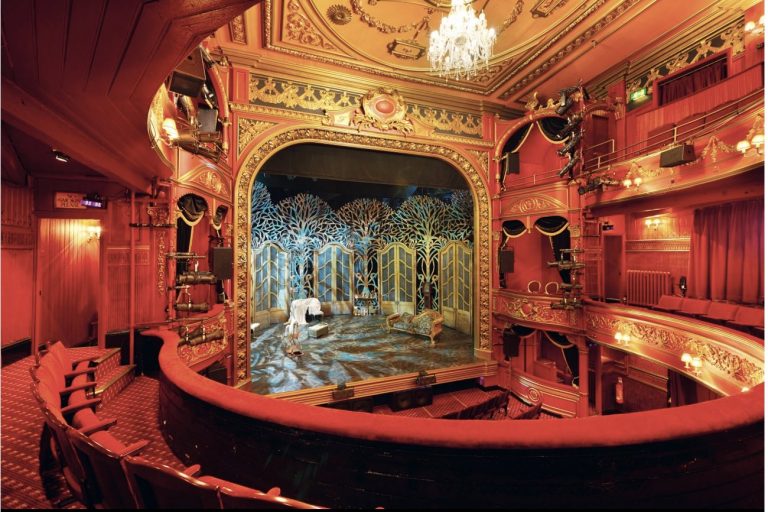 Where did that strange androgynous out of this world creature come from? The imagination of lots of different influences, numerous writers, a large array of artists and performers – and a plethora of very influential musicians. David always was, by his own admission a 'magpie'. He would glean inspiration from anywhere and anything that caught his attention and then file it away for future use – amending, adapting and molding it to his artistic vision. Much of Ziggy's physical embodiment came from his relationship with mime artist Lindsay Kemp who made a huge impact on David. The skills he acquired from Lindsay were evident in Ziggy and many of the characters that followed. Even in David's final videos for Blackstar there were several homages to Lindsay.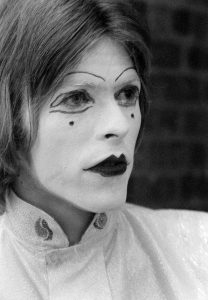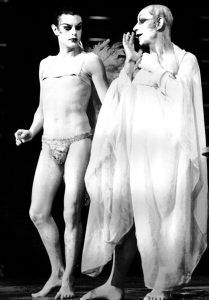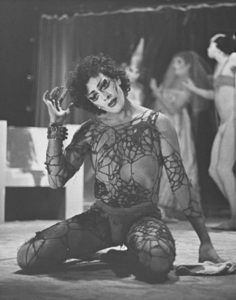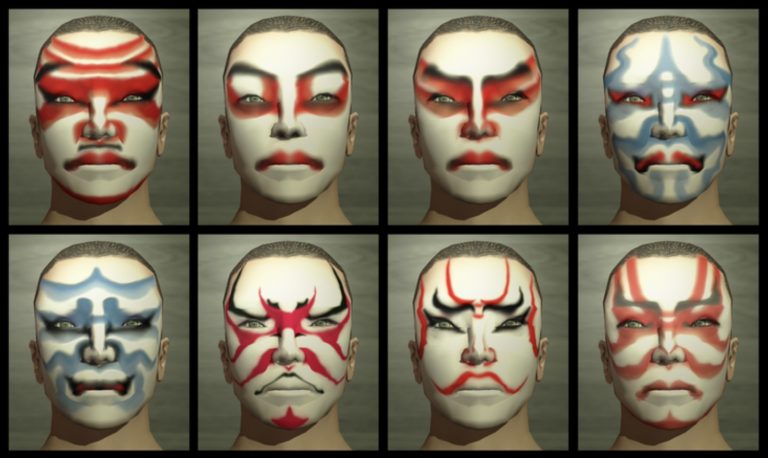 One of the theatrical forms introduced by Lindsay was the Japanese art of Kabuki – known for its heavily stylized performances, glamorous fantastically opulent costumes and elaborate kumadori make-up. Those Kabuki elements that began with Angela's purchase of the Kansai red platform boots from the Chelsea Cobbler were evident as Ziggy grew in confidence and popularity.
Kabuki was a key element in the legendary Rainbow Theatre concert in August of 1972 as Ziggy was gaining God like status. David incorporated Lindsay's mime company – wearing Kabuki transgender style outfits to accompany Ziggy and the Spiders from Mars in a heavily choreographed multi-media spectacular.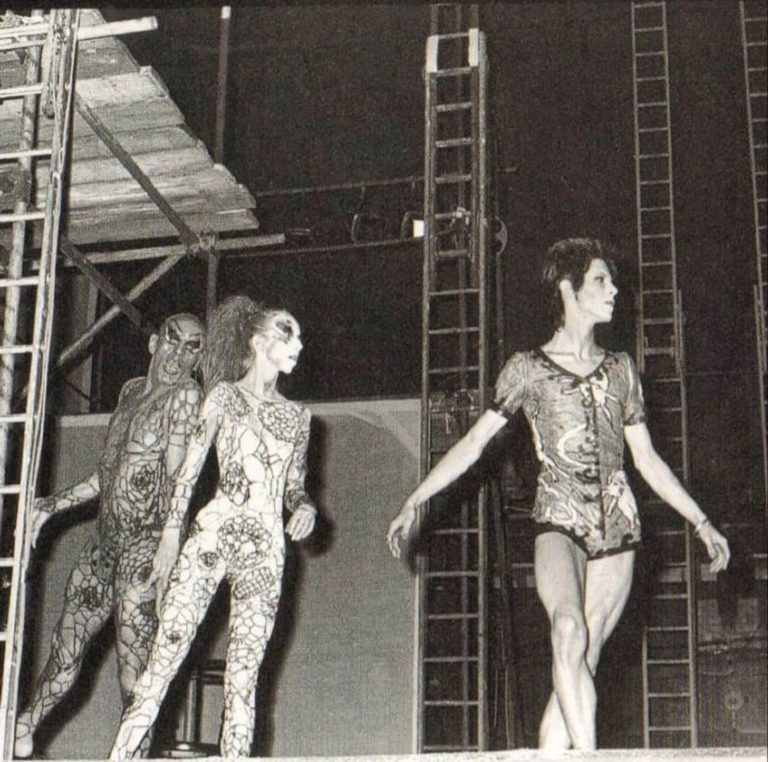 Angela, an often-overlooked influence on David, was a very dynamic personality who completely believed in David and was enthralled by the concept of Ziggy. She found fabrics and effectively drove a very frantic few weeks and along with Freddie who designed and fitted, Daniella and Susie Frost who sewed the costumes for Ziggy and The Spiders that had to be completed for their first ever performance. This is an example of the unorthodox 'all hands on deck' approach by Defries that required absolute commitment to completing specific essential tasks on time despite the work and sacrifices involved. Angela also experimented with makeup and hair.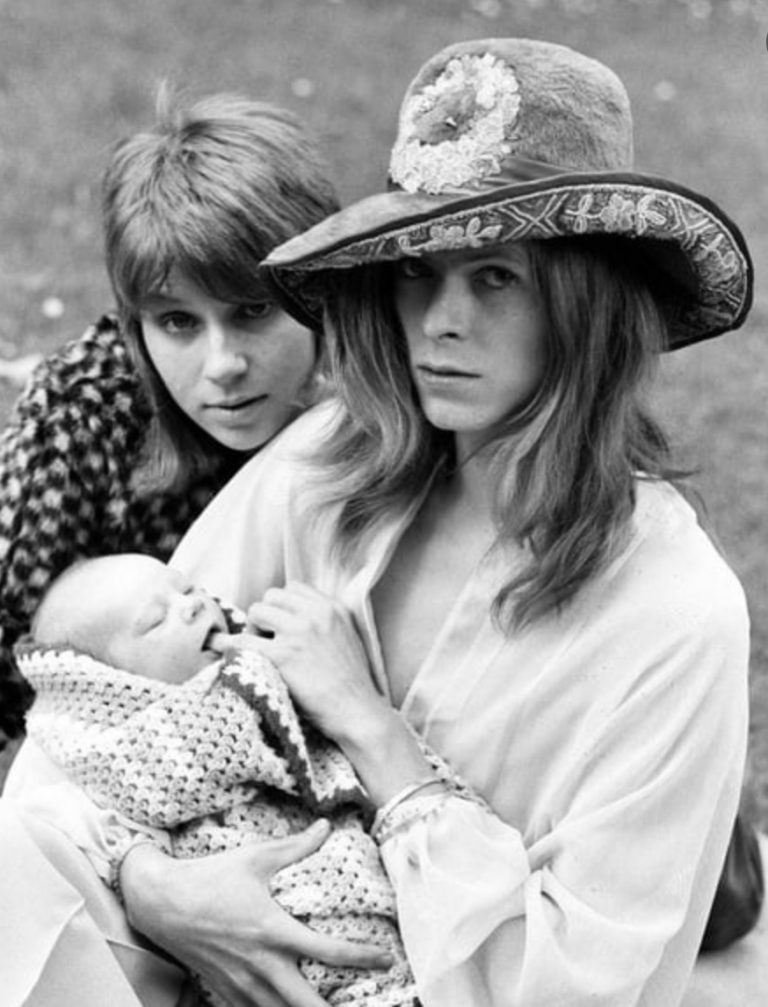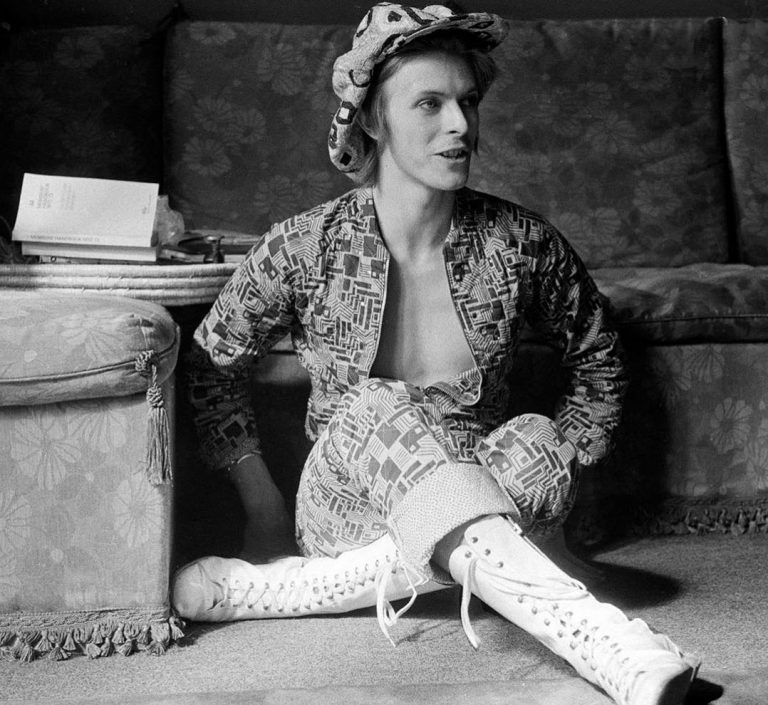 David was introduced via the red boots to Japanese designer Kansai Yamamoto whose work David described as "half out of sci-fi rock and half out of Japanese theatre". Kansai enjoyed a very successful organic period with David designing many of the outfits that are now synonymous with the Ziggy legend.
It was also Angela's idea for David to take the androgynous pan sexual persona he had been carefully cultivating for the cover of the Hunky Dory album one step further and reveal to journalist Michael Watts in a Melody Maker interview that he was gay. The quote that appeared in the January 22, 1972 article "I'm gay and always have been, even when I was David Jones" was seized on by the national tabloids and Bowie/Ziggy's profile increased exponentially almost overnight. This was only a few years after the de-criminalization of homosexual behaviour but the LGBTQ community was still marginalized. Coming out did provide a platform to enforce Ziggy's otherworldliness and also inspired countless teenagers to embrace their 'differences' and explore their sexual identities.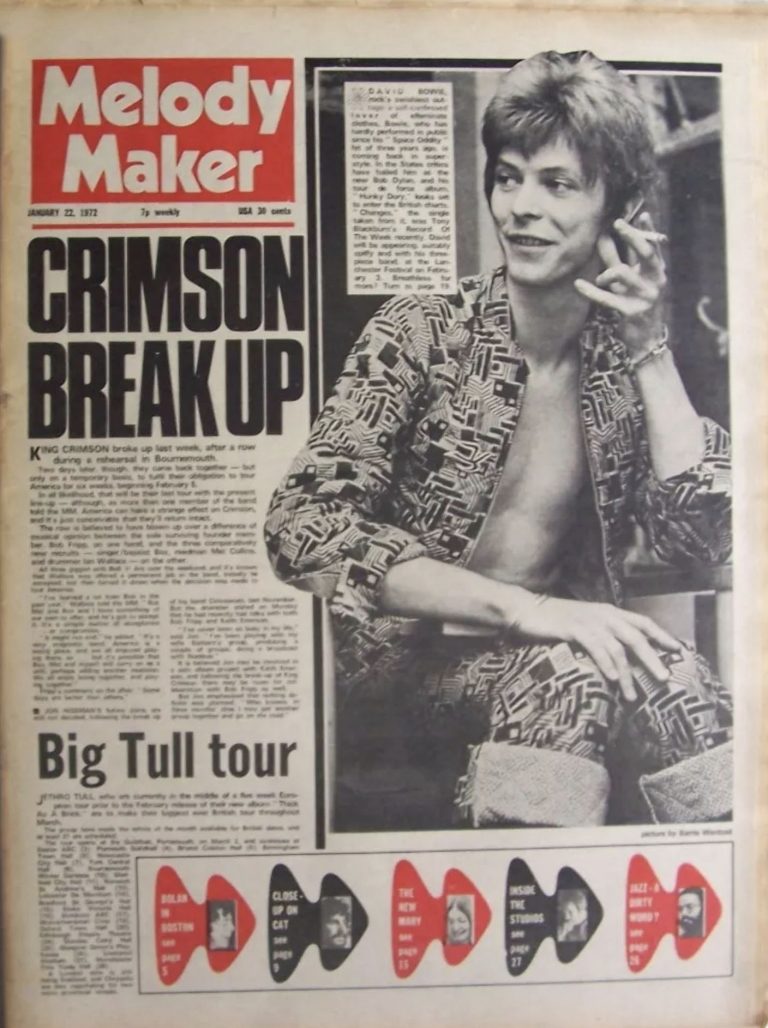 The storm of publicity sent David into a hysterical spiral of depression, determined that his career was over. Attempting to save the day Angela then suggested Mick also declare he was gay. Ronno was having none of that malarkey and high tailed it back to Hull. David and Angela were forced to make a hurried trip to Yorkshire to persuade him to rejoin the Ziggy party. Simultaneously Defries was experiencing a similar drama in the reaction of his GEM partner Laurence Myers who was horrified at how being associated with an openly gay entertainer might affect his reputation. Tony reassured him that any publicity when properly managed could lead to fame and fortune as it ultimately did.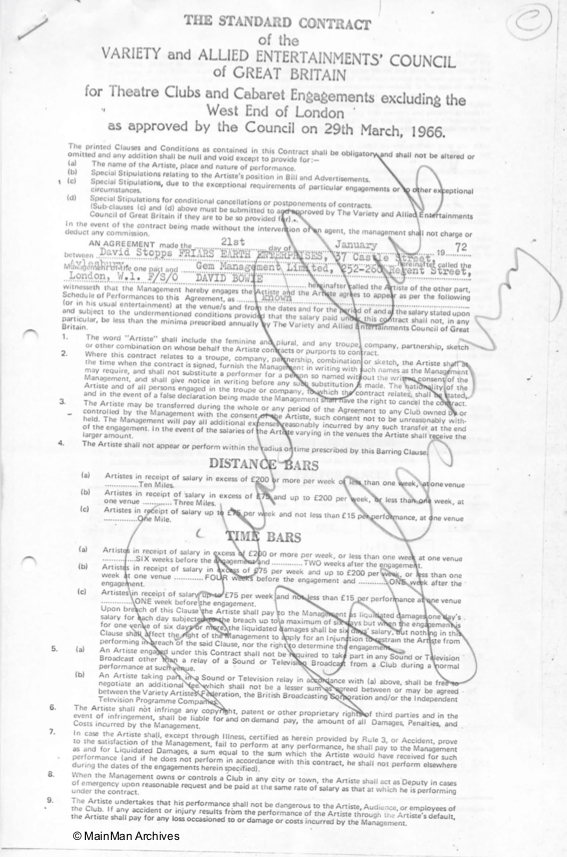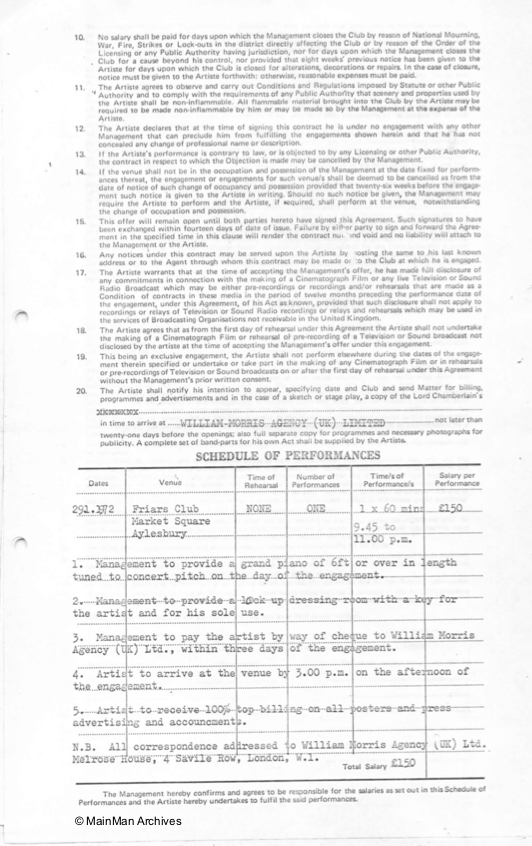 On the 29th of January 1972, Ziggy Stardust and The Spiders from Mars played The Friars Club in Aylesbury in their first ever public performance. David had played Friars several times in previous years and knew he would draw a loyal crowd, but none of the fans in the audience that night were prepared for what they heard and saw. The lights went down and Beethoven's glorious 9th Symphony from the soundtrack of Clockwork Orange blasted at full volume in total darkness. As the music faded the stage lights came up and Ziggy and the Spiders appeared. Thus began their fantastic journey to stardom, like no other.