"Those early sessions at Trident Studios were some of my best memories. With Ken Scott, we just said 'let's got for it'" – David Bowie.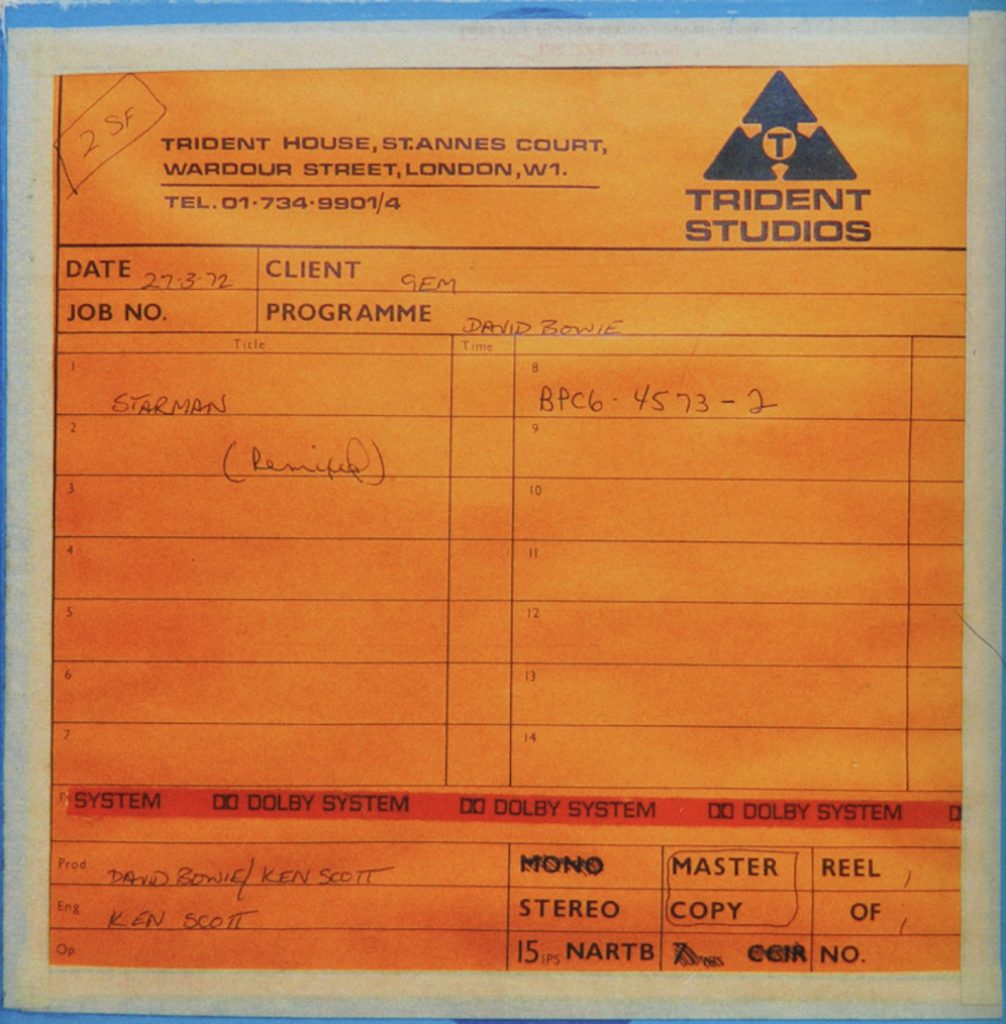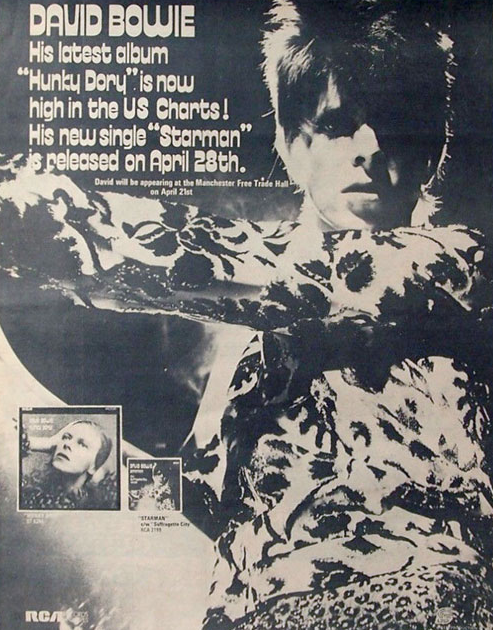 50 years ago this week RCA records released 'Starman', the first single from the new David Bowie album 'The Rise and Fall of Ziggy Stardust and the Spiders From Mars'. The album was produced by Ken Scott, who had also worked with Bowie on Hunky Dory, so it's a good time to feature a great interview with Ken from the MainMan archive, talking about the projects he worked on with David, back in the 70's.
Ken began his career as a recording engineer at Abbey Road Studios, where he was employed as a tape operator when he was 16. His first studio job, as a 2nd engineer, known as a 'button pusher' was on The Beatles 'A Hard Days Night' album in 1964. Over the next few years he worked in the studio with acts like Manfred Mann, Peter and Gordon, The Hollies, Judy Garland, Johnny Mathis, Cliff Richard and Peter Sellers.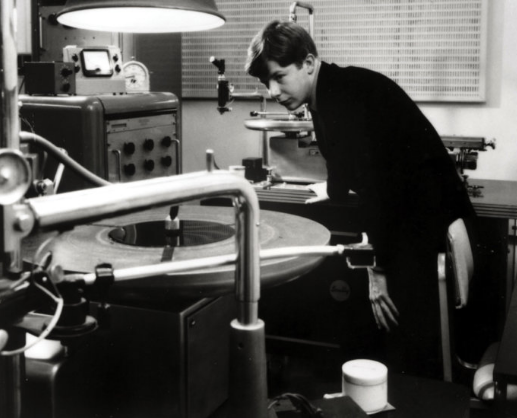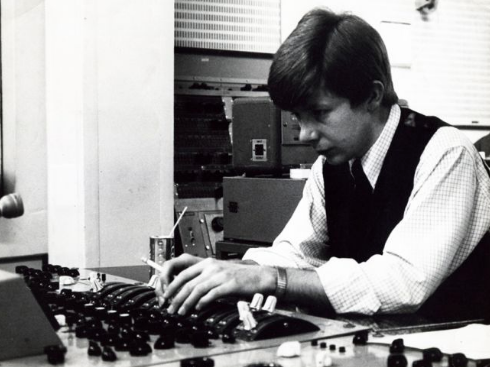 In 1967 Ken was promoted to engineer at Abbey Road and his first sessions were with The Beatles on their Magical Mystery Tour EP. Over the next few years he worked on follow up Beatles projects, including The White Album. During this time Ken also engineered recordings by The Jeff Beck Group, Pink Floyd, The Pretty Things, Procol Harum and Mary Hopkin among others.
In 1969 Ken met engineer Gus Dudgeon, who at that time was working with a new artist called Elton John who was recording his second album at Trident Studios in Soho, London. Gus suggested Ken should leave Abbey Road and take up a job as engineer at Trident. Shortly after starting at Trident Ken met Tony Visconti who was producing David Bowie's second album, simply titled Bowie, which Ken worked on.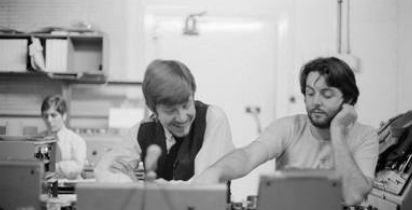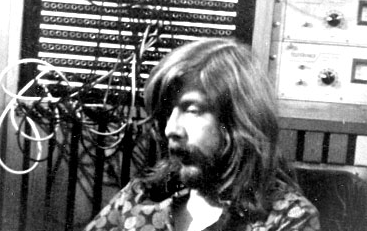 The following year Ken met David while he was at Trident Studios recording his album The Man Who Sold The World and Ken did some engineering and mixing work on the album with Tony Visconti. The following year David was back in Trident working on further sessions and Ken mentioned to David that he was planning on moving from engineering to production and was looking for projects to work on. David had just signed his new management deal and was about to begin work on Hunky Dory, so the timing was perfect and David invited Ken to join him as the album's co-producer.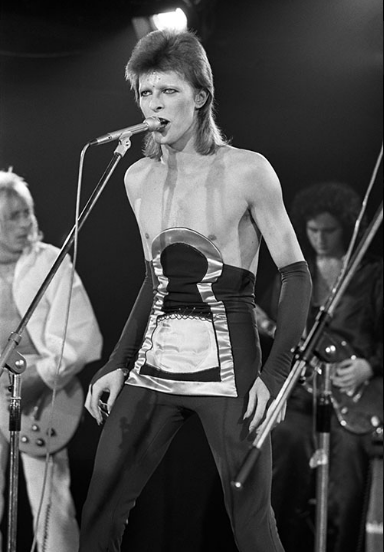 Following on from Hunky Dory Ken then produced The Rise and Fall of Ziggy Stardust and the Spiders From Mars', Aladdin Sane, PinUps a few tracks on the Diamond Dogs sessions and engineered the final Ziggy Stardust performance which was the 1980FloorShow at London's Marquee Club in October 1973.
While working with experimental groups like Pink Floyd and The Beatles at Abbey Road Ken became renowned for his ability to embrace requests from musicians to experiment with audio effects, especially with John Lennon, George Harrison and Paul McCartney while working on the White Album, where they were keen to push the boundaries of audio engineering, often to the dismay of the staid engineering traditionalists including George Martin.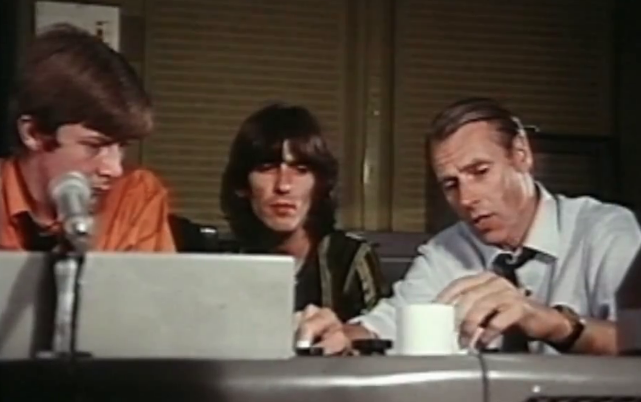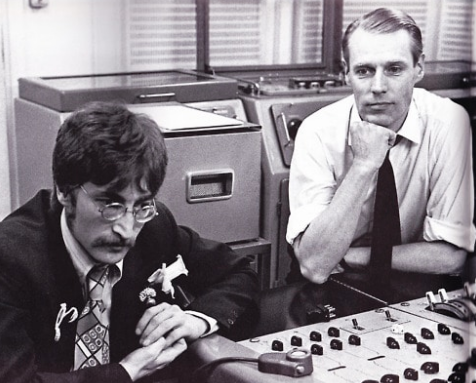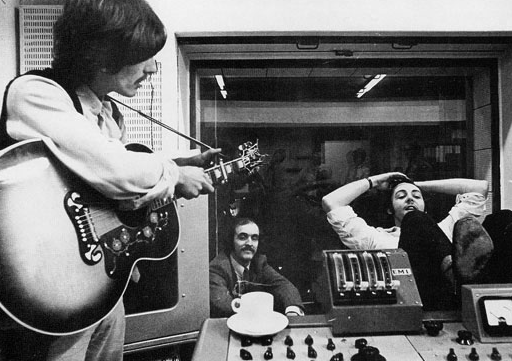 By this time The Beatles had become so successful that they had the power to make requests for the engineers that would have been refused several years earlier, as they would have damaged the equipment, or else not have been in the rule book!
This willingness to experiment was useful for David who was always looking for new and interesting techniques to use in the studio, so he worked well with Ken. And when David was invited by Lou Reed to produce his Transformer album in August of 1972, Ken was brought on board to engineer, working closely with both David and Mick Ronson to capture Lou's unique aural visions.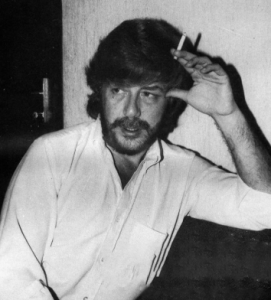 Along with observing how David's songwriting and performance changed over the years Ken also forged a close musical bond with Mick Ronson, admiring his ability both as guitarist and arranger. Ronno's talents were uniquely evident on Lou Reed's Transformer where Mick scored all the strings as well as providing his usual outstanding guitar work and piano and recorder.
Ken also tells a great story about working with Woody Woodmansey during the Ziggy sessions. Woody apparently thought the drum sound Ken had engineered on Hunky Dory made his kit sound like he was playing Corn Flakes boxes. So when they began recording the Ziggy sessions Ken arranged or an assistant to buy several different size boxes of Corn Flakes which they set up in the studio replicating a drum it. Woody saw the funny side when he arrived that night and Ken adjusted his technique accordingly so the drums on Ziggy are 'much brighter'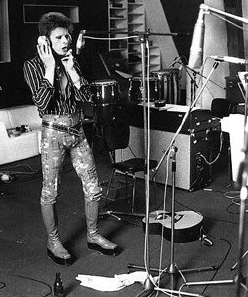 Ken was very impressed with how quickly David always worked in the studio. He wasn't the sort of person who liked to spend a lot of time hanging around on a session and was keen to get his vocals recorded very quickly so he could move on to something else. As Ken recalls "Of the four albums I worked on with David, about 90% of the vocals were first take beginning to end. I would run the take, get the level for his vocal, go back, hit record on the take, and what he did that one time through is what we still hear today. And that's no Auto-Tune, that's no cut and pasting things, no moving anything around. It was one performance that came from his heart every time."