In the Spirit of 1776 Johnny Cougar's introduction to the world coincided with the Bicentennial celebration of the American War of Independence. MainMan created special envelopes to commemorate this event.
This episode is a continuation of episode 23 where the founder of MainMan Tony Defries began his recollections of  how to make a rock superstar from humble beginnings by describing the early days of recording and promoting  John Mellencamp, a small town boy from rural Indiana USA.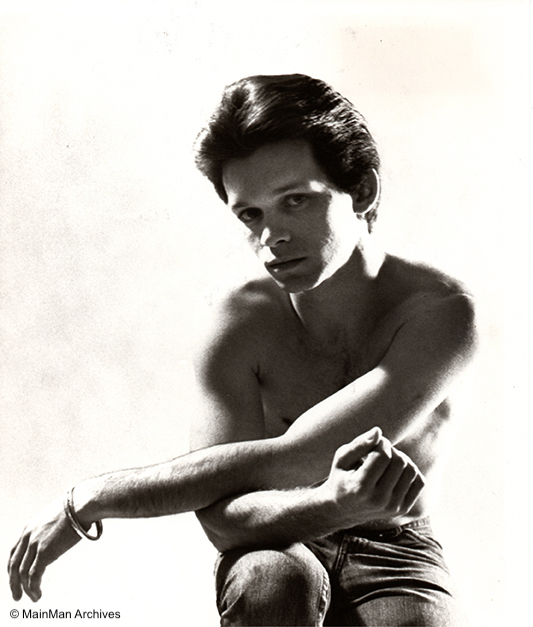 In preparation and rehearsal for John's debut album Chestnut St Incident various songs were discussed between John, Tony Defries, Mick Ronson and various musicians/band members. Defries determined the balance between a set list of original and  familiar material such as 'Oh, Pretty Woman', 'Supergirl' and 'Twentieth Century' Fox' that would fit John's performance range and provide 'standards' for radio play. As in many cases The Hit Factory sessions in NYC produced more songs than required for this album.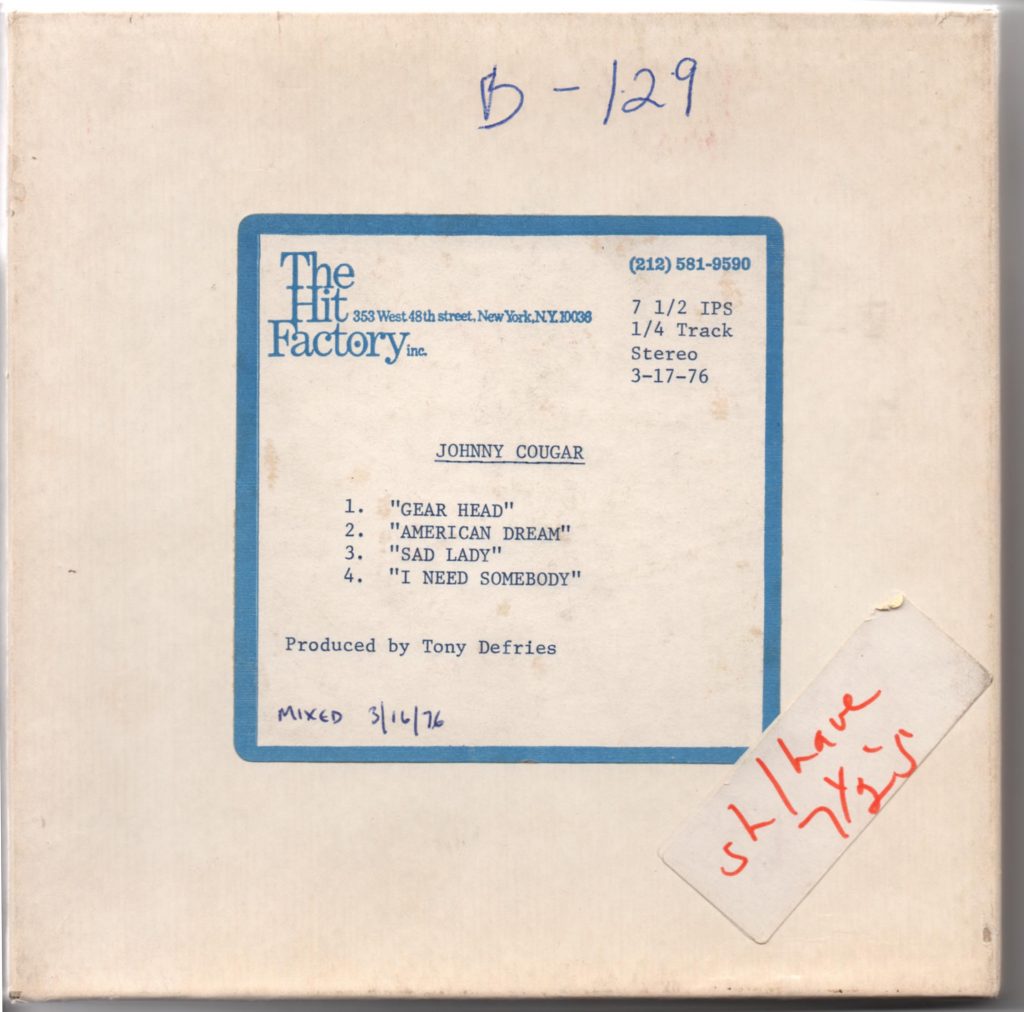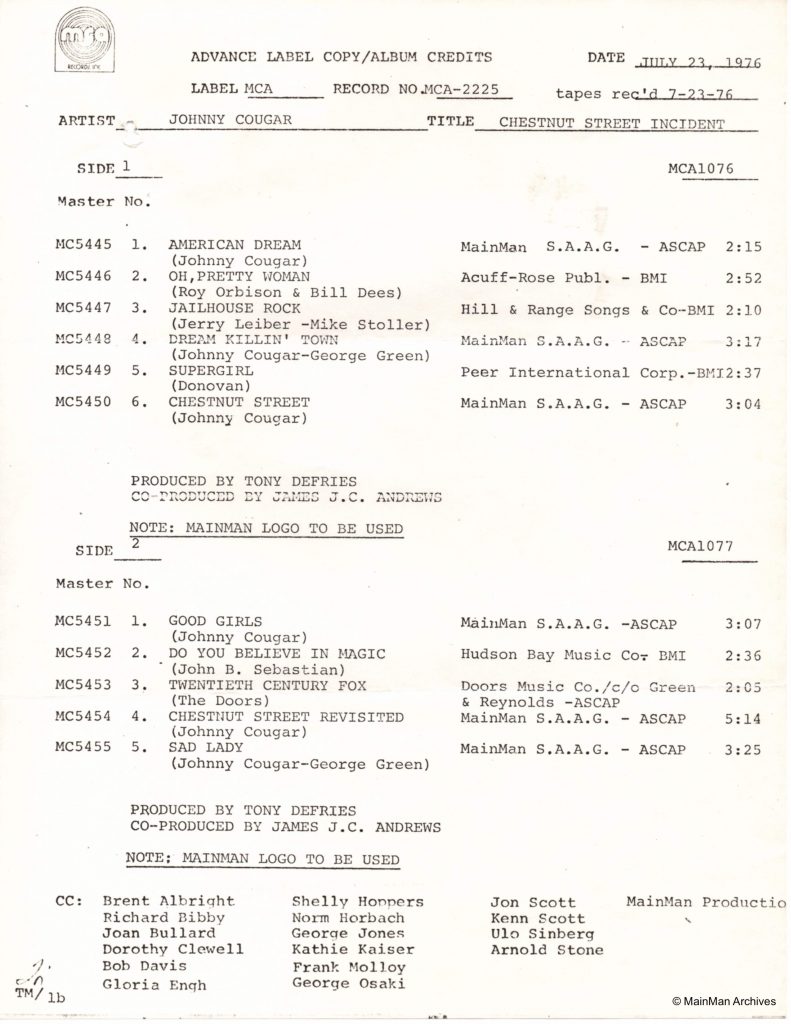 An example is 'Gear Head' an original Cougar song that appeared later on 'The Kid Inside'. John's original handwritten lyrics can be seen next to the typed MainMan version above.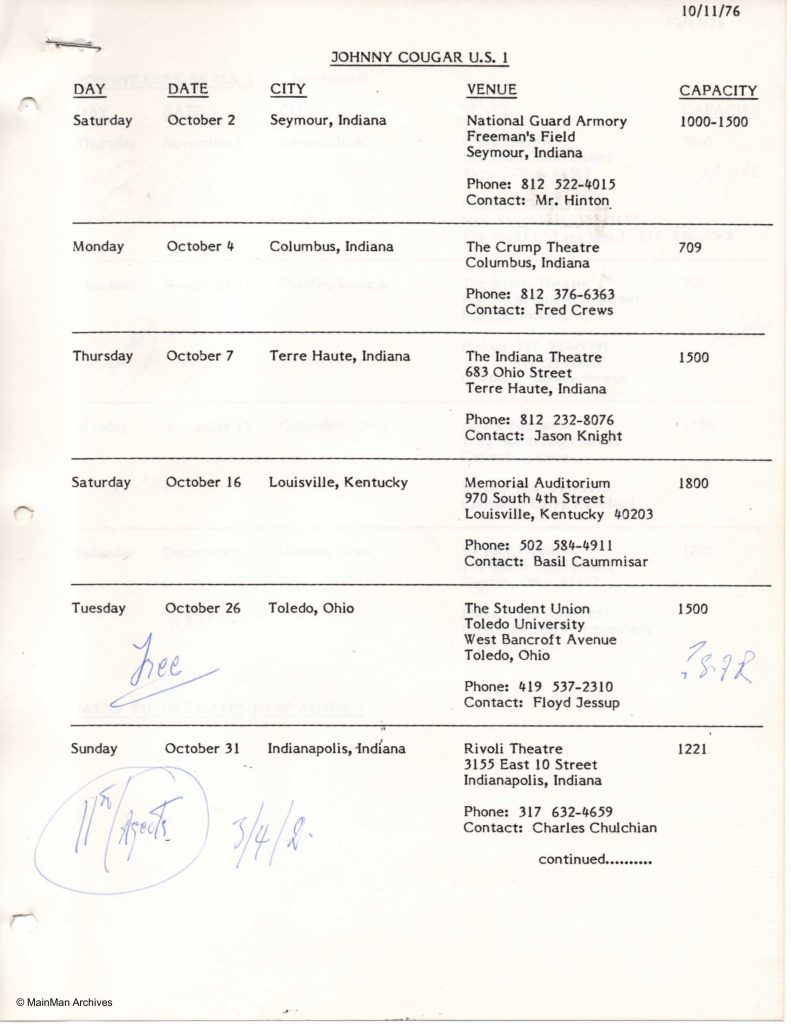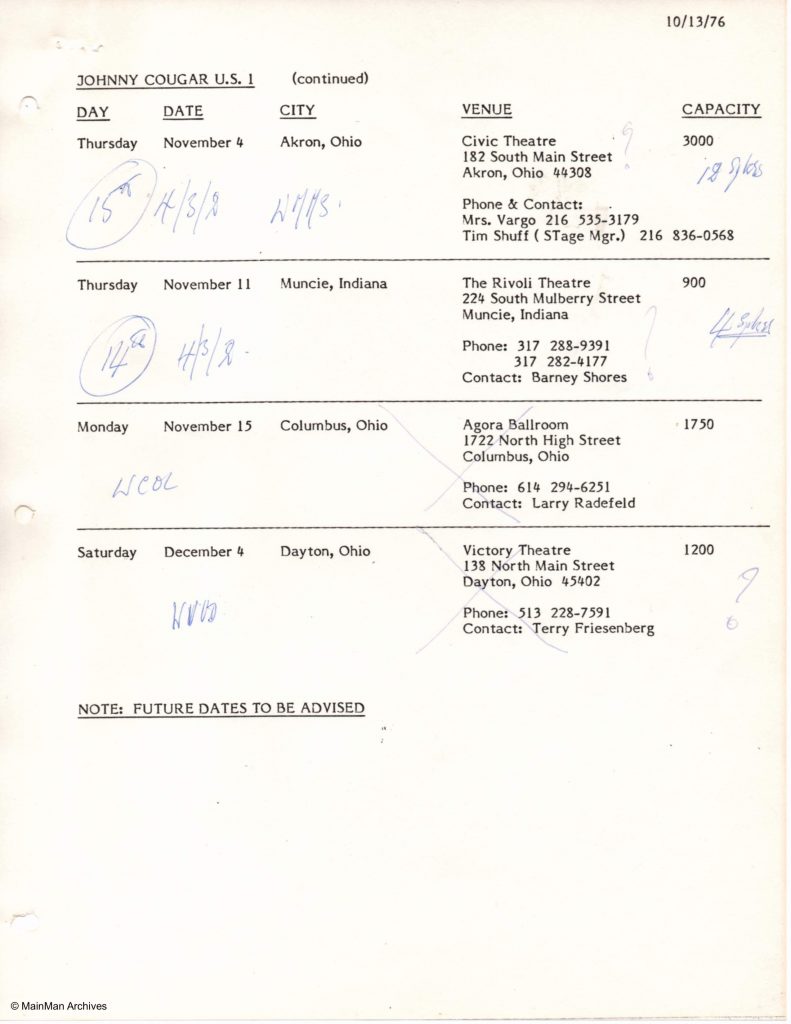 When the album was released in 1976 Defries arranged John's first US Tour that began with a concert in Seymour and continued in neighboring states. A full scale traditional parade for Oktoberfest, which we renamed Johnny Cougar Day, complete with local school marching bands and specially franked mailing envelopes. This has since become an annual event.  Later on the tour MainMan arranged for an animal trainer to bring along two live cougars to a local radio station, much to the shock and horror of the DJ attempting to interview Johnny Cougar!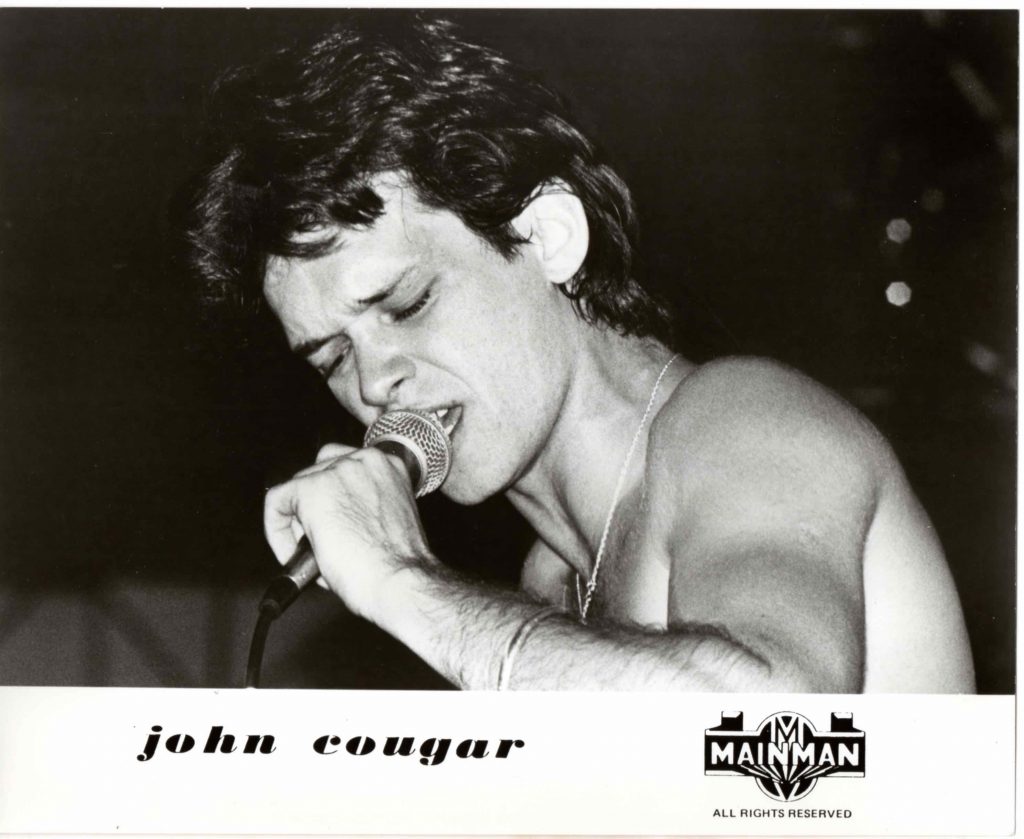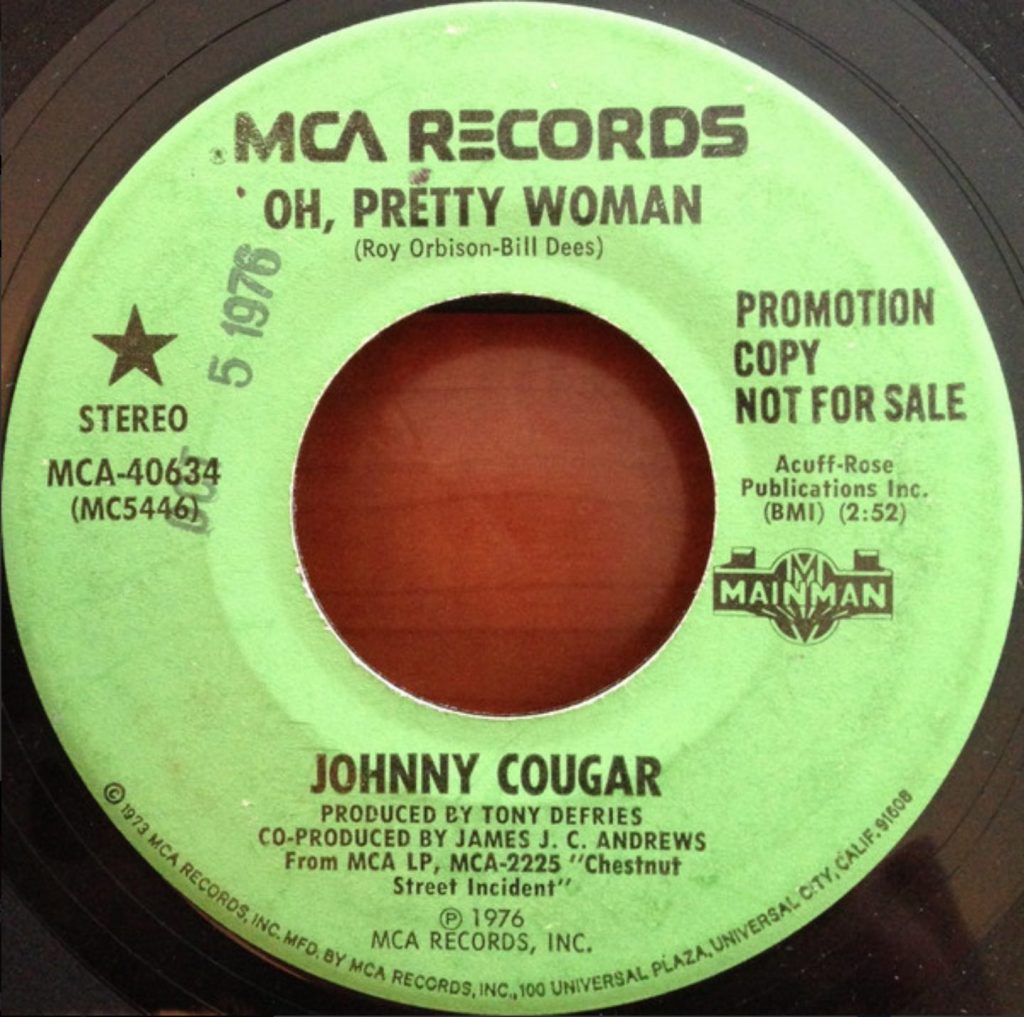 Shortly after the album's release there was a senior management purge Mike(John) Maitland at MCA and unfortunately John was dropped, not the most auspicious start to a recording career. Jon Scott one of the radio promotion team that had supported MainMan & John was fired. He moved to ABC records where he discovered a white label for a new band called Tom Petty & The Heartbreakers. He liked what he heard and set about heavily promoting them and their album. As is often the way in the music industry and life in what Defries calls the 'fallout function' John's early misfortune helped to make Tom Petty famous.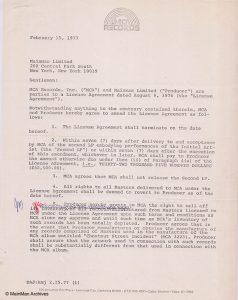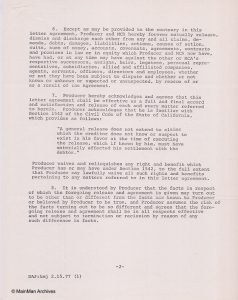 The abrupt departure of Mike Mateland and various other people at MCA resulted in termination of the MainMan label deal required Defries to seek another record company for John. This led to a trip to LA by Defries in early '77 to talk to various labels. Whilst he was there Blondie did their first series of gigs at the Whiskey Go Go with supporting acts that included Tom Petty and the Heartbreakers. Before forming Blondie Debbie had been in a NY band called The Stilettos who used Tony Ingrassia as a stage director and was friends with Jaime Andrews and other MainMan artists and staff.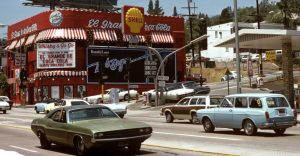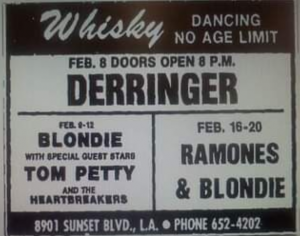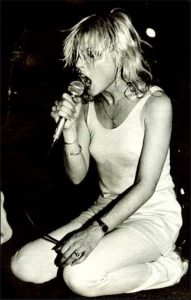 For this show Debbie had opted to wear a paper wedding dress and veil that she could rip off while she sang, revealing a sexy costume. Tom had spray painted his initials on her dress. After the show Tony met with TP backstage and later met with Debbie and Chris Stein.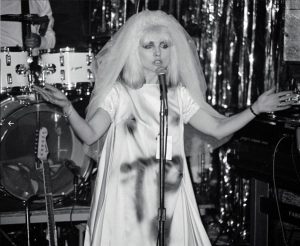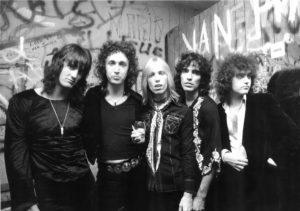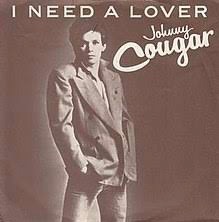 Within a year of being dropped by MCA John was signed to Riva, the same label as Rod Stewart, which had been formed by Rod's manager Billy Gaff. In 1978 Riva released the album A Biography which contained John's first minor hit I Need a Lover. John released a further three moderately successful albums, but in 1982 his hard work finally paid off with the release of American Fool which went on to top the Billboard charts for 9 weeks.
John owes a lot of the success of that album to Mick Ronson who had remained close to John in the years since they had worked on John's MainMan debut. While recording American Fool John and his band were having trouble recording material that Riva felt had no potential, so John called up Mick Ronson and asked him to come and  help.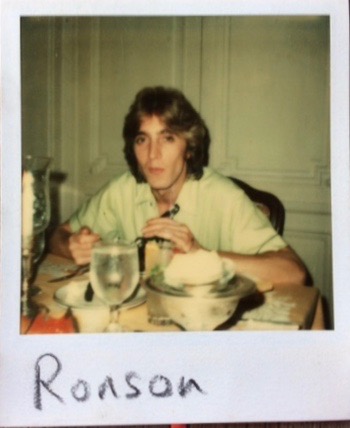 Ronno travelled down to Florida and one of the first things he did was to help John's engineers adapt their drum sound in order to replicate the large sound created by Phil Collins on his Face Value album.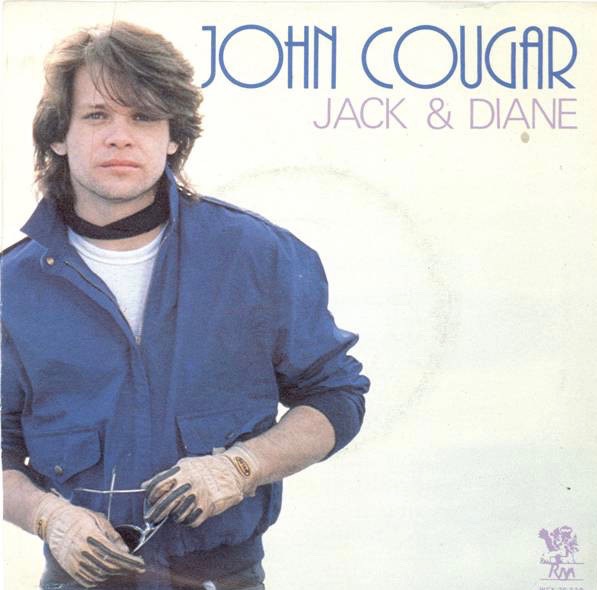 When he heard the demo for Jack & Diane, which John was struggling to complete, Ronno suggested some changes to the song, adding in his now famous guitar part, some additional percussion, arranging a repeat chorus sung by the whole band and sang backing vocals. The result was a worldwide smash hit.
Ronno stayed with John at the studio for several weeks helping with technical set up, song arrangements, playing guitar parts and singing backing vocals. John paid credit to Ronno for his help on the album and acknowledges a debt of gratitude to the important role Ronno played in creating the era defining sound of American Fool.