I Need A Lover Who Won't Drive Me Crazy
Jamie Andrews 1946 – 1985
Dedicated to Jamie and all the – Loving Laughing, Gracious Gallant, Bold Brave, Tough Tender + passionate & compassionate people. 
'They shall not pass this way again'. 
In this episode  Tony Defries pays tribute to Jamie Andrews who passed away in New York on July 11, 1985 just a few days before Live Aid.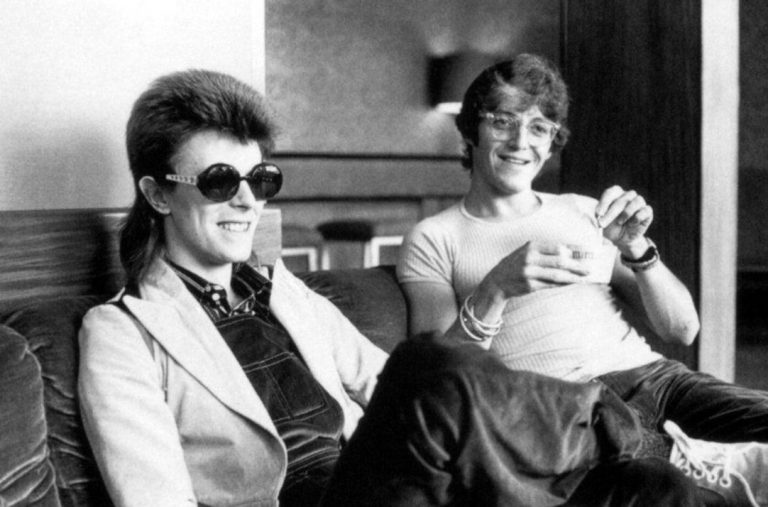 Jamie grew up in Lawrence, Massachusetts attended Catholic and private academies, MIT, Brown University and graduated from the Rhode Island School of Design with a double major in architecture and photography. He journeyed to the Big Apple and got involved in underground films, Off-Off Broadway theatre with Andy Warhol's Pork, John Vaccaro's Playhouse of the Ridiculous & Ellen Stewart's Cafe La Mama. He acted, designed sets, lights and costumes and served as assistant director. At this time he met Tony Zanetta, Tony Ingrassia & Tony Defries and joined MainMan. Over the next dozen or so years he was a photographer, tour manager for Bowie and Mellencamp, creative director for Diamond Dogs, theatrical producer for Fame and eventually became president of MainMan.
….and here's a telex from Jamie updating Defries on The 1980 Floor Show advertising blitz – 1,000 spots on 20 radio stations and 41 spots on 14 TV stations for shows like Midnight Special, Dick Clarke , Soul Train, American Bandstand & even the Brady Bunch. Also features an early reference to Corinne Schwab a girl who came to work in the London office as a temp and was so ambitious that she replaced the rest of the staff, made friends with David and Angela, took care of them particularly well, eventually replaced Angela in David's affections and became his personal assistant, girlfriend and shield from the world, renamed CoCo for reason obvious to the MainMan staff. Corinne's father spent time On The Road with Jack Kerouac the author of that famous 60's novel about the Beat generation.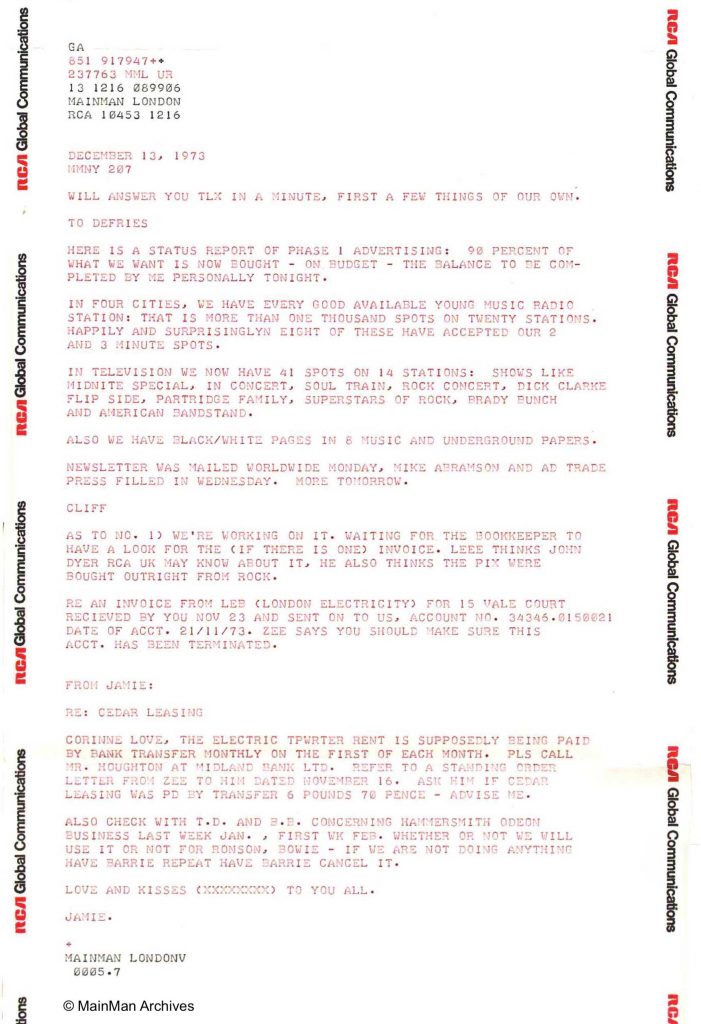 Jamie had a close personal relationship with Debbie Harry in the years before Blondie when she was performing in the Stilettos and earlier bands and took many photos of her. In this Mailgram from 1974 he's asking her to do  "Platinum Blonde" acapella. Interesting to note this is the first song Debbie ever wrote which later became a hit for Blondie.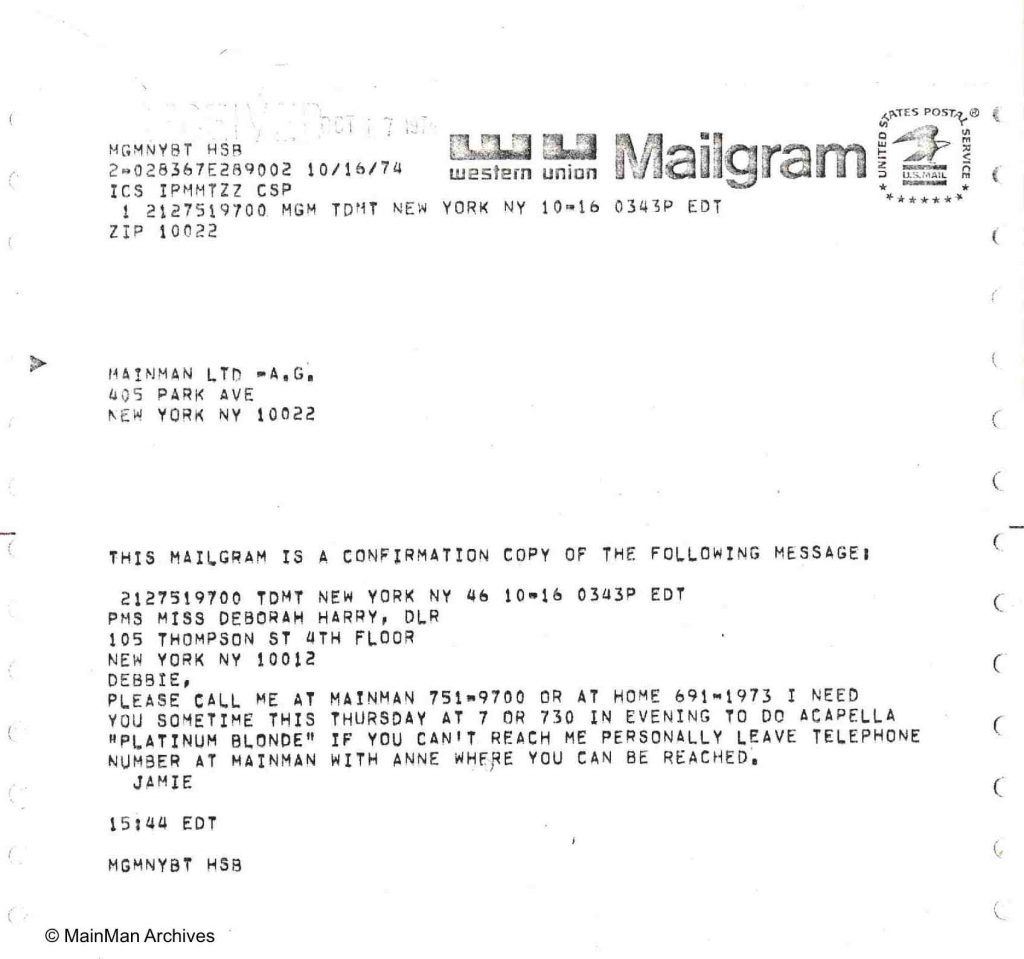 In a 2008 excerpt from Classic Rock Magazine Mellencamp recalls that "when I was a kid I read Creem magazine and they wrote about everything that was alien to a small-town boy – Iggy Pop, Lou Reed, Mott The Hoople, David Bowie and The New York Dolls. I loved all the stuff. We used to play the glam songs in my early bar bands in Bloomington where I grew up as one of 9,000 people. That Creem world out of Detroit was the most important thing to me."
On the verge of quitting the business, Mellencamp chanced his arm at MainMan. "I walked in and got lucky because the receptionist, who was a woman incidentally, thought I was handsome. Plus she came from the Midwest like me. She actually walked my tape into Defries's office. I drove home 20 hours in the car, and when I got in there was a message from MainMan's president, Jamie Andrews, who said he'd listened to the tape and wanted to put it out. Could I come back to New York immediately? I phoned him and said: "I ain't got no money." Didn't matter 'cos he sent me an airline ticket and booked me in to a hotel. I met Defries and he asks: "Have you written any songs?" Yeah, two. 'Okay,' he says. "Here's $30,000. Go home and make some demos." I thought: "Thirty grand, that's a lot of money" and I almost decided to take the cash and fuck off. Buy a new car or something. But I didn't do that. I made my demos and took 'em back and then I met Mick who hired me a band, including him and the pianist Michael Kamen, a real fucking hot shot."
Jamie & Defries flew to Indiana and met John and the band in Seymour where Jamie took a bunch of photos and here are some of them.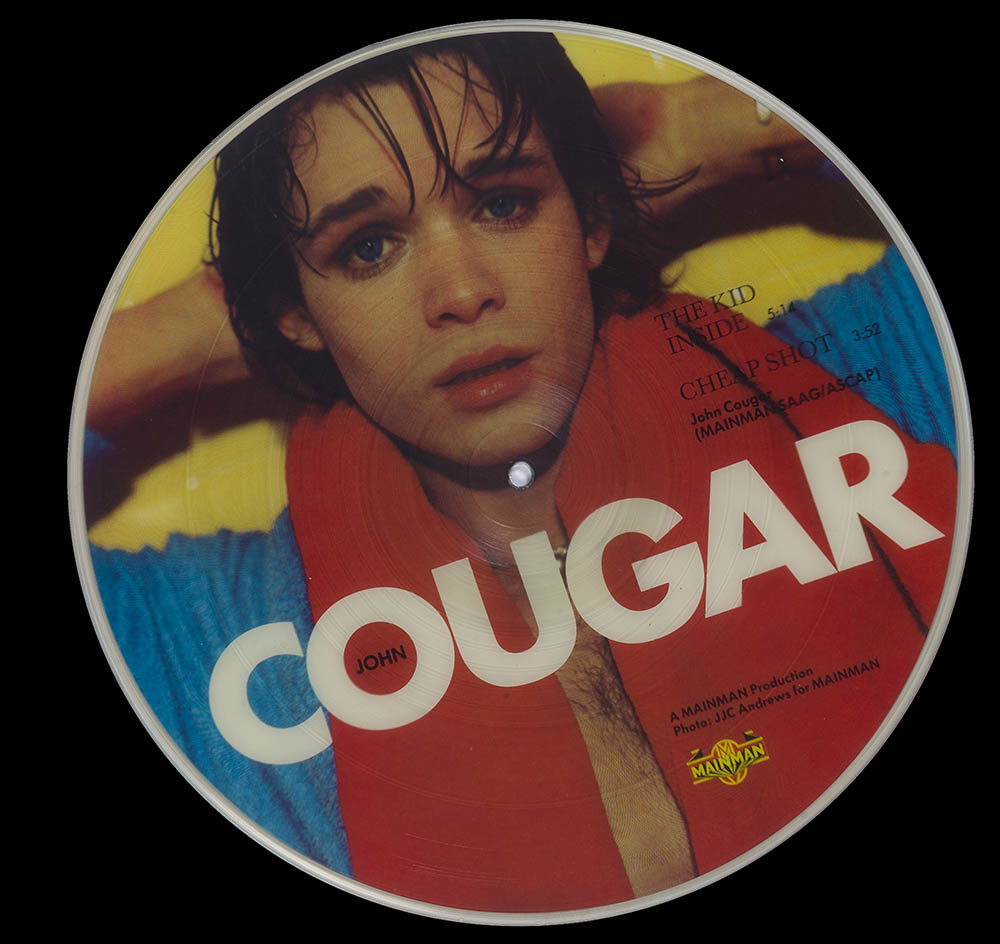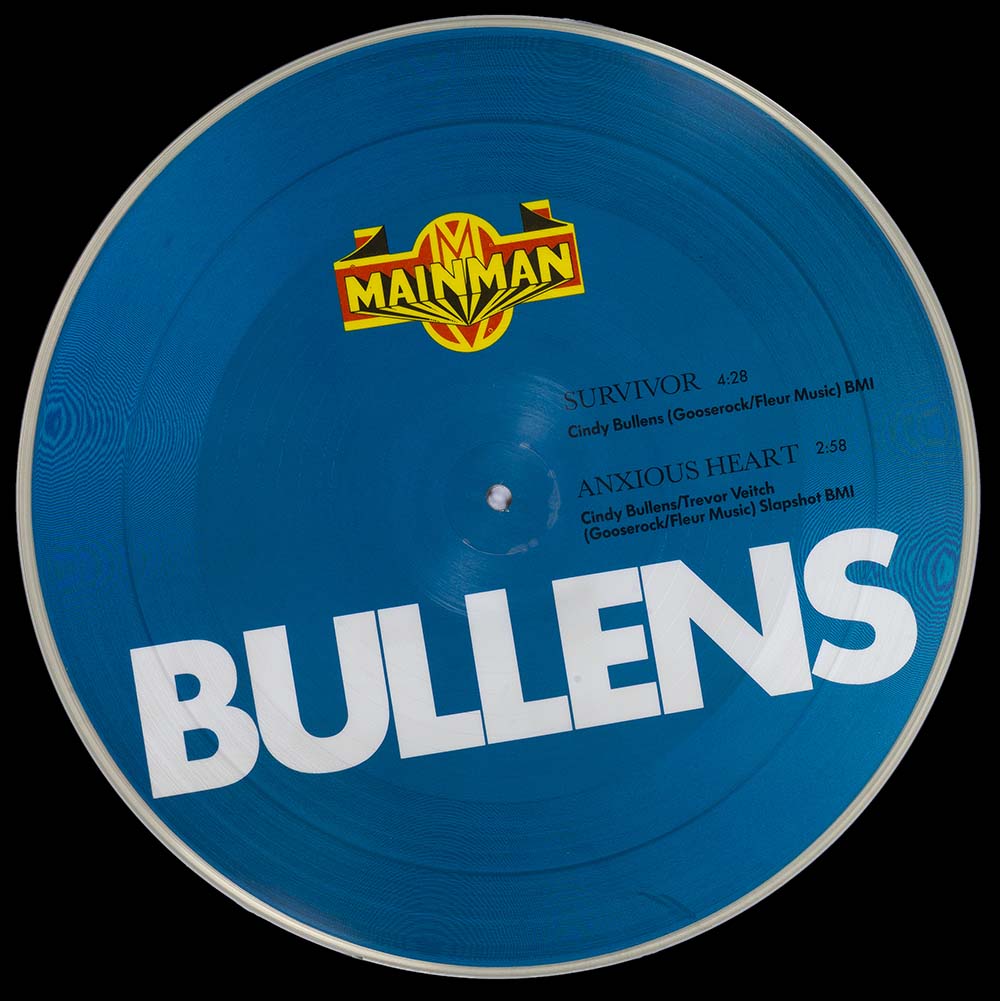 A Magnificent Obsession – A Tribute to American Eccentricity.
"The road from Tuscon to Nogales is long hot and deserted. As you approach Amado on I-19 you see a giant pair of dazzling white steer horns that dominates the small town. This began when Jamie was on the road with Bowie trying to sleep on the bus. Halfway between waking and sleeping he looked out the window and saw a giant hamburger flash by. This inspired him to seek out and take photos of roadside attractions before they disappeared, which led to a book and a traveling exhibition called The Well-Built Elephant.
Jamie continued to work with Defries at MainMan through the 70s and up until his death in 1985. During that time they became very close and Jamie continued with his photography including taking pictures of Defries and his wife Marlene at their New York apartment and on various trips they took together …… Forever Young and forever missed – Jamie