Freddie Burretti was a very important figure in David Bowie's transformation from pop wannabe to rock megastar, creating a visual representation to match David's evolving music explorations. Freddie was a talented designer who not only created flamboyant stage costumes for David but was also very aware of how to use contemporary fashion to make original and very striking street wear.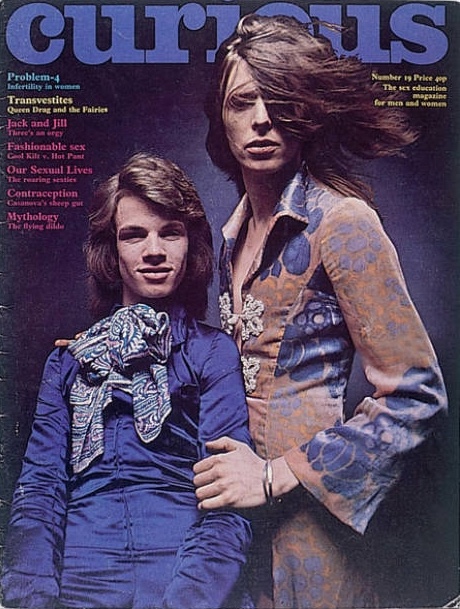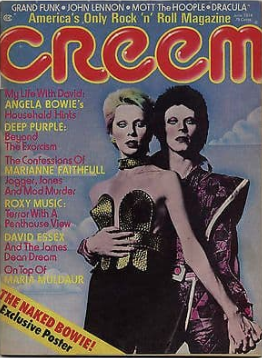 As we continue exploring the important role Freddie played in David's career in this episode we feature Wendy Kirby who was Freddie's close friend and flatmate. After several years living a bohemian idyll at the grand Haddon Hall in suburban Beckenham, Kent, the Bowie's realised it was time to move when fans began camping on the front lawn and stalking the tenants 24/7, so much to the relief of the neighbours Angie and David moved to Chelsea. Several of their coterie made the move including Freddie Burretti and Daniella Parmar who by now had become Zowie's nanny.
Just as Haddon Hall had been a focal point for the Bowie's social life, the flat in Oakley Street became a rock 'n roll paradise with an open door policy and long list of celebrity guests. Wendy recalls many long parties at the flat with a wide variety of stars like Mick & Bianca Jagger, Ronnie Wood, Marianne Faithfull, Pierre La Roche, Bob Harris, Mary Hopkin and Tony Visconti and Lionel Bart.
During this period Wendy became close friends with Angie and got to hear some fascinating stories about life with David. In a short period of time the Bowies had gone from struggling wannabes trying to survive on a food bill of £6 per week to rock royalty living in 5 star luxury, so the external forces on their personal relationship became quite intense, but at that time, 1973, Wendy still saw the Bowie's as a solid team – even though they both enjoyed the benefits of a  hedonistic lifestyle.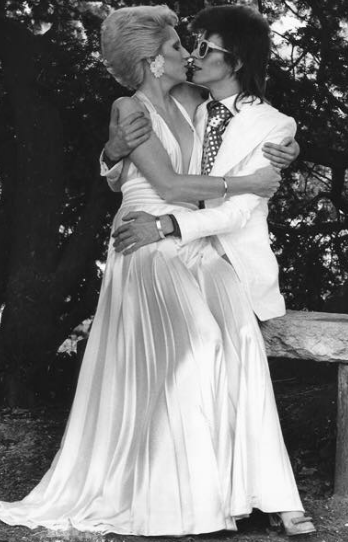 Because Wendy was Freddie's flatmate for a long period of time she got to learn a lot about his personal life. Being an openly gay man in Britain in the early 1970's was a very difficult time. Societal pressure was immense so the support of the gay community that centred on Yours & Mine/The Sombrero was important to Freddie and his circle of friends and when David made the claim in the Melody Maker magazine in 1972 that he was gay, he encouraged a lot of people like Freddie from the LGBT+ community to celebrate their sexuality.
Freddie's relationship with Daniella Parmar also had a big influence on David and Angela. At that time androgyny was very fashionable and Freddie created outfits for Angie and David, based on styles that he and Daniella wore, that drew media attention and encouraged the tabloid press to play on the 'are they, aren't they?' narrative.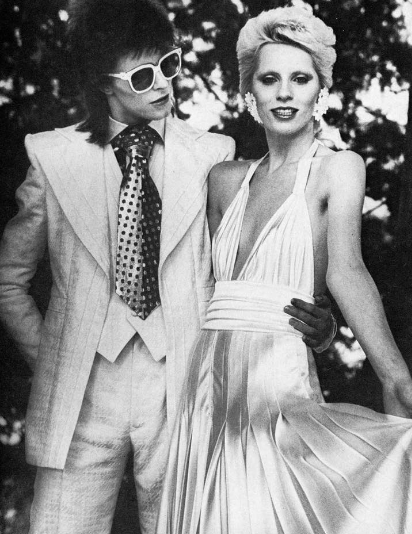 When David wrote All the Young Dudes for Mott the Hoople to record in May 1972, he name checked several of the coterie that had become part of his inner circle including Wendy and Freddie.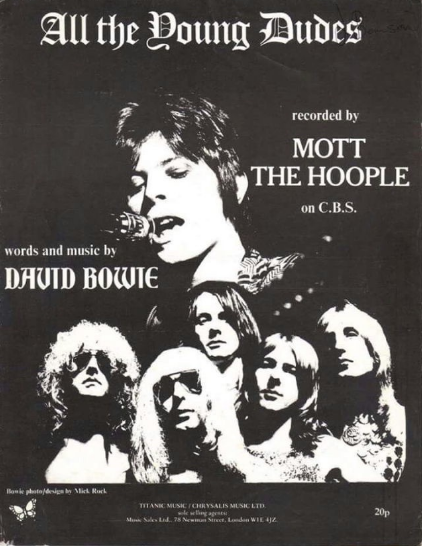 The opening lyrics are:    "Billy rapped all night 'bout his suicide,  How he'd kick it in the head when he was 25. Don't wanna stay alive when you're 25. Wendy's stealing clothes from Marks & Sparks, Freddy's got spots from ripping off stars from his face – Funky little boat race."
David wrote the song for Mott because he was a huge fan of the band and when he heard they were on the verge of splitting up he offered to help out. Having been together for three years, the band had released four well-received albums and developed a small loyal following but had failed to garner commercial success.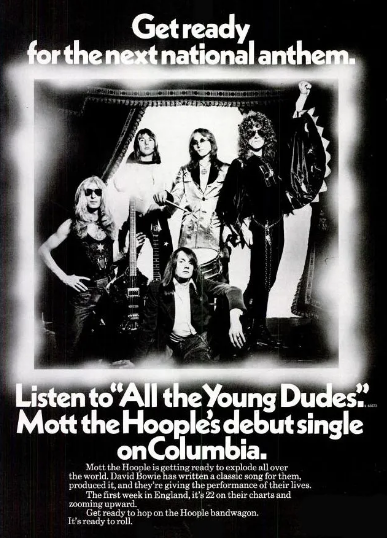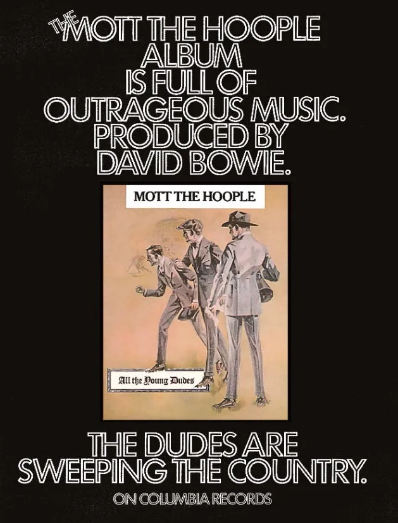 Despite numerous trips to the USA where they were scheduled to perform at the bottom of a bill featuring many other artists they frequently failed to get on stage. Similar concerts in Europe attracted very small audiences. In February 1972, Bowie sent the band a demo of Suffragette City, but they didn't think it suited their style and rejected it. David then wrote All the Young Dudes for them. He met the band at Tony Defries office and played them an acoustic version while sitting cross legged on the floor.
The band loved the song and David offered to produce it. This was all subject to Tony securing a release from Chris Blackwell of Island Records, making a new worldwide deal with CBS and managing the band pro tem. On May 14, Tony booked Olympic Studios in Barnes for the historic recording and the single was released in July 1972 and became a glam rock anthem. David and Ronson were both actively engaged in producing, arranging and performing on the album.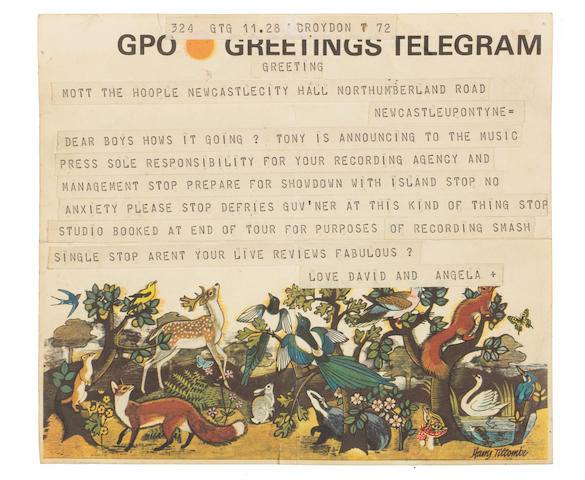 Wendy remembers that when David asked her if she liked the fact that she had been mentioned in the song she glibly replied she would have preferred it if he had mentioned Harrod's rather than M&S! Record company lawyers at the time were concerned about the mention of M&S so the lyric was changed to "Wendy's stealing clothes from unlocked cars". Both Bowie and Mott the Hoople  performed the song with both sets of lyrics.
On January 3 1973 Daniella and Wendy were with David and Angie in the Oakley Street flat, the day The Spiders from Mars were scheduled to perform their new track Jean Genie on Top of the Pops. As Wendy recalls David asked her and Daniella to join them at the BBC studios, so with suitably glam outfits and heavily dyed hair the pair can be seen at the front of the stage in the now iconic TOTP's version of Jean Genie broadcast on January 4, 1973.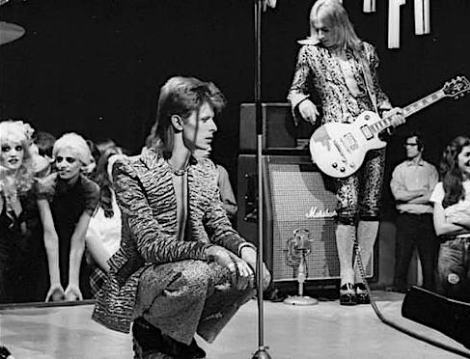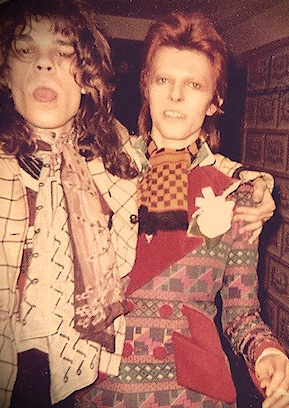 In 1974, Freddie accompanied David on the Diamond Dogs Tour creating some spectacular outfits. Halfway through the tour in October David decided to strip back not only the staging but also the musical arrangements and the visuals, which meant that several of the band were dispensed with and because David chose to wear slick suits instead of Freddie's outrageous costumes he was also set adrift.
Freddie never saw or spoke to David again.
In the last few yeas Wendy has pieced together a timeline of Freddie's life post-Bowie, which is a far cry from the days when he was dressing the world's biggest rock star.
But Freddie will always be remembered for the extremely important aesthetic he created for David during one of the most spectacular and inspiring periods in rock history. Freddie died in Paris, apparently from cancer, in 2001.