This is a story about secrets, moles and the real reason for David Bowie's experience of seeing Elvis Presley live in Madison Square Garden, New York City on June 9, 1972.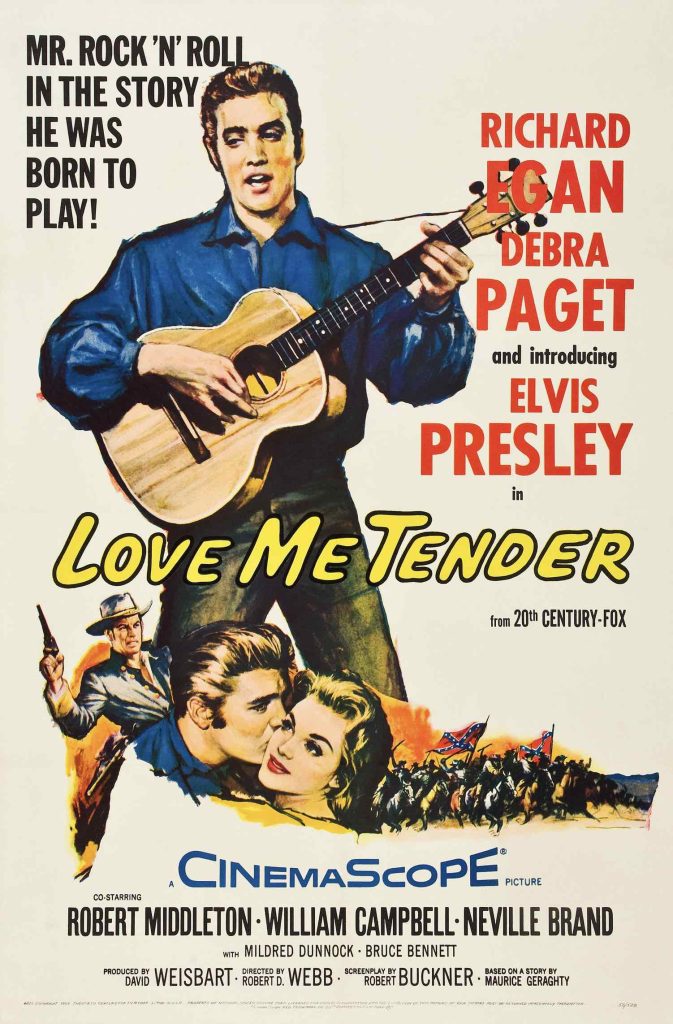 Tony Defries saw Elvis in the film Love Me Tender when it was initially released in the UK in 1957. As an impressionable teenager what Tony saw on screen was a natural born actor, singer and songwriter. Elvis also co-wrote the film's title song which was the first record to earn gold sales status before it was released and went on to sell 2 million copies in the US, a world record at the time.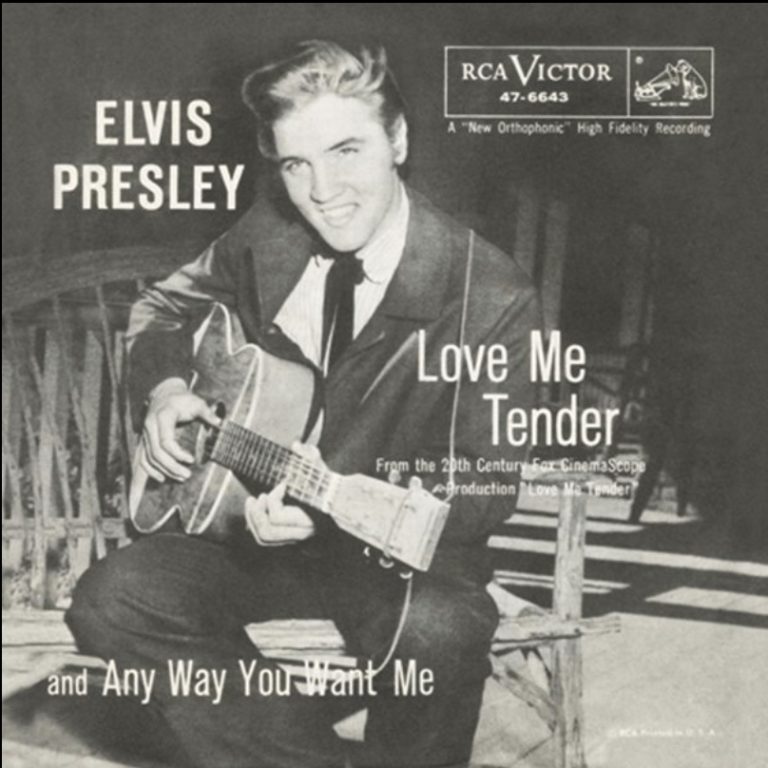 Love Me Tender was Elvis's first acting role and his screen talents were untested so he received support billing behind established screen stars Richard Egan and Debra Paget. After Love Me Tender became a box office hit, Elvis received top billing in all 30 films he made in the following 14 years. The film was originally titled The Reno Brothers and based on a true Civil War story, but when advanced sales of Love Me Tender passed one million—a first for a single—the film's title was changed to match.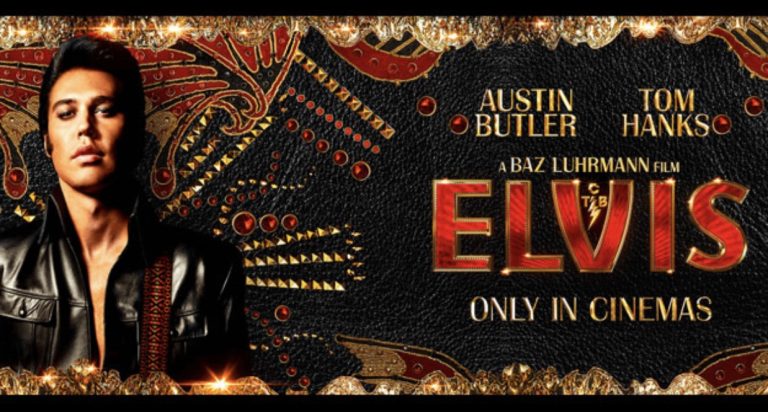 Anyone who has seen Baz Luhrmann's highly acclaimed biopic Elvis will know that Elvis was very keen to be taken seriously as an actor and was inspired by screen idols like James Dean, Marlon Brando and Tony Curtis when Colonel Tom Parker became his manager. But once Elvis became a huge rock 'n roll star Parker insisted he churn out musical films to provide soundtrack recordings for his adoring fans and generate additional royalty revenue from sales of those soundtracks and earlier records. This denied Elvis the opportunity to pursue a serious acting career.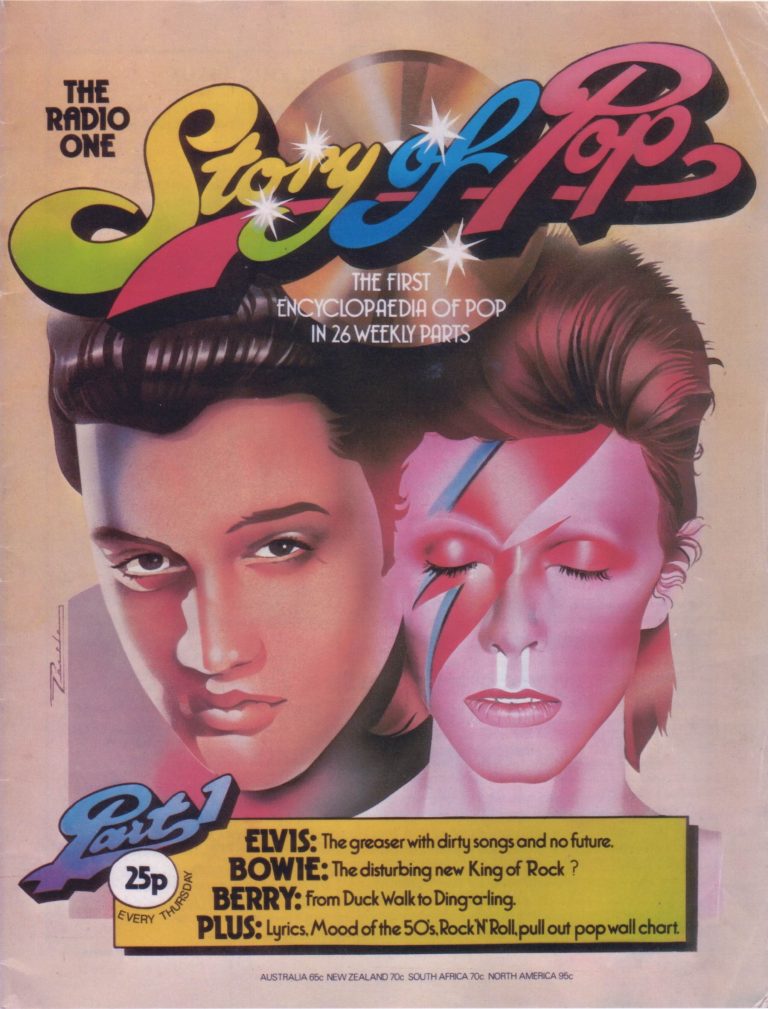 In an interesting twist of fate David Robert Jones was born on January 8th, 1947 exactly twelve years after Elvis Aaron Presley, who was born on January 8th, 1935.  Elvis offered an exciting new groundbreaking musical style to his generations of fans and David did a similar thing by providing excitement and escapism to his audience decades after Presley.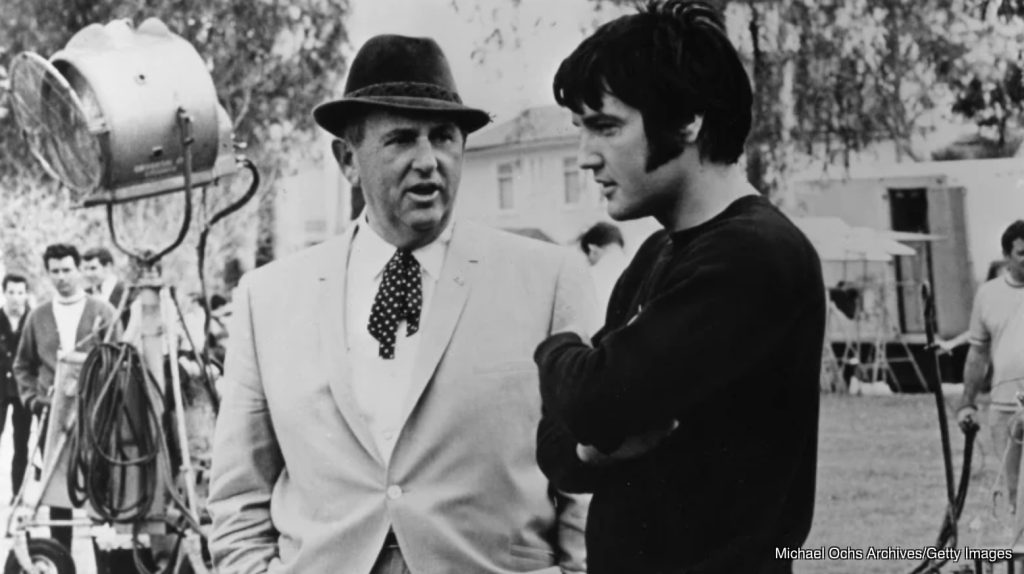 Parker used his influence and control over Elvis, who was their most important artist, to establish a small number of secret confidants inside RCA Records and their corporate parent RCA so he would be informed of new or interesting developments that might benefit him.  In May of 1972 one of those confidants in RCA Records who had shared details of the unusual deal and levels of expenditure by RCA on Bowie as a new and unknown artist contacted Tony to let him know that Parker was keen to meet with him privately and suggested, as a cover, he would have RCA invite Tony to see Elvis perform in New York and set up a private meeting with Parker after the concert. The Colonel was not interested in Bowie but was very interested in the deal that Tony had done with RCA since it was a fixed term licensing arrangement where the recordings belonged to and were controlled by Tony for David and reverted to them at the end of the term. This was very different from the industry standard artist contract that Parker was familiar with and he wanted to know the full details of how it had been secured and the manner of ongoing operations.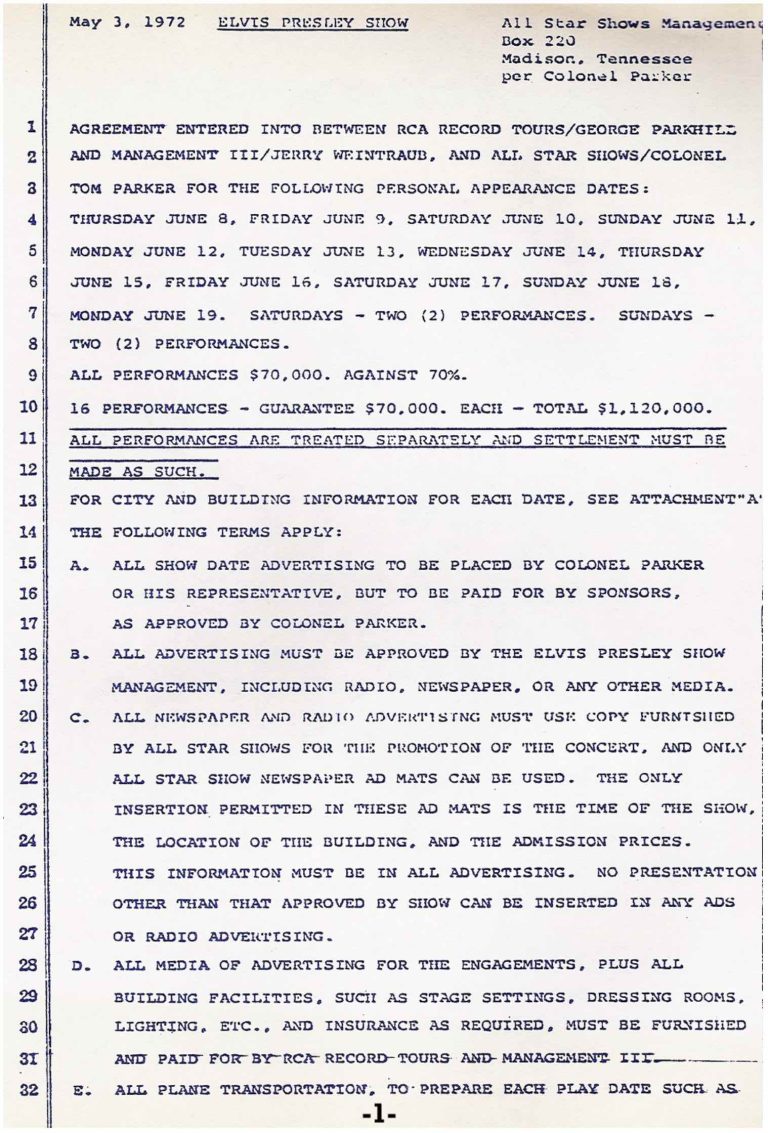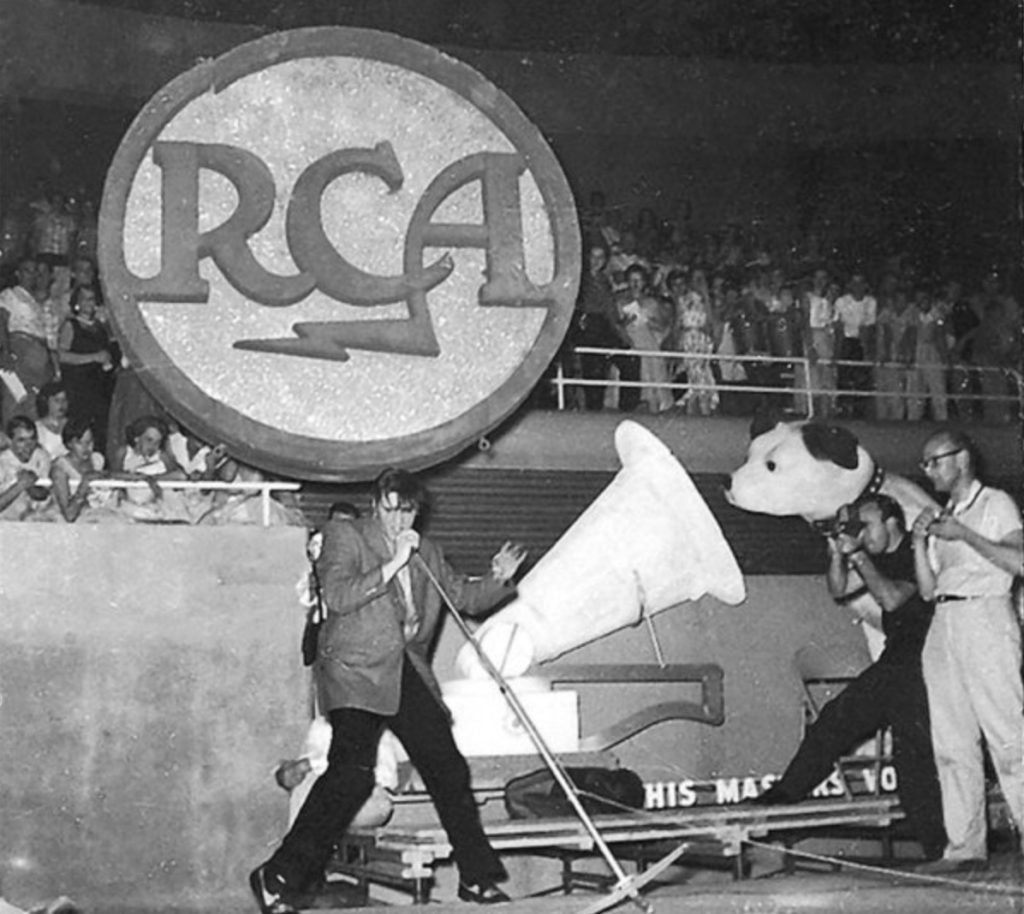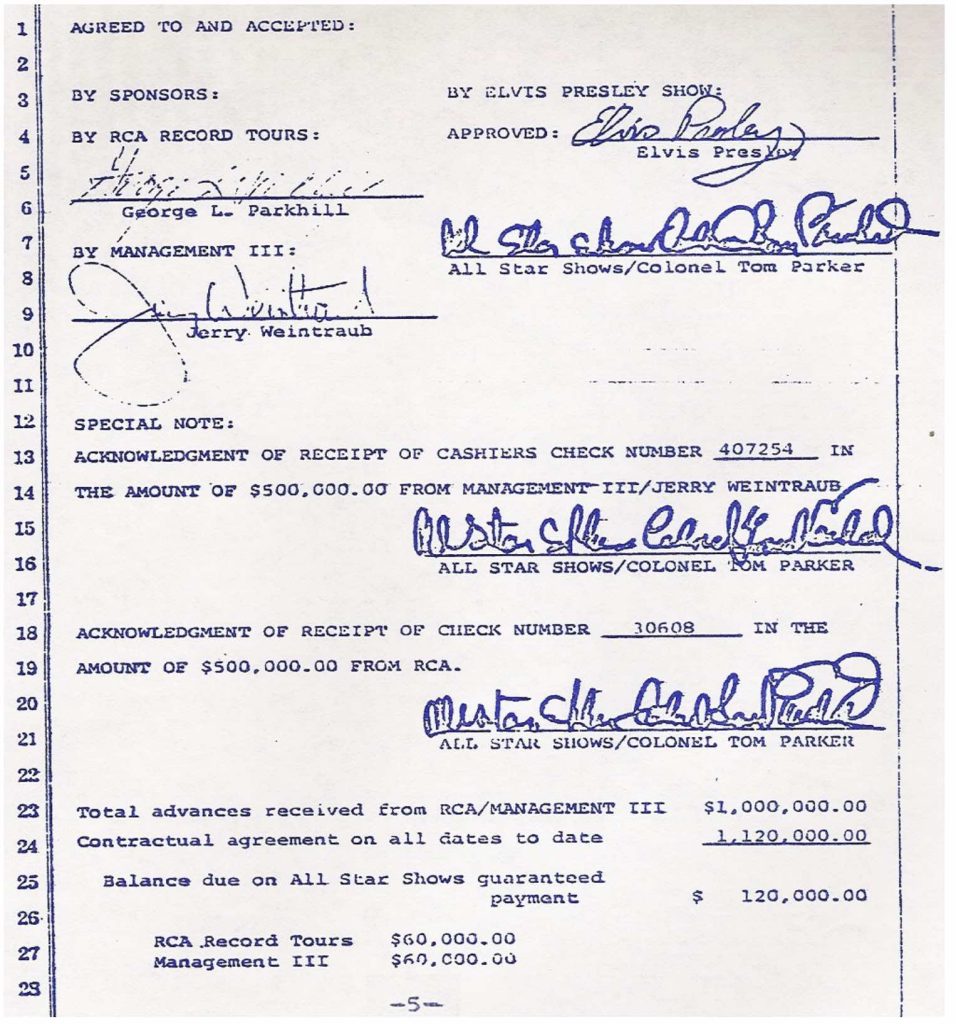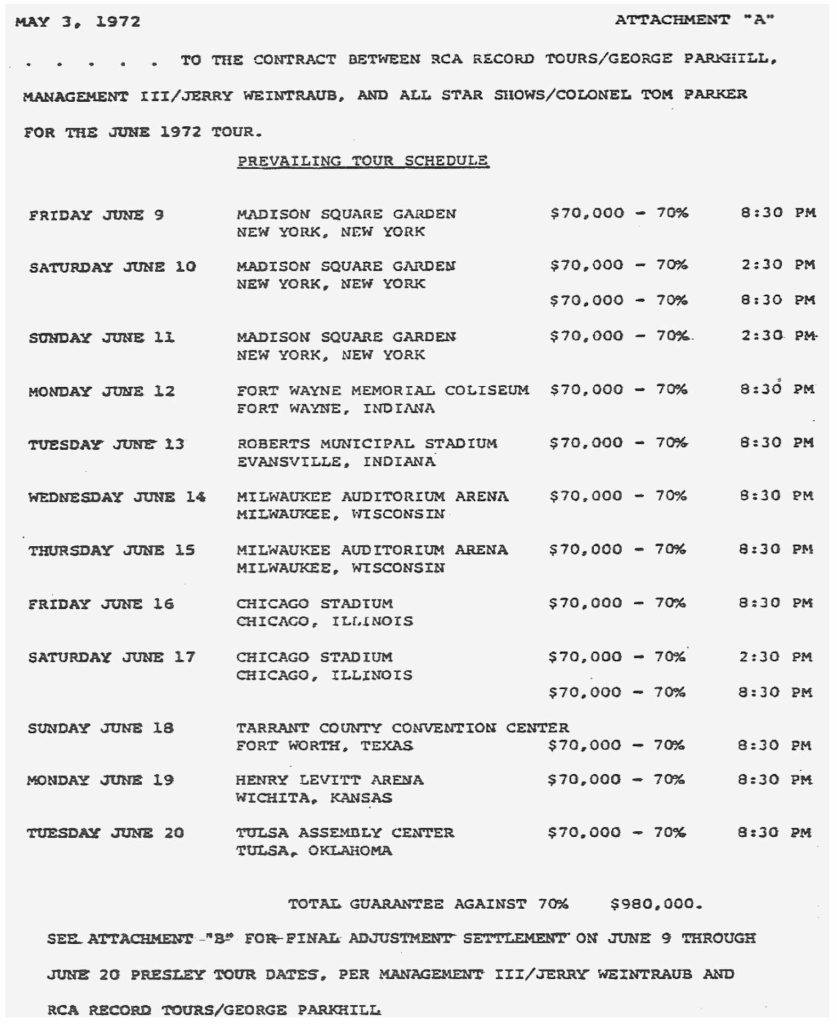 Parker was keen that the meeting be kept a secret from the RCA management. He was busy with live appearances for Elvis in the US and as we now know he could not leave the US because he did not have a legal identity or passport. This required Tony to be in New York for the meeting and since he was busy working on the first Ziggy UK tour he decided the best way of meeting the Colonel without causing friction in the Bowie camp was to arrange for the invitation to be extended to include David and others to see Elvis in concert.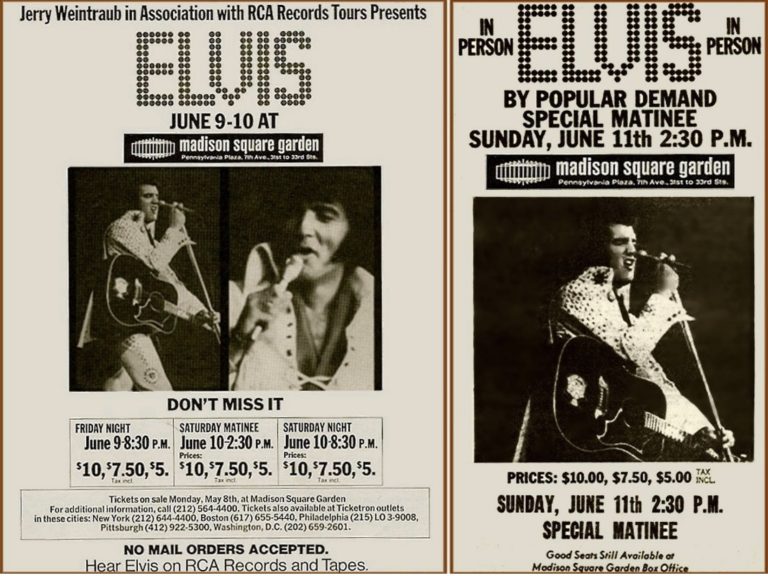 On Friday June 9, after cancelling several concerts in the Ziggy Stardust UK tour, Tony, David, Angela and Ronno flew to New York and along with MainMan staffers Tony 'Z' Zanetta and Cherry Vanilla they all went to see Elvis at Madison Square Garden.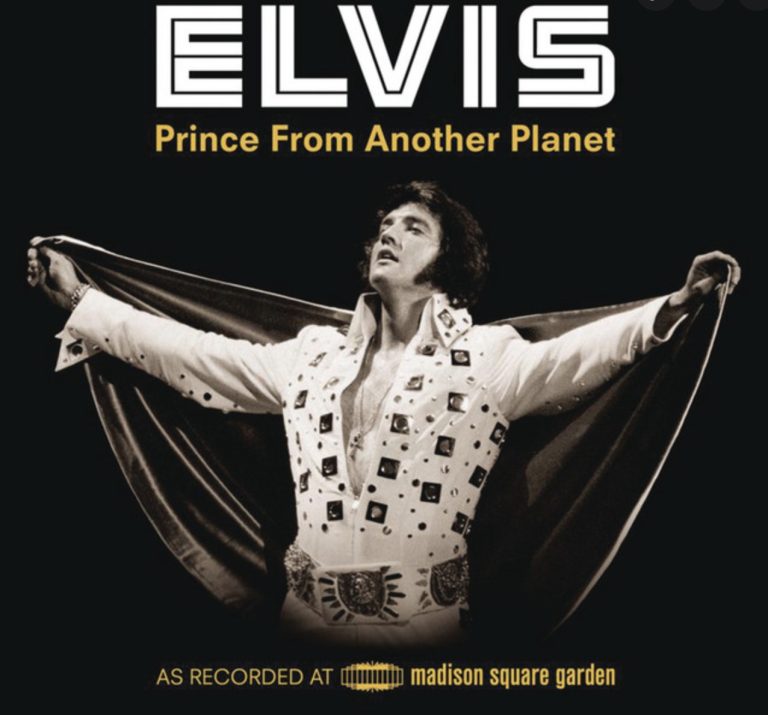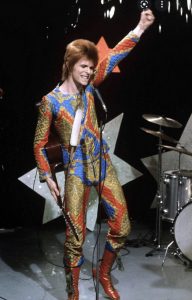 MainMan had tickets very close to the stage alongside many of the executive and management team from RCA Records. This was an important moment for Tony and David, because it was the first time anyone from RCA had seen Bowie in his Ziggy persona, so he got to impress the people who had signed his deal. Bowie was being heralded as the Elvis for his generation, so it was a very fortuitous event.
In 1972 Elvis was in his 'Las Vegas era' prime. This was full on showman Elvis who was decked out in his white jewel encrusted karate jumpsuit costume with capes and scarves. Although he was no longer in peak physical condition his voice was still incredibly powerful and the show was spectacular. After the concert Tony made sure that 'Z' and Cherry arranged for David, Angela and Ronno to get back to their hotels, while he was taken by limousine to meet the Colonel, (while briefly chatting to the Rolling Stones and Ahmet Ertegun on the way out).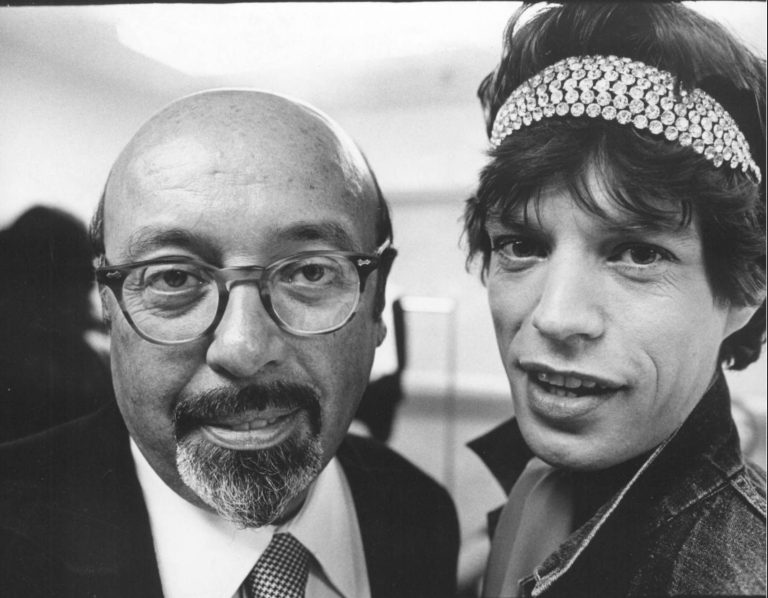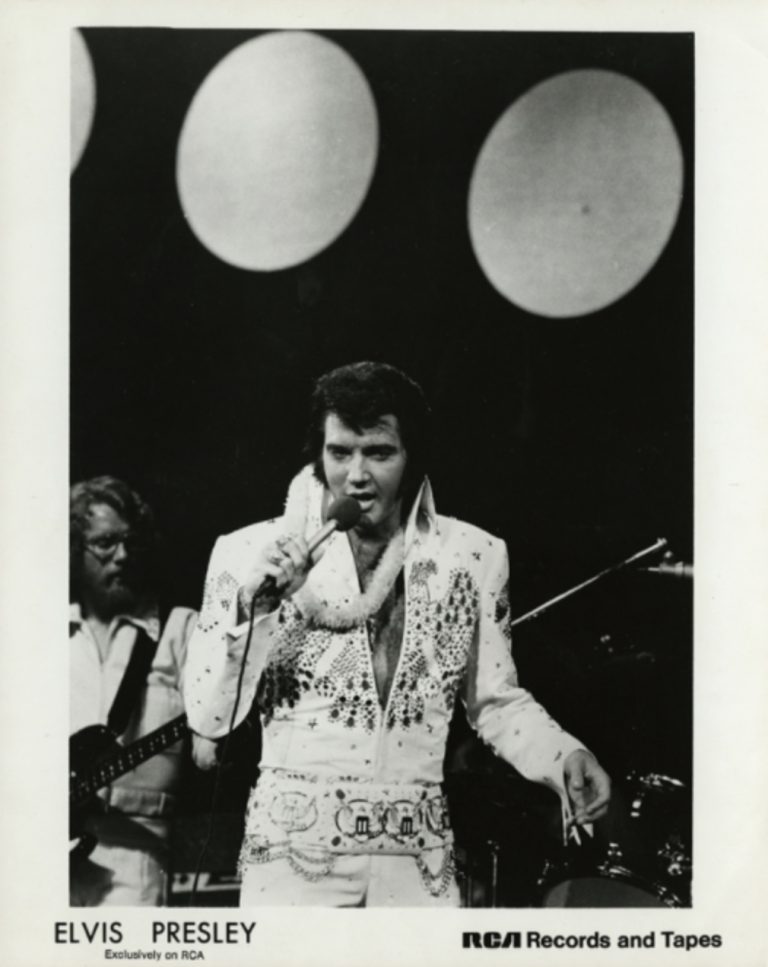 Although Tony was only expecting to meet with Parker he was delighted when as an unexpected bonus he met Elvis before seeing the Colonel. Elvis was tall, really good looking, very relaxed and charming with that marvelous voice and southern manners. Since he first saw him in Love Me Tender Tony had been a fan and they spent some time discussing certain songs Elvis performed in his set, their history and how he interpreted them on stage. After this Tony met with Parker who asked him questions about the deal he had made and the contracts he had signed with RCA. Although Parker had a lot of experience with contracts for Elvis concerning film production and distribution, he had not explored independent film production deals that would own and license those movies. He had also made traditional record company deals for Elvis, where RCA retained rights to the master recordings, so he was very keen to know more about the arrangements Tony had made with RCA where the artist or his management company retained the rights and leased the master recordings to the record company.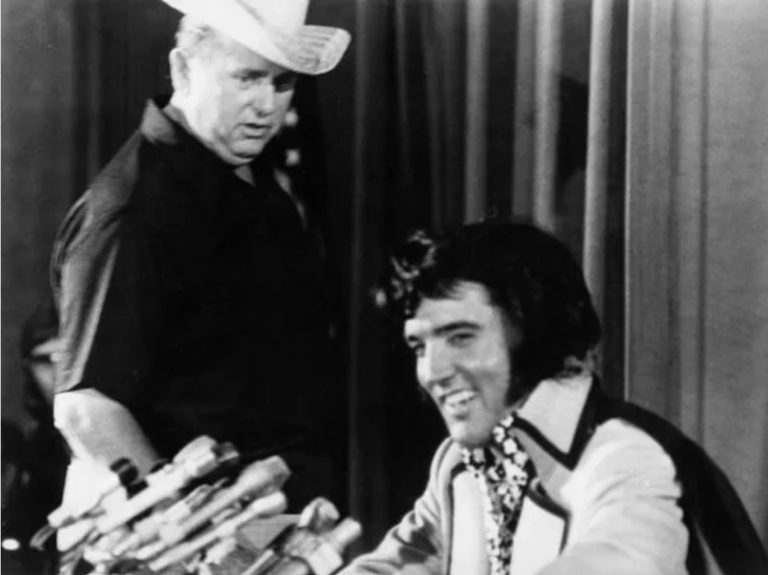 Parker came across as a very shrewd but unsophisticated, master salesman and promoter. A version of Allen Klein without his legal or accounting skills. What Parker took from the meeting included his interest in how Tony recovered early Bowie failed recordings from Mercury and licensed them to RCA for advances that were more than double the recovery cost where they became highly successful catalog items that reverted back to Bowie and Tony.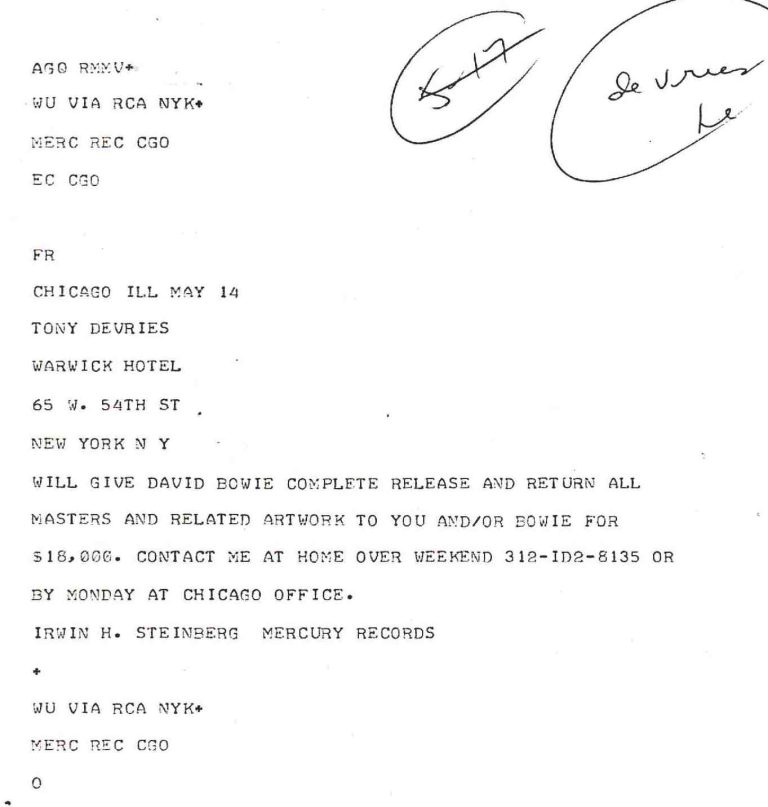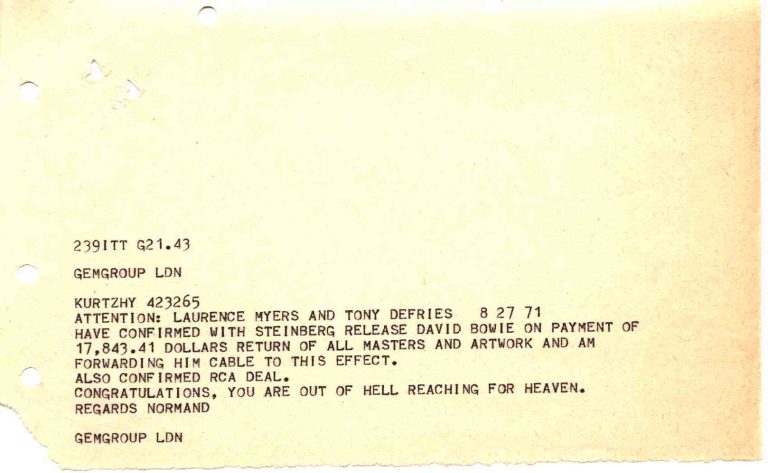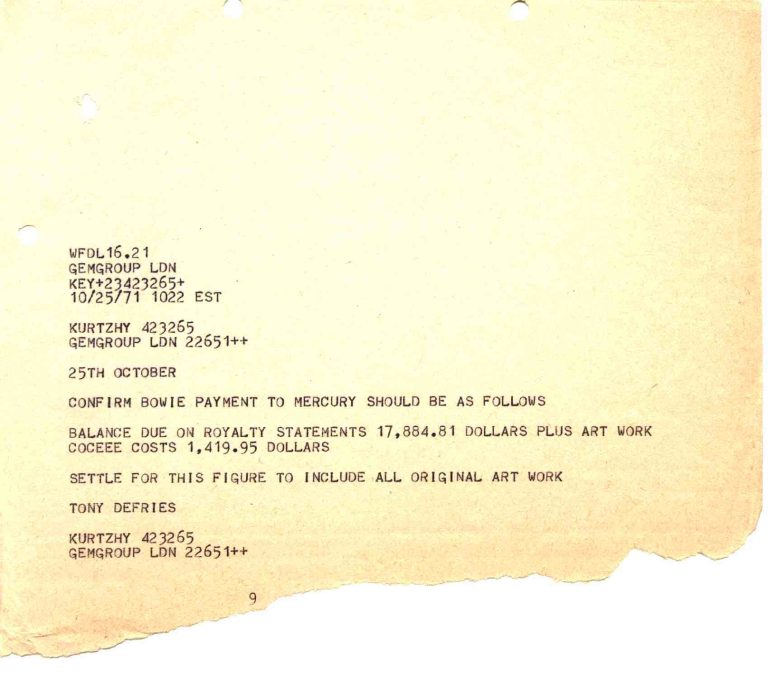 This can be seen in the following year 1973, when Parker sold RCA the future royalties on Elvis back catalog for over $5million in cash. The sale of future rights to income for present value was inspired by Tony's approach of using cash from RCA to buy existing rights from Mercury for future royalty income, rights and ownership. That model was long term and would have provided a far more valuable rights and revenue outcome.
That same year Tony travelled to Japan ostensibly to set up dates and check venues for the Bowie tour but also for a private meeting with Akio Morita the founder and president of Sony Corp to discuss the possible sale of RCA Records to them for $50m. Morita explained that they did not intend to buy RCA and told Tony why in confidence. They were planning to buy CBS and to that end he had set up a joint venture with them in Japan. Many years later in 1988 they acquired CBS and after that in 2008 BMG and RCA closing the circle 35 years later at a cost of many billions of dollars rather than the fifty million dollars they could have spent, but that's another story.
After returning to the UK and going back on the road, Tony noticed the impact that seeing Elvis live had on David's performance. His interaction with the audience became more pronounced and he asked Freddie, who designed his clothes, to make outfits that were more elaborate and at some concerts even wore scarves and a cape on stage, just as Elvis had done.
Musically that Elvis concert also made an impression on Bowie as he saw and heard how Presley interpreted soul and R&B songs and made them his own. In some of his first UK shows David had included R&B songs like Papa's Got A Brand New Bag or Round and Round that were replaced by his own new songs and style. A few years after seeing Elvis David began taking Soul & R&B influences and incorporated them into his own music, firstly on stage in the second half of the Diamond Dogs Tour in 1974 and then on the Young Americans album the following year.