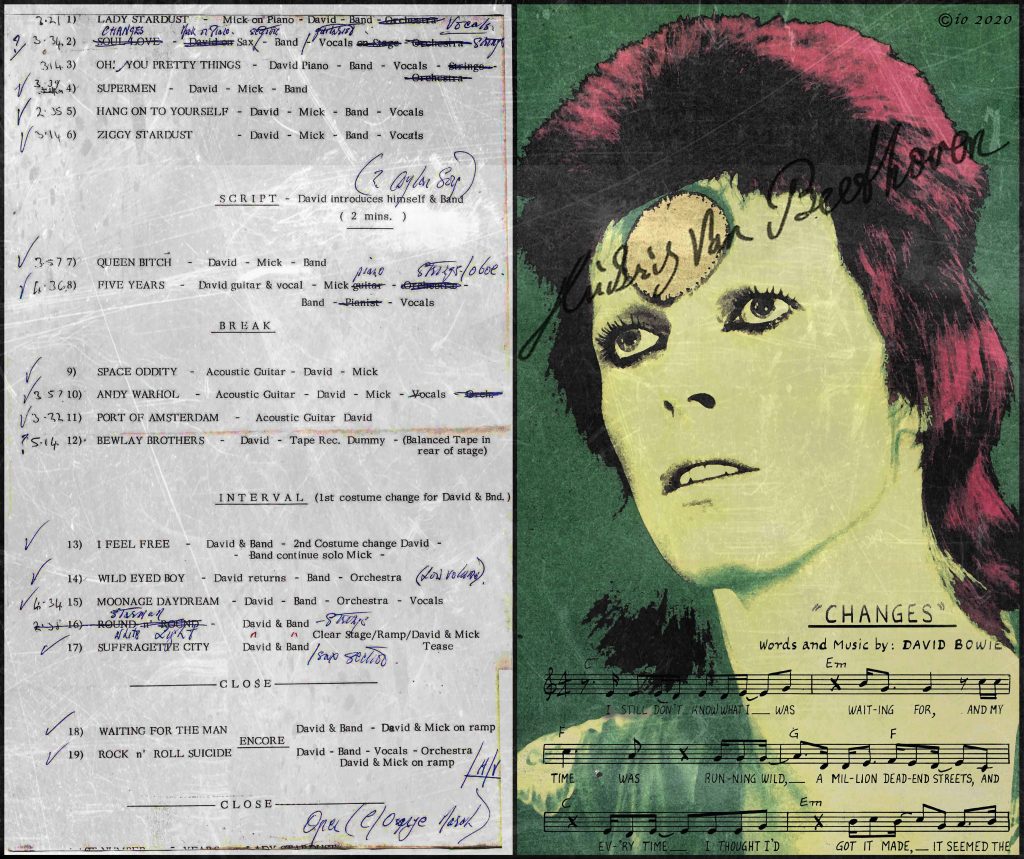 Today September 3rd 2020 as I celebrate my 77th birthday I would like to thank all the people, so many people, that helped me make Bowie and MainMan a success.
The list is too long to include all of you in this episode so we will begin here and add more in future episodes. Normand Kurtz, Don Hunter, Tony Zanetta, Jamie Andrews, Cherry Vanilla, Leee Black Childers, Ron Delsner, David Braun, Dennis Katz, Rocco Laginestra, Mel Ilberman, Natalie, Barbara Falk, Gustl Bruer, Herb Hellman, Lisa and Richard Robinson,  David, Angela, Melanie, Dana, Mickie Most, Clive Davis, Allen Klein, Chris Wright, Terry Ellis, Bob Grace, Laurence Myers, Mick Ronson, Suzy Ronson, Gus Dudgeon, Tony Visconti, Ken Scott, Rick Wakeman, Peter Gerber, Dai Davies, Anya Wilson, Stu George, Robin Mayhew, Willie Palin, Bob See, Nicky Graham, Diane Mackie, Jules Buck, Marsha Hunt, Brian Duffy, Terry O'Neill, Mike Garson, Jules Fisher, Michael Kamen, Lionel Bart, Joan Littlewood, Marianne Faithfull, Freddie Mercury, Brian May, Brian Eno, Mick Jagger, Ava Cherry, Carlos Alomar, Luther Vandross and many more.
The earliest visceral attempts to express rock 'n roll music that went beyond playing or singing but tried to engage the live audience directly were often spontaneous, unrehearsed, unstructured, unprofessional and not dramatic or theatrical. Examples include Jerry Lee Lewis, Elvis, Chuck Berry, Little Richard , James Brown, Jimi Hendrix, The Who, Pink Floyd, Alice Cooper, Kiss and of course Iggy.  Setting pianos and guitars on fire or destroying instruments and equipment in other ways, dancing, duck walking, dry ice, robes and costumes, outrageous behavior, self mutilation and of course stage diving and walking on the audience.
Bowie was the first artist, with my help and direction, to bring a fully realised theatrical dramatic rock and roll narrative supported by all the essential elements to live audiences as Ziggy Stardust and the Spiders from Mars eclipsing everything that went before and audiences were ecstatic –  Ziggy had landed and Major Tom was headed for a galaxy far far away!!!!!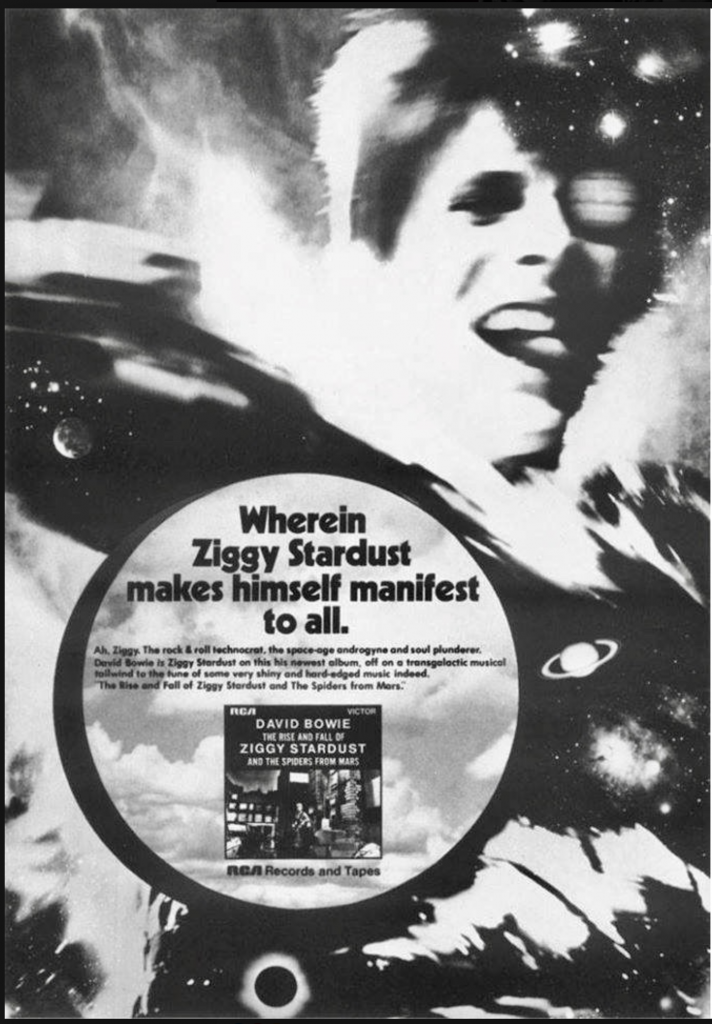 The decades old model established by record companies and promoters to get new artists exposure via live performances was to make them open for more successful headliners. By the 1960's this included six or more opening acts appearing in order of perceived significance or as determined by promotional and financial support from the record company. The Stones were one of those acts on the Ike and Tina Turner revue along with Otis Redding who had written and performed the original version of Satisfaction which the Stones appropriated. Bill Graham was a famous San Francisco promoter of the Cow Palace, the Fillmore and other West Coast venues who later opened Fillmore East. Fabulous and often psychedelic concert posters from that era show the acts status by size, design and placement.
For various reasons including control of the venue, staging, costume changes, sound and lighting effects and a seamless dramatic audience experience I preferred an unorthodox model which excluded any other acts and treated Bowie as a special one of a kind headliner.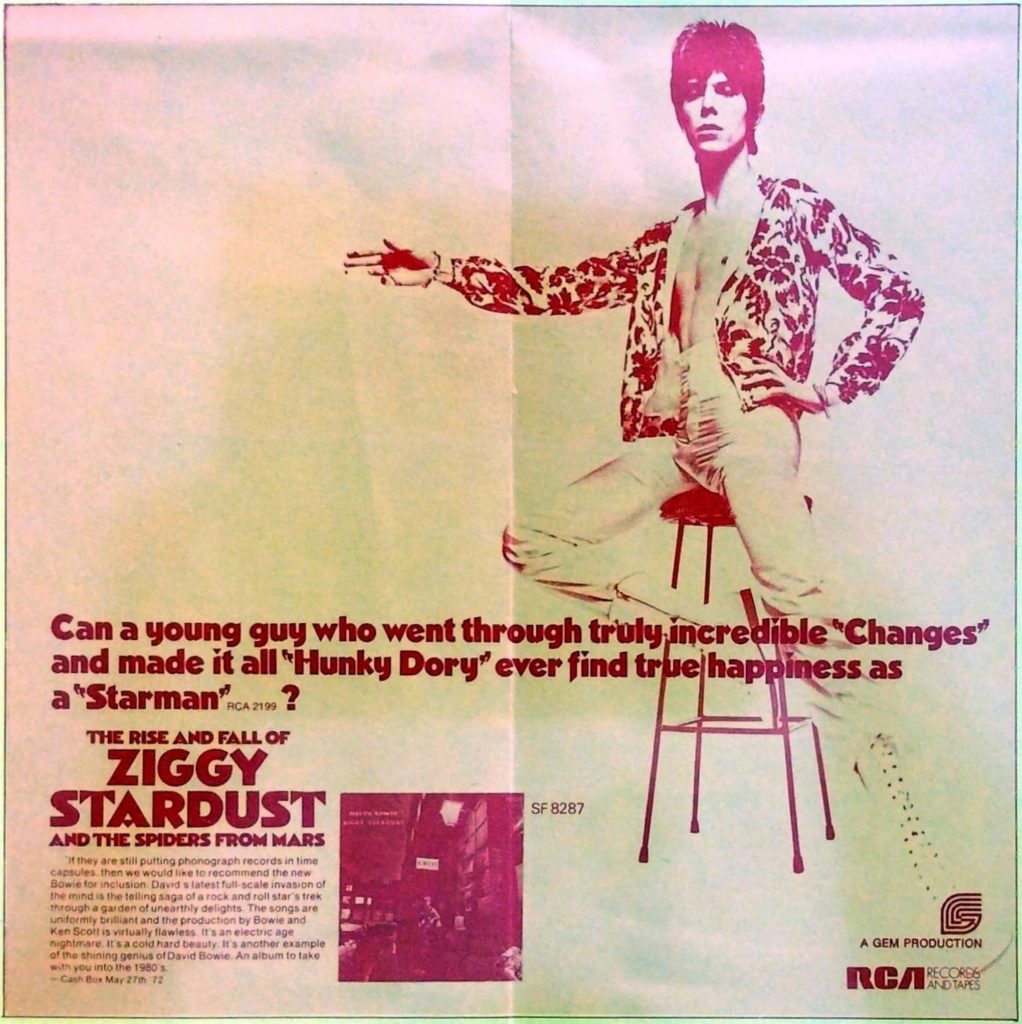 We perfected this by constantly rehearsing, revising and playing dates in the UK as a headliner with no opening acts.
Using this strategy Bowie headlined the Royal Festival Hall in London with Lou Reed as his guest and later headlined all his US dates including Carnegie Hall, Radio City and Madison Square Garden NY.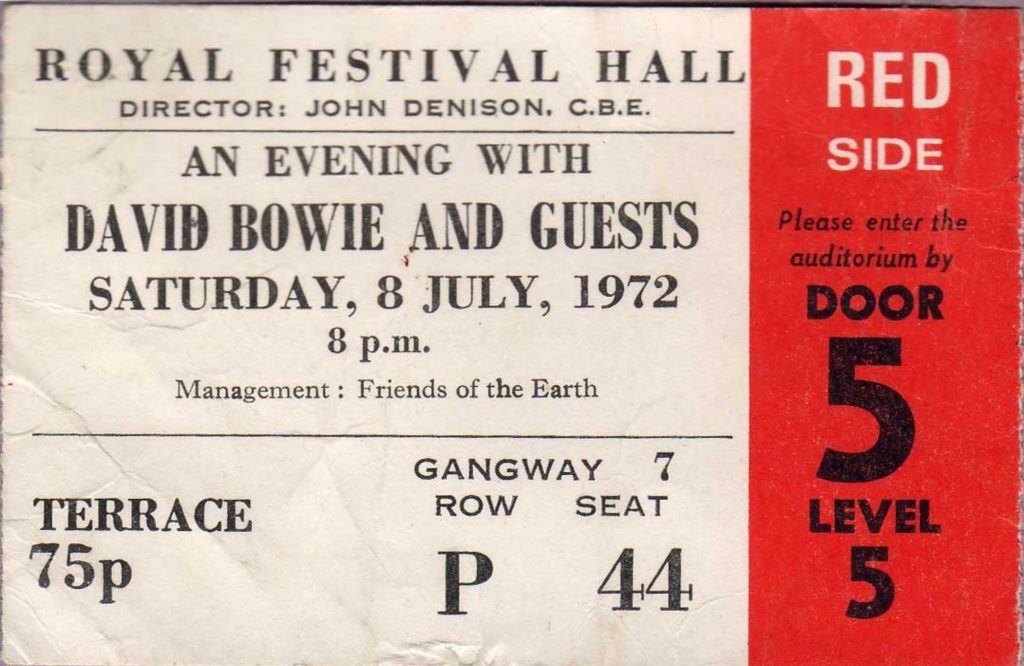 Behave like a star to become a star but remember who or what you really are – inspired by Rock n Roll Suicide. In Changes David describes the dilemma of remaining real even as you are creating an illusion for the audience that you can never experience as they do.

'So I turned myself to face me
But I've never caught a glimpse
Of how the others must see the faker
I'm much too fast to take that test'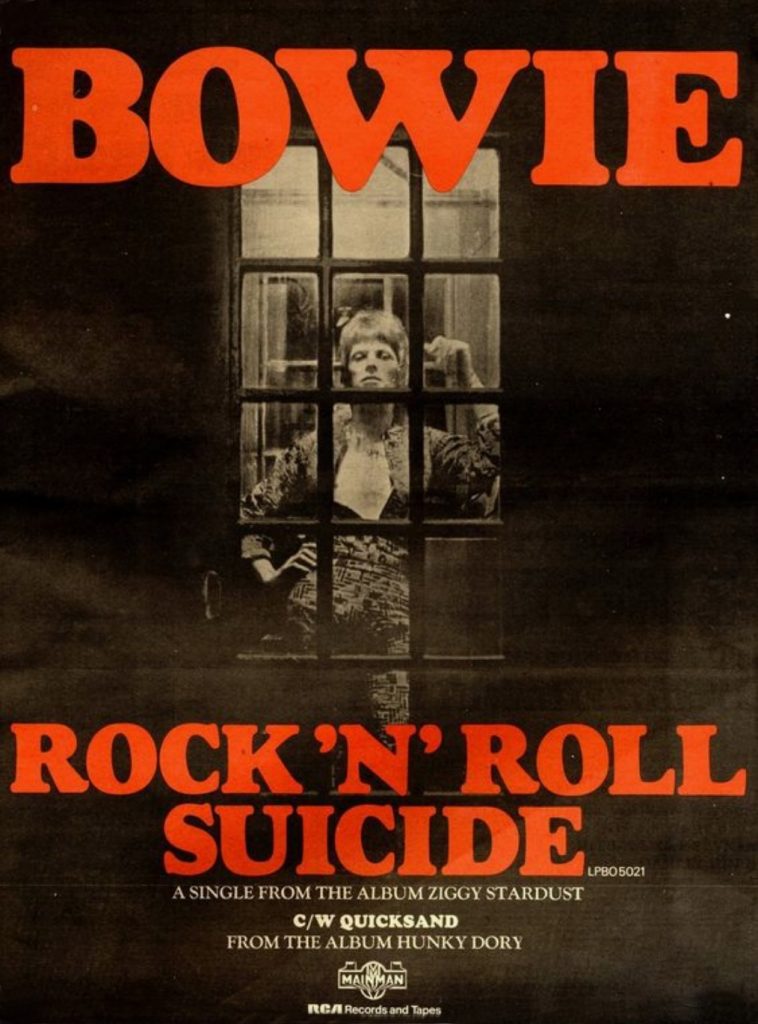 I chose to begin our first US Bowie tour in Cleveland because David had a devoted following including a fan club and very supportive radio presence there. Before the performance both David and Angela were extremely nervous as this was the test of how Ziggy would be received in the US. Walking towards the stage of a packed auditorium in total darkness I took their hands and began singing an old vaudeville number 'We're a couple of swells, We live in the best hotels' to calm them down when the opening chords of Beethoven's Glorious 9th from the soundtrack of  A Clockwork Orange rang out and the entire auditorium erupted into wild applause as Ziggy and the Spiders appeared.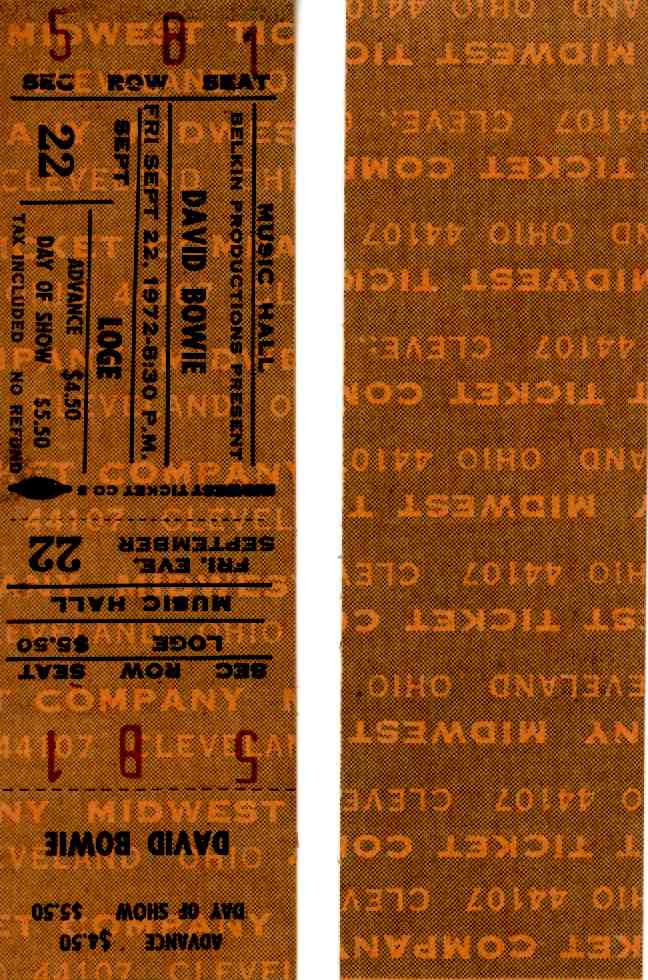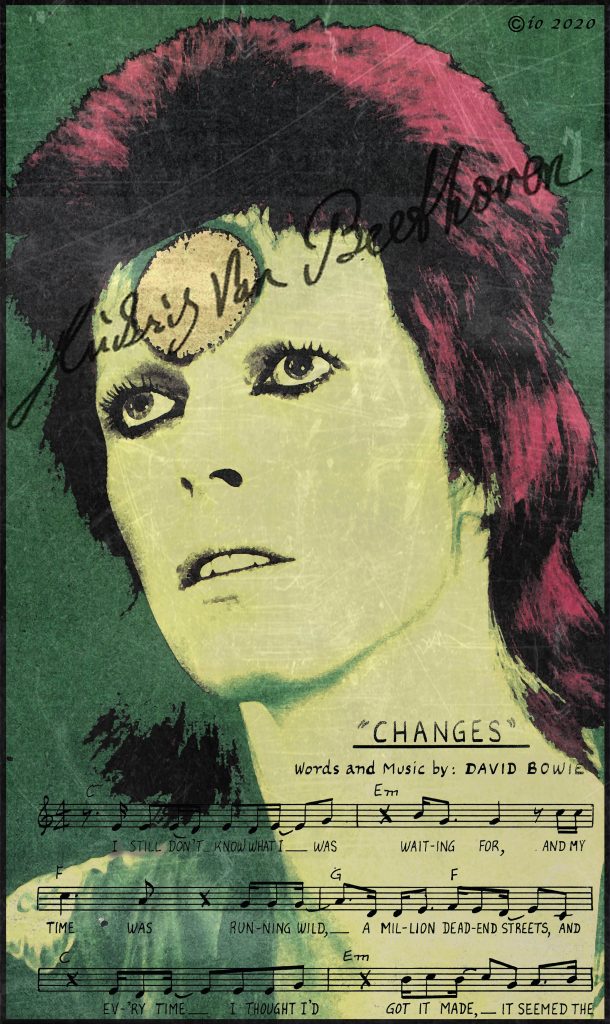 David and I were so close in these early years, engaged in an epic tale of struggle, drama, success and failure, hope and happiness, despair and ecstasy. We were the Bewlay brothers reaching unbelievable and improbable conclusions together. We had planned every step of this campaign to reach global success by establishing Bowie as a brand in America and the first phase had begun. Every performance and the audience reactions leading up to Carnegie Hall had to be analyzed to generate new and improved set lists like these examples of the one proposed for Carnegie and my handwritten changes that were actually performed in those glory days. Those decisions taken together led to rapid success and fame for Bowie and MainMan and fuelled David's future rise to global superstardom.