Shoutout continues to thank all the people who helped make Gem, MainMan, Bowie and many artists, writers, performers and producers successful – you have met some of those actors in the MainMan blog and podcast and will meet many more. In this episode we thank Stevie Wonder, David Sanborn, David Mansfield, Herbie Flowers, Tony Newman, Glynn Johns, Paul Buckmaster, Lou Reed, Trevor Bolder, John Halsey, Ronnie Ross, Klaus Voormann, 'Woody' Woodmansey, Robin Clark, Harry Maslin, Pablo Rosario, Ian Hunter, Mick Ralphs, Verden Allen, Pete Overend Watts, Dale 'Buffin' Griffin, Stan Tippins, Peter Grant, David Geffen, Sally Knyvette, Brooks Ogden, Don Silverstein, Twiggy, Justin de Villeneuve, Jeff Beck, Roger Taylor, John Deacon, Al Kooper, Ossie Byrne, Brian Ferry, Bob Fripp, Chris Blackwell and Andy Newmark.
On his death in 2016 the Bowie Estate was worth in excess of  $300million and included assets that will continue to earn hundreds of millions of dollars for the next century – not bad for a penniless lad from South London. This was due in large part to the use of rare legal strategies I had successfully deployed in earlier examples that served as opening gambits to put an opponent off balance and could drive future  strategies without alerting them. Repudiatory breach of contract was an example I had used to reverse the music publishing contract between Anthony Gordon Instone pka Tony Macauley and the Schroeder Music Companies by keeping his new songs and eventually recovering his old ones – which we did. This allowed us to change and add legal strategies and to refocus his creative efforts to write and produce recordings of new songs for real or imaginary artists (session singers and musicians) such as the Tony Burrows ( Edison Lighthouse) single  Love Grows Where My Rosemary Goes  and many others. Those new songs belonged to his own publishing company.
In the early Sixties a struggling record producer Mickie Most had raised money from various investors to make independent records which he hoped to place with major labels and had agreed to pay each investor fifty percent of his income from producing or making recordings. Those contracts took different forms including oral agreements, handwritten promises on paper napkins, typewritten form contracts and even the formation of private companies with directors and bank accounts. By the mid Sixties Mickie had a string of hits on both sides of the Atlantic and all those investors surfaced, each claiming fifty percent of his income from all his recordings which would amount to many hundreds of percent.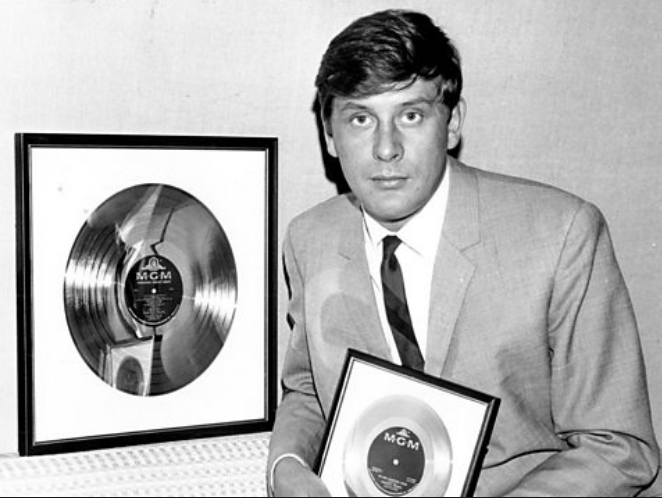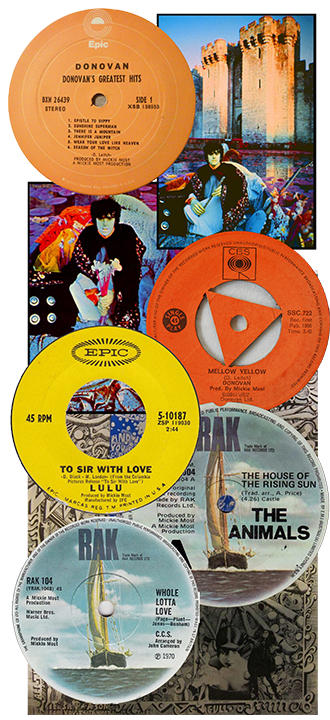 My strategy was to argue that all those contracts were void and unenforceable for lack of intent that could be realised since multiple claims that their contract promised 50% of all income without identifying the recording or the income source could not be performed. This meant all contracts lacked sufficient intent to be performed and were void, unenforceable and not binding on any party. Some investors sued and failed or settled when the Courts agreed with my defence. I helped Mickie establish RAK Records as his own independent label that owned his recordings and RAK Publishing where he owned or administered the music publishing rights to songs he recorded. Mickie continued to produce hit records and in 1976 opened RAK Studios which is now a full service studio complex. On his death in 2003 his estate was worth many hundreds of millions of dollars and included assets that will continue to earn hundreds of millions of dollars for the next century.
Other examples that persuaded David that reversing his contracts and recovering rights or recordings was possible. This included my previous work in limiting the record company's use of Don Silverstein's iconic Hendrix album insert photograph for Electric Ladyland. I also identified Don's ownership of and the exclusive right to use his other Hendrix photographs. Similar rights, ownership, use and recovery issues were favourably resolved for many other photographers as well as illustrators and designers which resonated with David, who had studied and worked in both fields himself.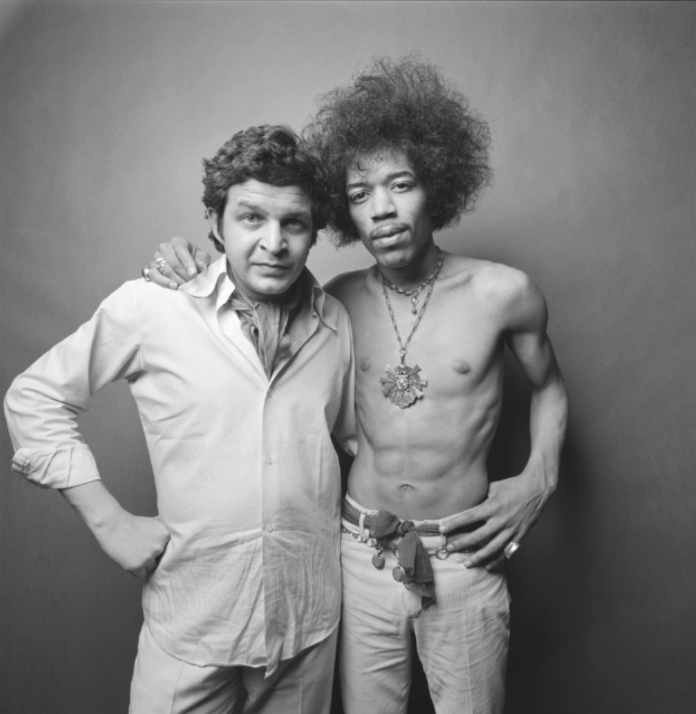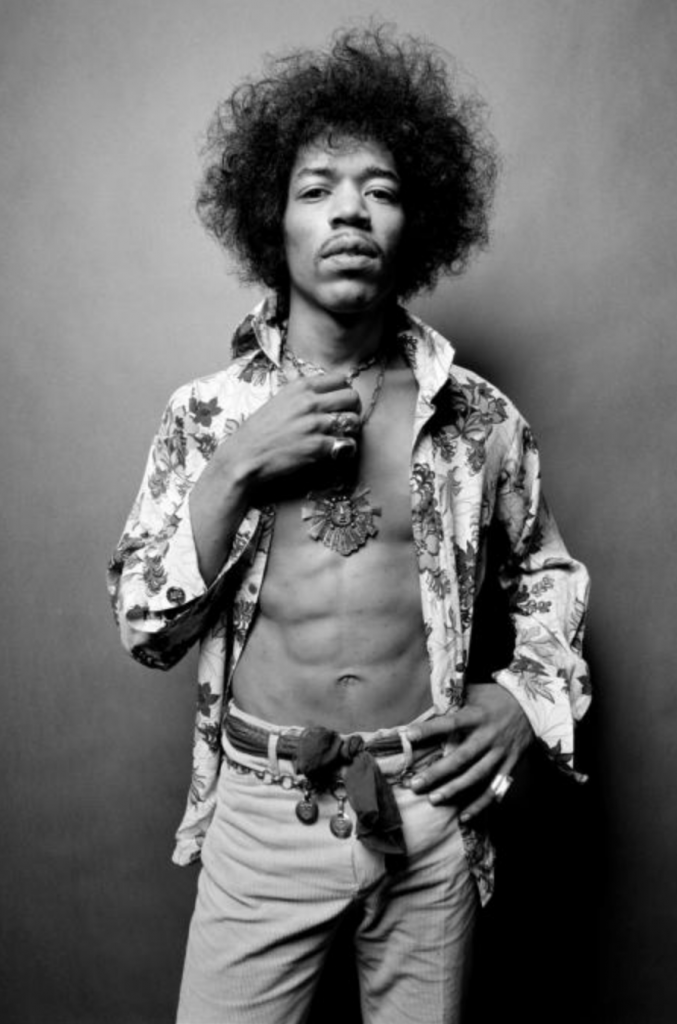 Set the stage for a tale of trouble, ring the bell, close the book and blow out the candle. This is how the magic begins.
Bewitched, bothered and bewildered, Irwin Steinberg had to be convinced that Mercury could not make David perform or prevent him from creating new recordings that would not belong to them. Attempts to block an unsuccessful obscure artist like David from recording or performing could alert other very successful and valuable Mercury artists ( Rod Stewart, Uriah Heep, The Nice) who I had worked with, to the possibilities of withholding services for better contract terms. My endgame was always to present Irwin and Mercury with a risk reward ratio that was clearly not in their favor.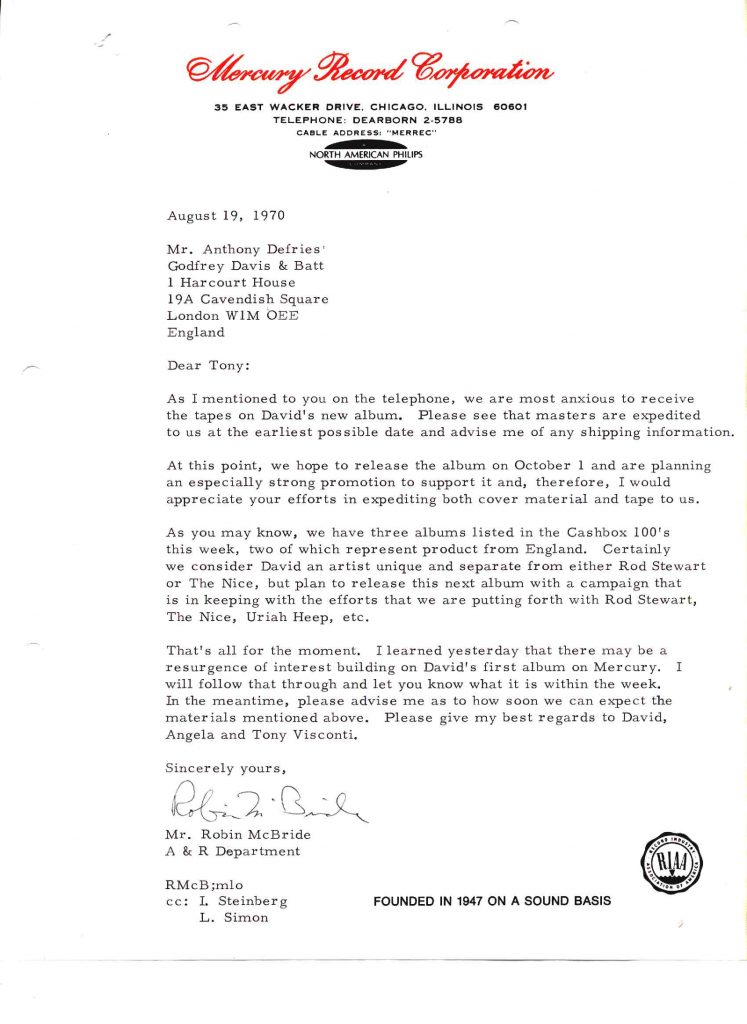 Ultimately Mercury released David from his contract and returned both albums – David Bowie: Man of Words/Man of Music (Space Oddity)  and The Man Who Sold the World  he had recorded for them and all other recordings, artwork and related materials for $17,843.41. The entire process took less than a year.